As the Philippines kicks off the presidential campaign ahead of the national 2022 elections, the diaspora is mobilizing across Canada to raise awareness and concerns for their homeland's future. 
Demonstrations took place across the country, from the streets of Vancouver, British Columbia, all the way to the front steps of the Philippine Consulate in Toronto, Ontario, following the official filing of the presidential candidates for the upcoming 2022 elections. 
By Philippine law, current strongman President Rodrigo Duterte is not eligible to run for a second term. But not everyone agrees that his legacy has to end. 
Presidential candidate Ferdinand "Bongbong" Marcos, Jr. is the son of late dictator Ferdinand Marcos, who enacted martial law on the Southeast Asian country in 1972; and vice-presidential candidate Sara Duterte-Carpio is the daughter of the current president. They are running in tandem against opposition leader and current Vice President Leni Robredo and boxing icon Manny Pacquiao, among others.
Between Nov. 19 and 21, groups organized rallies across the country that were either in favour of or against the Marcos, Jr. and Duterte-Carpio team. 
In Toronto, a number of Filipino activist groups united to advocate against the Duterte administration during Anakbayan's Canada's National Congress event. Anakbayan is a progressive national democratic organization of Filipino youth with multiple chapters across Canada.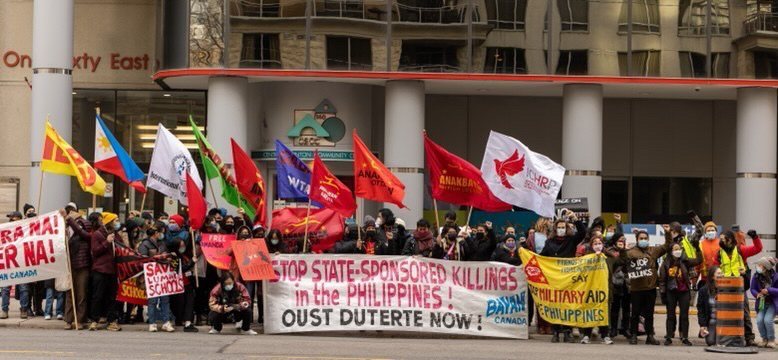 "We do realize the necessity of ensuring that Marcos and Duterte don't take power in 2022," Anakbayan Canada Media Liaison, Justin De La Cruz, told New Canadian Media in a phone interview, "because it's an extension of the exploitative regime that leads so many Filipinos to seek prosperity overseas."
However, a significant number from the diaspora are hopeful that a Marcos, Jr.-Duterte-Carpio tandem will lead to positive change in the Philippines. With the support of Duterte-Carpio (the current president's daughter), they hope Marcos, Jr. will serve as a continuation of the current administration.
In an October 2021 survey run by research group Issues and Advocacy Center in the Philippines, Marcos Jr. led the field of presidential candidates with 23.5 per cent of respondents stating that he was their preferred candidate. 
Clive Cabernet, an organizer for a Marcos-Duterte caravan in Toronto that occurred on Nov. 20, believes that both Marcos and Duterte would make the Philippines a "strong country" in Southeast Asia. Filipinos in Vancouver and Organizers in Calgary also planned similar political caravans to drum up support for the Marcos, Jr.-Duterte-Carpio campaign. 
"As a [Filipino] person here in Canada, I would want the Philippines to be back to how it was like way back in the 1970s," Cabernet said. "A lot of our neighbours looked up to us. But now, not anymore, unfortunately."
Duterte's casualties
Anakbayan's event, which included organizations such as the Malaya Movement, the International Coalition for Human Rights in the Philippines, and Migrante Canada, was part of a broader campaign against the dictatorial-style rule of President Duterte that has led to the deaths of around 6,200 people due to his war on drugs, according to official data. 
"Over the past year, as conditions deteriorated for Filipino women and the masses, the people demanded mass testing, financial aid, and vaccines," Kaira Fenix, a member of Gabriela BC, said in a speech during the rally.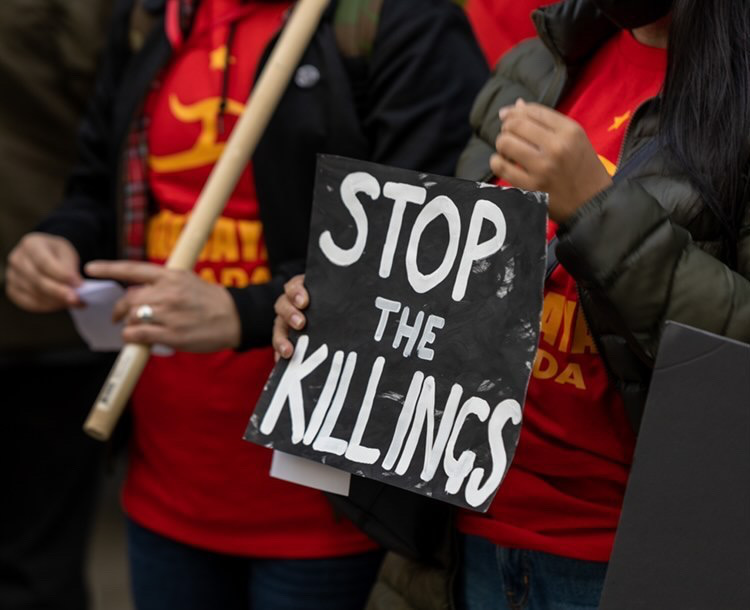 "In response, they received violence on all fronts — government corruption hindering vaccine roll-out, national funds prioritizing foreign corporations over our workers, and militarily-imposed curfews and lockdowns that led to thousands of unjust arrests and extrajudicial killings."
This part of the Filipino diaspora expresses concerns that an administration of Marcos, Jr. and Duterte-Carpio would further embolden the violation of human rights in the Philippines. 
The strongman approach 
Supporters of Marcos and Duterte hail an alleged "golden age" of the Philippines during Ferdinand Marcos' military dictatorship in the 1970s. 
They reflect a growing misinformation movement that aims to smooth out the image of the Marcos family and strengthen support for a strongman approach to leadership that has been recently popularized by Duterte. 
There have been well-documented cases of human rights violations and corruption against the Marcos regime of the 1970s, based on records from Amnesty International, historian Alfred McCoy, and various legal cases. An estimated US $10 billion was stolen by the Marcos family and 3,257 people were killed, the Guardian reported.
Cabernet, from the Toronto caravan, calls all that documentation "black propaganda" and "a smear campaign" against the Marcos regime throughout the 1980s. He says social media has now been "added to the equation."
"No matter how hard they try to destroy the image of the current administration, it's not really working with the Filipino community," Cabernet  says.
Engagement is key
Nobel Prize Winner and Filipino journalist Maria Ressa expressed concern that both the Dutertes and Marcoses use social media disinformation to distort the public's understanding of reality and silence critics. 
During his term as president, Duterte has repeatedly supported efforts to shut down press that have been critical of his administration, such as Ressa's Rappler and local broadcast giant ABS-CBN. In 1972, Marcos similarly shut down ABS-CBN to form a de facto media monopoly led by his cronies. The media network would remain off the air until Marcos' deposal in 1986. 
"We understand that many in the diaspora may be pro-Marcos," De La Cruz, from Anakbayan, says.  
"But we also know that the legacy of "Bongbong" Marcos's father is one of corruption, of not working in the interest of the Filipino people. The immigration policy that sends Filipino people out to different countries so that they can prop up the Philippines' failing economy started with Marcos." 
For Filipino-Canadian activists, misinformation in the diaspora is one of the primary reasons why it is important to remain engaged in issues back in the Philippines. 
Anakbayan Canada Chairperson, Myka Jaymalin, says given all these different sources of information and misinformation, the Filipino diaspora "is having a hard time knowing what our history is really like and why we're here."
But "even though there are supporters of Marcos-Duterte here in Canada," she told New Canadian Media, "it is important to note that we are doing this mass mobilization to engage with them."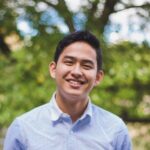 Alec Regino is a freelance journalist based in Vancouver, BC. He was a Reporting Fellow for the Pulitzer Center on Crisis Reporting in 2021.