Academic and social Peruvian organizations participated in a series of protests, discussion panels, and fundraising initiatives in Toronto from January to March, demanding justice for victims of state violence in Peru during a political and social crisis.
The southern country became a topic of discussion among the Peruvian diaspora in Canada since the outset of protests following the ousting of former president Pedro Castillo in December 2022, who attempted to close the Peruvian Congress amid a third try for impeachment in light of corruption scandals. 
Dina Boluarte, Castillo's vice president and former party ally, took office and tried to control the magnitude of these demonstrations with the deployment of police and military forces. So far, the response to anti-government protests has resulted in a death toll of 48 due to the use of lethal weapons fired against civilians, yet numbers range from 45 up to 60, according to various sources.
"What kind of democracy kills you when you're protesting?" said Yojana Oscco, a Peruvian PhD candidate at the University of Toronto (UofT), organizer of protests in the city, and fundraiser for the expenses of victims of violence and protesters in Peru.
Protesting against state oppression
The discontent from the protests that began in December met international media coverage and caught the attention of human rights organizations.
United Nations' special rapporteurs called for "investigations into alleged human rights violations," and Amnesty International denounced "targeting" attacks from security forces to Indigenous peoples and campesinos, people living in rural areas of the country, who comprise Castillo's support base and a large portion of demonstrators.
In Toronto, Peruvian-led organizations such as Kuskalla Abya Yala and the Peruvian Students Association (PESA) at UofT have taken on the task of spreading the message from their home country to the public opinion in the city in different ways.
"One thing that we can do with the privilege that we have living here in Canada is talking about what is happening in Peru. I think we have to support our country, even if we are not there," said Oscco. 
She compared the "level of state repression and disregard for human rights" to the authoritarian decade-long rule of former Peruvian president Alberto Fujimori, who was convicted in 2009 to 25 years in prison due to human rights violations during his time in power.
Along with other members from the Peruvian diaspora in Canada, Oscco founded Kuskalla Abya Yala, and has organized protests at the gates of the Consulate General of Peru in Toronto, Nathan Phillips Square, and at the Metro Toronto Convention Centre, where PDAC 2023: The World's Premier Mineral Exploration & Mining Convention, hosted by the Prospectors & Developers Association of Canada (PDAC), took place. 
Peru's democratic 'technique'
Before falling into a spiral of violence, Peru was already living under a tense political dispute between the legislative and executive powers. 
Since 2016, Peru has seen six presidents and three Congresses, which deteriorated the stability of democratic institutions.
For instance, in November 2020, a popular former president, Martin Vizcarra, was impeached by the Congress, and Manuel Merino, the interim president, was accused of staging a parliamentary coup. 
Massive outcry broke out in Peru and in other parts of the world, causing Merino to resign just six days after being sworn in due to the deaths of two students killed during clashes with the police.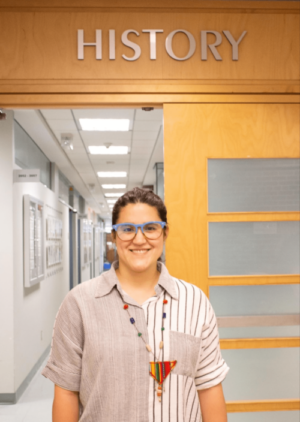 In Toronto, PESA organized a series of protests as a response to this situation back in 2020, where the Peruvian diaspora joined to demand action and spread awareness. 
"Sometimes it works to make presidents resign. In this case, it's not working," said Andrea Román Alfaro, PESA's president and a PhD candidate at UofT.
Despite a higher number of casualties now than in 2020, president Boluarte has indicated that she will remain in office until the Congress passes a bill for new elections this year.
"We realized that we had to begin to exert pressure on the international community," said Román Alfaro.
On Jan. 30, Canada and other members of the Organization of American States signed the "Declaration on recent events in Peru," which called for the cease of violent demonstrations and repressive state response, as well as asking for accountability from the Peruvian government.
More recently, the Inter-American Commission on Human Rights (IACHR) released a report on the social outcry in Peru, noting "serious human rights violations against both protest participants and bystanders," and recommending investigations with "due diligence and with an ethnic-racial focus."
Nonetheless, a direct message condemning violence from countries that "value democracy so much like Canada" would represent a change in how Peru is managing the situation, as opposed to an apparent complacent Canadian position, according to Oscco.

A conflict with an ethnic background
"What does this mining convention have anything to do [with Peru]? It has all to do with the historical problems of Peru," said Román Alfaro about PDAC 2023.
The convention reunited the Peruvian-Canadian Chamber of Commerce (PCCC) with investors to promote foreign mining activities in the South American country. The list of participants included Peru's Prime Minister, the Minister of Economy and Finance, and the Canadian Minister of International Trade, Export Promotion, Small Business and Economic Development, Mary Ng.
Protestors saw this as an opportunity to raise their voice to Peruvian and Canadian officials and stood in front of 100 Front St. where the convention was taking place to call for the resignation of Peru's President Dina Boluarte and her cabinet, the scheduling of new elections, and legal action against security forces.
Peru and Canada hold an important bilateral trade relation regarding the extraction of natural resources. In 2021, Canadian direct investment mainly in Peru's mining, oil, gas, and financial industries totaled $12.7 billion, making it one of their largest international commercial partners.
The country's historical neglect of the demands of people living in the Andean region is key in understanding the conflict and the initial demands during the uprising of president Boluarte, according to Román Alfaro. 
Apart from being the most violent-hit region during the protests, the Andes are home to large mining operations. Although extraction revenue accounts for almost 10 per cent of Peru's GDP, over 50 per cent of Andean rural communities live in poverty, as of 2020.
Academic talks and official views
Part of the efforts by Kuskalla Abya Yala and PESA to inform about Peru's situation included the organization of academic talks in York University and UofT.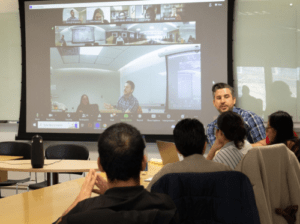 Sponsored by the Canadian Association for Latin American and Caribbean Studies (CALACS), these conversation spaces gathered scholars from Columbia University to the Universidad Nacional Mayor de San Marcos, where police forces raided and arrested more than 200 protesters and students two weeks prior.
For instance, Victor Maqque, the managing director of the Latin American Sustainability Initiative (LASI) at the University of Oklahoma, highlighted the "deep divide of rural and Indigenous sectors in the country confronting elite sectors."
Donald Kingsbury, a professor in the Latin American Studies Department, vice president of CALACS, and mediator of "Peru's Constitutional Crisis: An International Roundtable" said that the event helped "voices that aren't often heard, particularly in Canadian media, to be heard."
Two days after the event, a letter from the Consulate General of Peru in Toronto arrived at his office, outlining the government's position on the crisis, Kingsbury revealed to New Canadian Media. 
The Consul General of Peru in Toronto, Italo Augusto Acha Puertas, told New Canadian Media that "the letter was intended to provide the real facts and the official perspective of what has been going on in Peru." 
The letter outlined that the Peruvian government is respectful of peaceful manifestations but will not tolerate violence nor vandalism.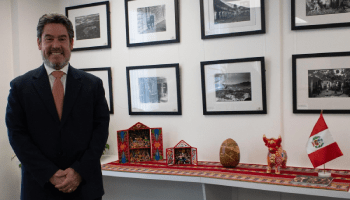 "We consider that it will be useful for the academics and for the University of Toronto to avail the Peruvian perspective about the current situation," Acha Puertas said.
The consul indicated that he met with protesters and students regarding the country's situation. 
"Peru is a democratic country, as well as Canada, so we have to listen to everyone's perspectives and opinions on current or future situations that could arise in our country," Acha Puertas said.
Acha Puertas highlighted that "all Peruvians deserve and want to live in peace, and they all want economic prosperity for their own, for their families, and for the future of our country … We are aware that the benefits of economic wealth should be better expanded to our whole society. And that is a pending task that we have for the future."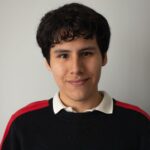 Rodrigo Huerta Aguirre is a Peruvian journalism and political science student at the University of Toronto. He is passionate about reporting on politics, diaspora, and local issues in Toronto. Based in Scarborough, he currently writes for The Underground at UTSC.