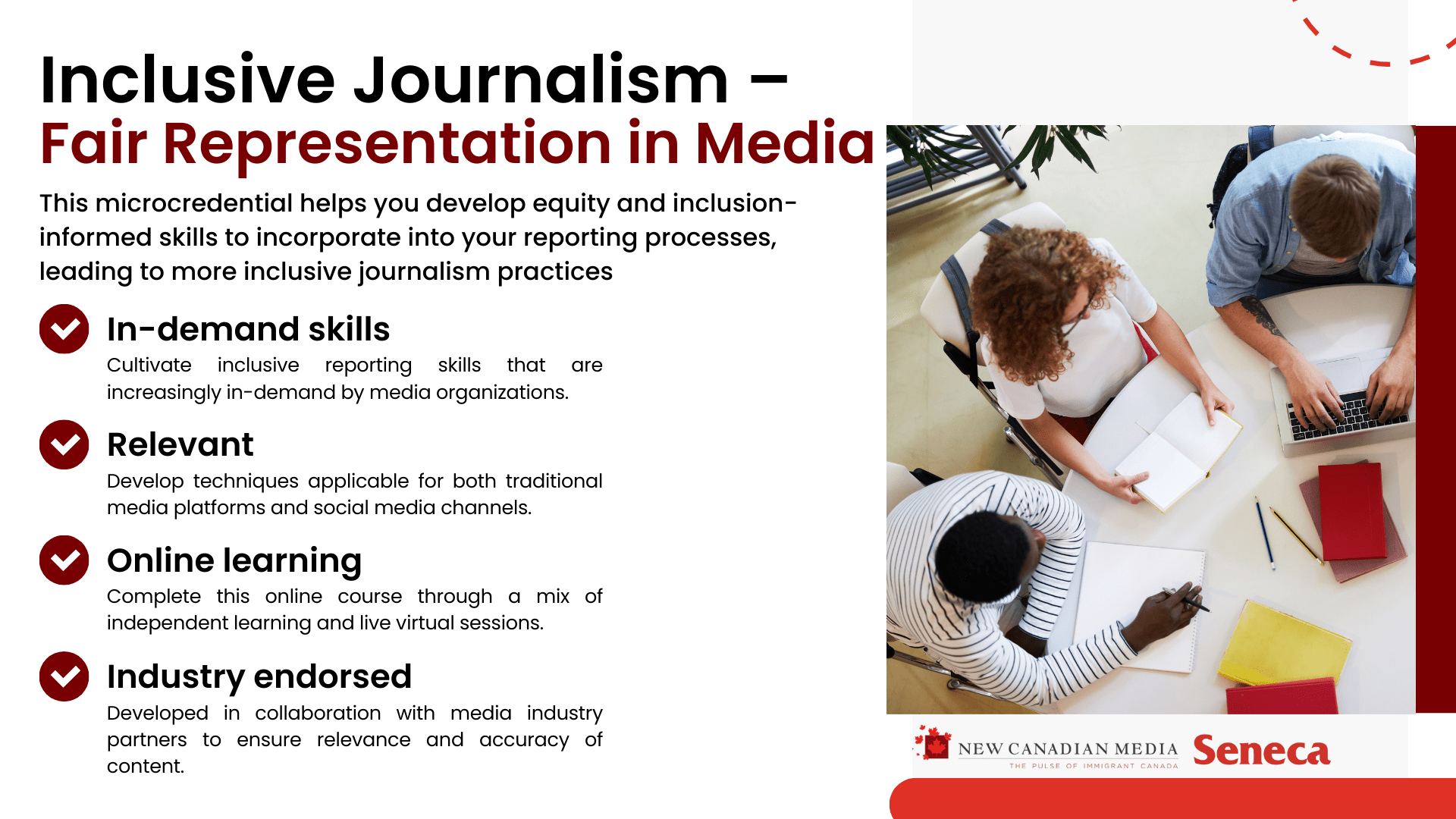 NCM is excited to announce the launch of our groundbreaking micro-credential in collaboration with Seneca College. 
For more information, please write to George Abraham publisher@newcanadianmedia.ca
About the micro-credential: Some of the biggest issues in the news today draw journalists into complex questions about race, religion and ethnicity. To get the story, journalists may have to seek and draw out diverse perspectives, navigate stereotypes, establish trust and ask difficult questions about religious, cultural and historical traditions. This puts a special responsibility on journalists and media organizations. This microcredential helps to develop equity and inclusion-informed skills to incorporate into your reporting processes, leading to more inclusive journalism practices. Learn more and keep up to date on the modules offered here.
---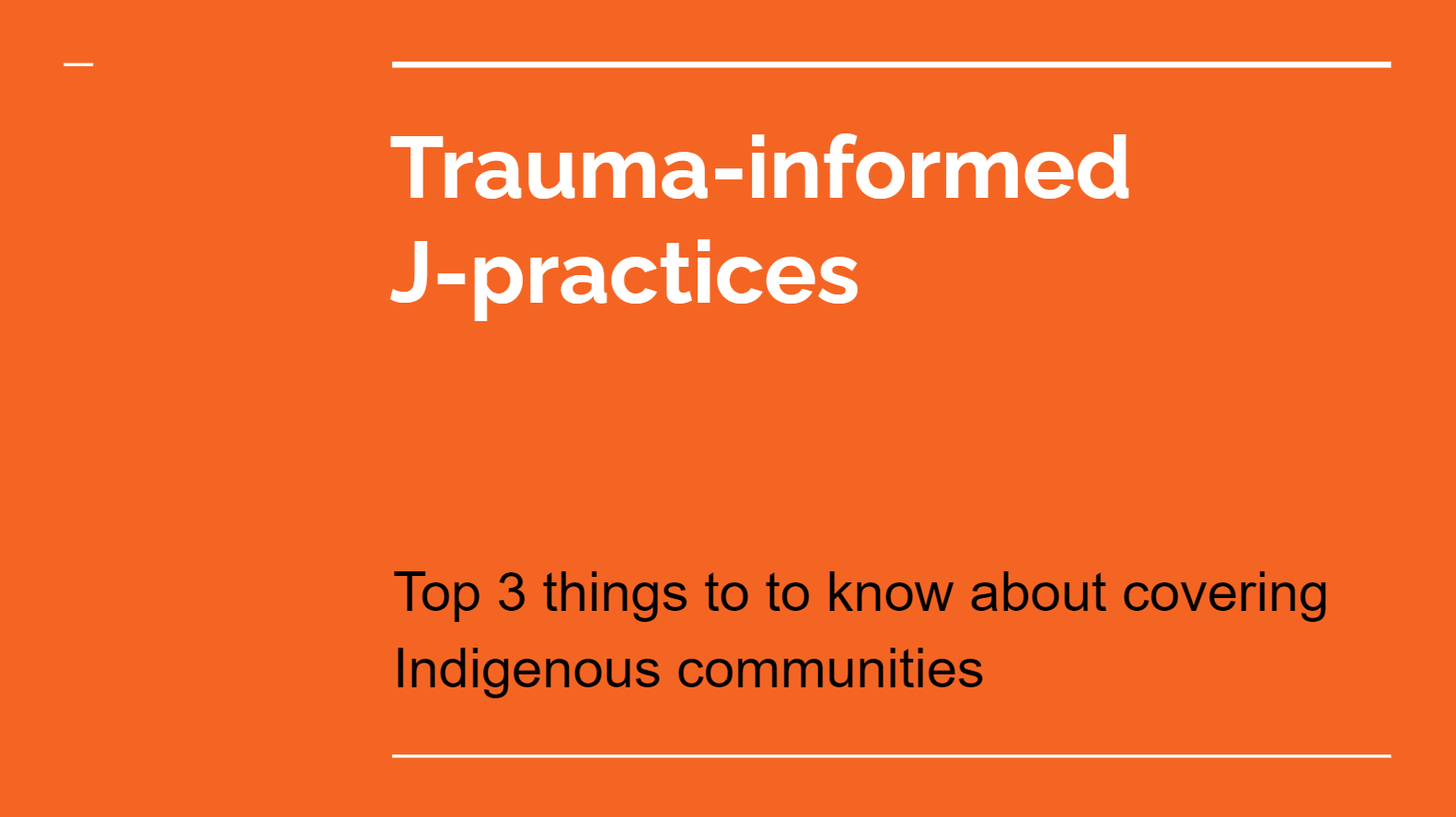 NCM Panel: Top 3 things to know about covering Indigenous communities
NCM Collective members, Aaron Hemens and Kaitlyn Smith lead this workshop to equip attendees with a reporter's toolkit of journalism practices informed by Indigenous news leaders.
See the full presentation here.
---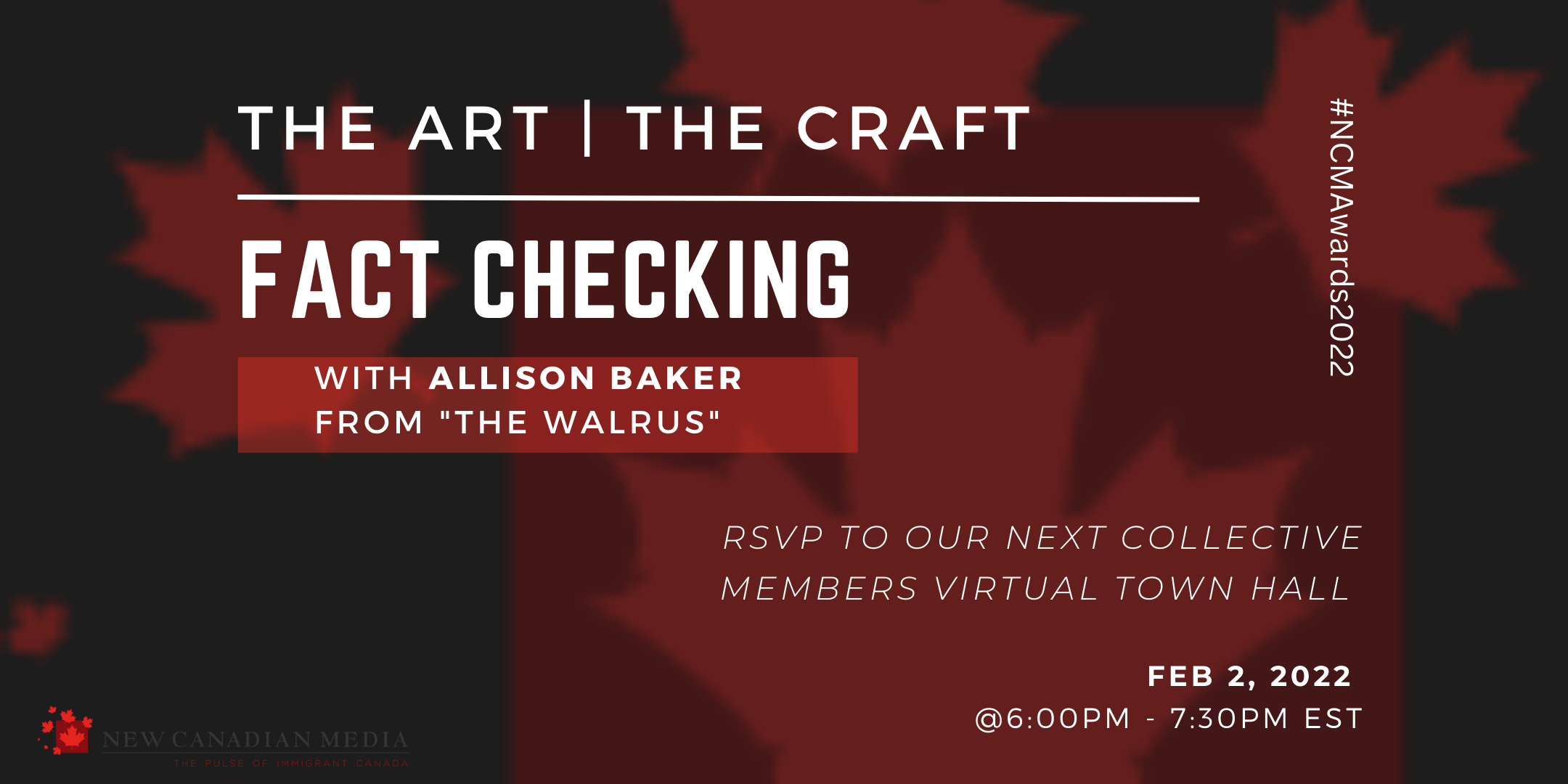 Thank you for joining us to congratulate our #NCMAwards2022 winners.
The Walrus's head of research, and Mi'qmak Matters podcast producer Allison Baker presented on the nationally standard principles of fact-checking in Canada's j-industry. See the full presentation here.
Keep an eye out for our next collective members' Town Hall!
---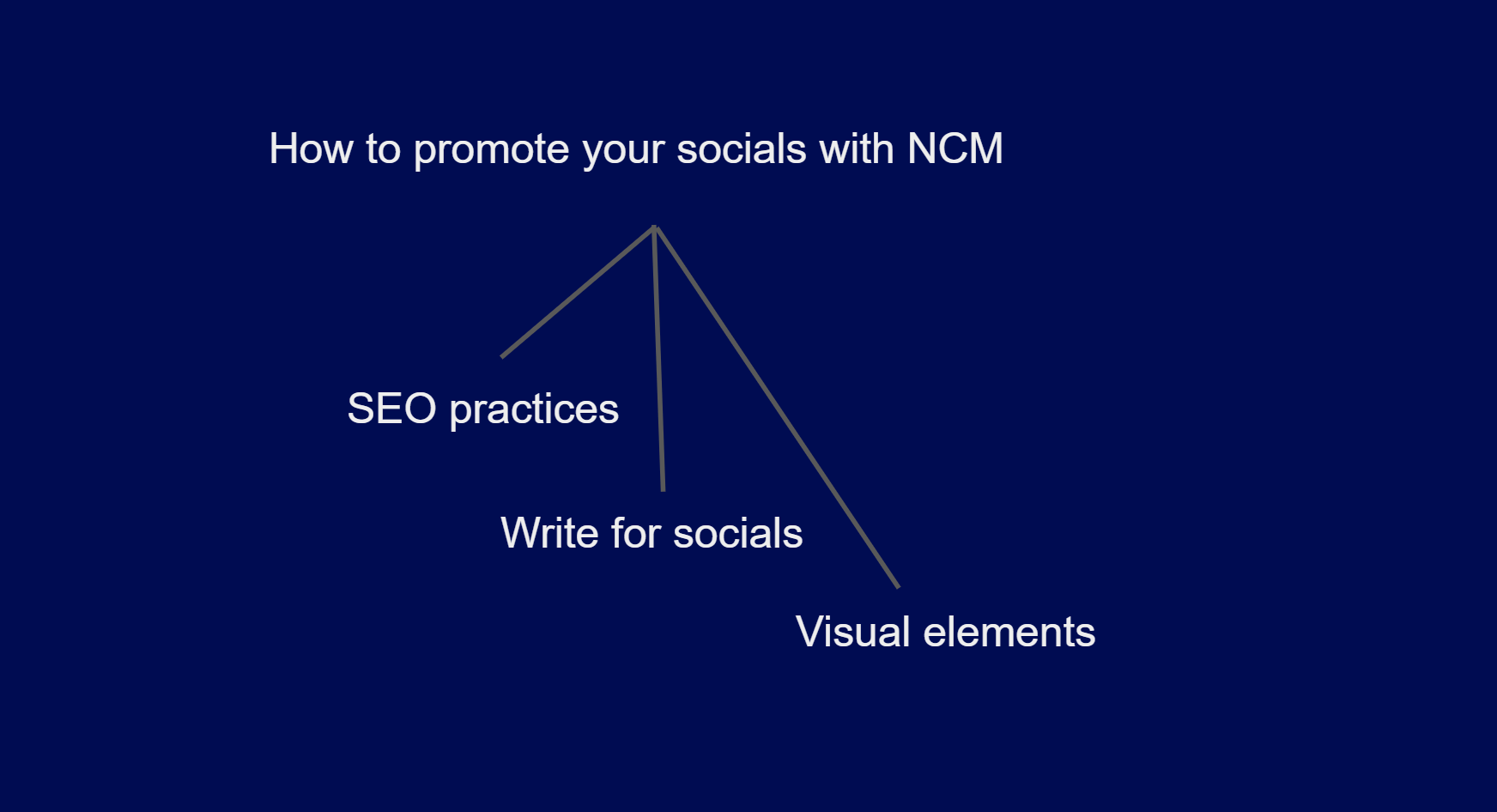 NCM had a virtual Collective Town Hall on Dec. 15, 2022, during this town hall Editorial Assistant, Kaitlyn Smith, led a presentation on How to promote your socials with NCM
---
NCM held its first "Voices" Seminar on Gender and Sexual Diversity in Journalism on August 25, 2022
---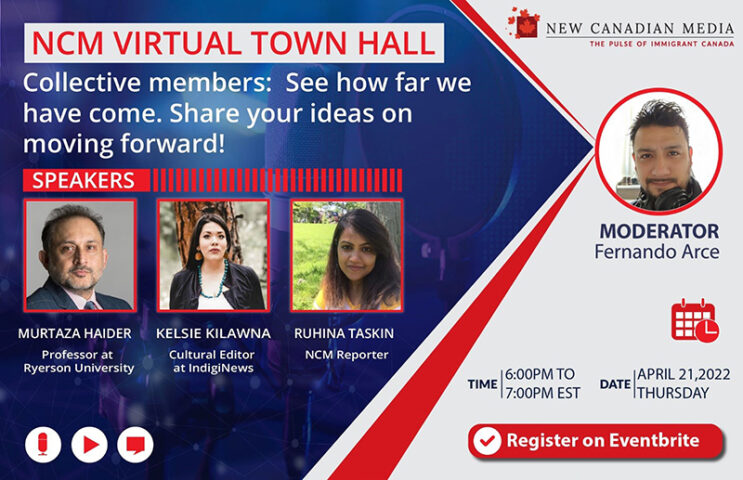 NCM will be holding a Virtual Town Hall on Thursday, April 21, 2022 from 6pm to 7pm EST
Register here.
---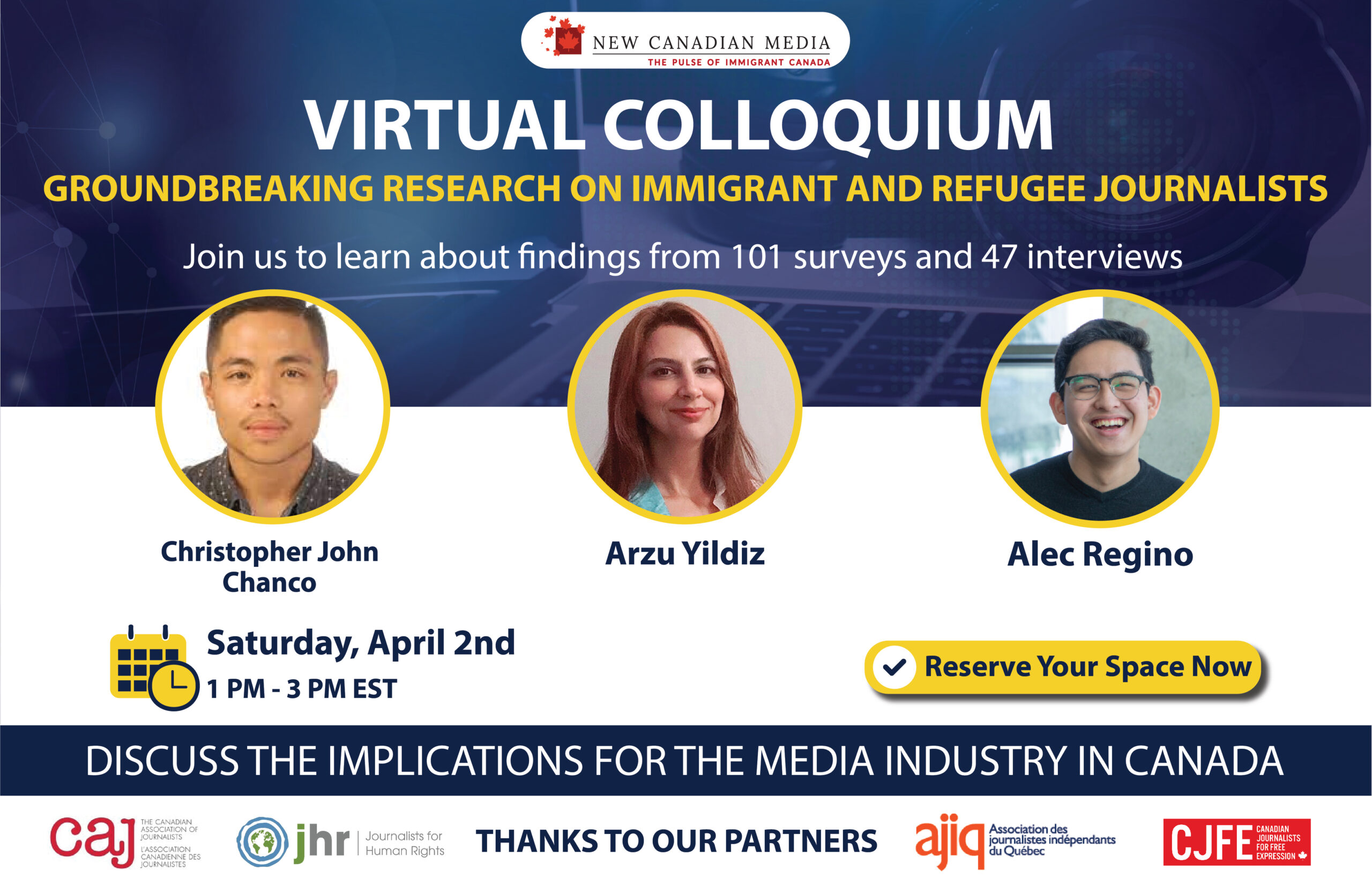 NCM will be holding a Virtual Colloquium on Saturday, April 2, 2022 from 1pm to 3pm EST to share the results of our groundbreaking study, titled "Breaking into the Canadian media industry: economic and social barriers for first-generation immigrant and refugee journalists" and discuss the implications for the media industry in Canada. The colloquium will feature the report's three lead authors, some of the respondents whose stories have been featured on New Canadian Media, as well as other special guests. Register here.
Find out more about the study and read the Executive Summary here.
---

NCM – Village Media Advanced training and mentorship for immigrant journalists
Running from January to March 2022, the program provides a unique opportunity to learn from renowned journalists in small-group workshops conducted remotely via Zoom.
Each participant receives access to one-on-one mentorship with instructors leading to at least one piece of published journalistic work.
Workshops conducted so far include:
Spot Reporting/News Gathering with Fabian Dawson and Judy Trinh
Multimedia Reporting with Judy Trinh and Kenneth Armstong of Village Media
First Byliners with Johna Baylon
Enterprise/Investigative Journalism with Cecil Rosner
Research Techniques with Cecil Rosner
Opinion Writing with Paula Arab
This workshop and mentoring series is funded by the Canada Periodical Fund — Collectives Initiative, of the Government of Canada.
—————————————————————————————————————————-——–
Programme de formation et de mentorat avancé pour les journalistes immigrants de NCM et Village Media
Se déroulant de janvier à mars 2022, le programme offre une occasion unique d'apprendre auprès de journalistes de renom dans le cadre d'ateliers en petits groupes menés à distance via Zoom.
Chaque participant a accès à un mentorat individuel avec les instructeurs qui lui permettra de publier au moins un article journalistique.
Voici les ateliers organisés jusqu'à présent :
Reportages et collecte d'informations, par Fabian Dawson et Judy Trinh
Les reportages multimédia, par Judy Trinh et Kenneth Armstong de Village Media
Atelier pour les nouveaux journalistes de NCM, par Johna Baylon
Le journalisme d'investigation/Journalisme d'initiative, par Cecil Rosner
Les techniques de recherche, par Cecil Rosner
La rédaction des textes d'opinion, par Paula Arab
Cette série d'ateliers et de mentorat est financée par le Fonds du Canada pour les périodiques – Initiatives collectives, du gouvernement du Canada.

Past Training for Immigrant Journalists
The NCM-The Walrus Immigrant Journalist Training Webinar series was a collaborative, nation-wide professional development program designed to provide training to newcomer journalists with unique backgrounds and multicultural-multilingual skill sets to facilitate their participation in a much more inclusive Canadian public conversation.
Our second webinar series ran from January to March 2021.
This workshop series is funded by the Canada Periodical Fund-Collectives Initiative, of the Government of Canada.