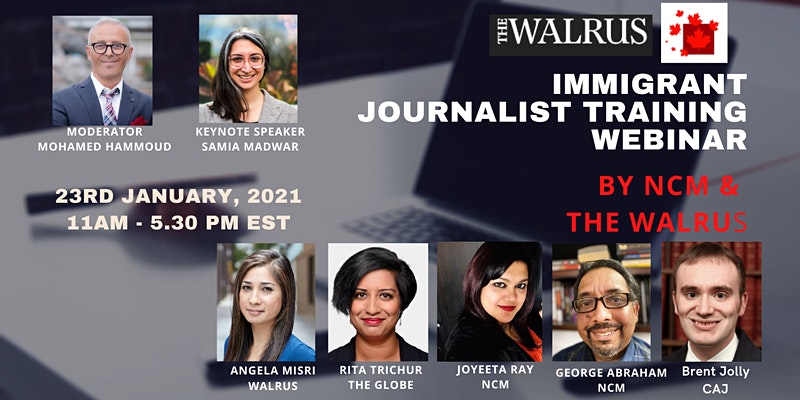 NCM-The Walrus Journalist Training Series – Part 1
758
758 people viewed this event.
Interactive webinars led by seasoned journalists aimed at empowering immigrant and student journalists to learn industry best practices.
About this Event
Looking to make a name for yourself as a professional Canadian journalist? Don't miss the NCM-The Walrus Webinar Series. Facilitated by industry leaders, the webinars cover key topics to help you kick-start a flourishing career.
The first workshop will be held on Jan 23rd, 2021, and features the following topics:
Canadian Journalism – George Abraham and Brent Jolly
Effective Writing and Editing – Rita Trichur
Digital Journalism – Angela Misri
The webinar will be moderated by NCM's Chief Learning Officer, Mohamed Hammoud. Samia Madwar, the Managing Editor at The Walrus will be present as keynote speaker.
New Canadian Media (NCM), a dynamic Collective of over 200 high-calibre journalists from diverse ethnic backgrounds, collaborates with the Canadian Association of Journalists (CAJ) and top news media publications such as The Walrus magazine to empower our members with full support and resources.
Event Details (Eastern Standard Time)
Live on Zoom
Meeting link will be sent upon registration
11:00 AM-11:15 AM: Introductions
11:15 AM-11:30 AM: Keynote speaker
11:30 AM-1:00 PM Session 1: Introduction to Canadian Journalism
1:00 PM-1:30 PM: Break
1:30 PM-3:00 PM: Session 2: Effective Writing and Editing
3:00 PM-3:30 PM: Break
3:30 PM-5:00 PM: Session 3: Digital Journalism
5:00 PM-5:15 PM: NCM-CAJ Collective
5:15 PM-5:25 PM: Evaluation
5:25 PM-5:30 PM: Closing
About the speakers
Mohamed Hammoud is a dedicated and driven community leader and a consultant with expertise in community activism, leadership development, diversity, equity and inclusion, Mohamed understands the importance of diversity to sustain Canada's prosperity and growth and regularly contributes to various media outlets, including the CBC, the London Free Press, Thrive Global, and BizCatalyst. An award-winning Toastmaster, TEDx and keynote speaker, executive coach and trainer, Mohamed has been recently appointed as the Chief Learning Officer to New Canadian Media.
Samia Madwar is the managing editor at The Walrus. She is also a member of the Magazines Canada board of directors and the Inuit Art Quarterly editorial advisory council.
George Abraham is the Founder and Publisher of New Canadian Media.
Brent Jolly is the President of the Canadian Association of Journalists.
Rita Trichur is an award-winning journalist. She is a Senior Business Writer and Columnist in the Report on Business for The Globe and Mail. Rita has also covered financial services and economics for the Toronto Star, and has held various roles at the Canadian Press and the Ottawa Sun. She has a Bachelor of Journalism and Political Science and a M.A. in Canadian Studies – both from Carleton University in Ottawa.
Angela Misri is an award-winning digital journalist who worked at the CBC for most of her career. She currently serves as Digital Director at The Walrus. Angela is also the author of the Portia Adams Adventure series, and Pickles vs. the Zombies (2019). She is also an instructor at Ryerson University. Watch her short video on Digital Journalism on the NCM Learning Hub here
Joyeeta Ray is the Convener, Communications Planner, Reporter and a Mentor of the NCM Collective. She brings over 20 years of awarded writing experience in ad agencies and multimedia publications from seven countries to the table. She is also a published author of children's books. In Canada, Joyeeta operates as an independent Content Marketing Consultant. She entered NCM through the Mentoring Program and developed her understanding of the Canadian Press Style through NCM's collaborative workshops with NNC and CBC. Her vision is to now help other new Canadian writers using the same NCM tools that inspired her.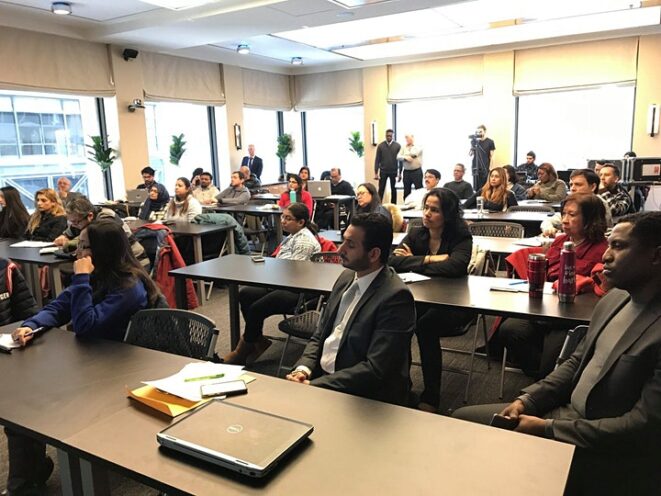 ________________________________________________________________
NCM and The Walrus gratefully acknowledge funding from the Canada Periodical Fund's Collective Initiatives supporting this training initiative.