With the 2020 U.S. presidential election almost over and done with, one question on every immigrant's mind is, What will the impact be on Canadian immigration? Though U.S. President-elect Joe Biden has vowed to reverse U.S. President Donald Trump's conservative immigration policies and create a fast-tracked immigration pathway for undocumented immigrants, it will take some time before we see any changes. 
U.S. immigrants on why they chose Canada
Immigrants choose Canada because of not only its liberal views, free health care, education system, and welcoming immigration policies, but also immigration systems such as Express Entry under the Federal Skilled Worker program, which has made the application process faster and easier, sometimes taking as little as six months. 
Satbir Grover, a realtor by profession, opted to immigrate to Canada from the U.S. with his wife in 2016, citing the country's great health care, job opportunities, and favourable immigration policies.
"Since we both qualified for Canadian Express Entry, we decided to move here as Canadian culture, health benefits, and job opportunities were much similar to those of the U.S., and it was easier for us to transition to Canada than to any other country. With Mr. Biden as President-elect, the impact on immigration is an important question. With the ever-changing politics [in the U.S.] and more supportive Canadian policies, we may expect an increase in immigration as compared to 2016. Also, the benefits package in Canada towards new immigrants is very impressive and considered to be one of the best in the world," he said.
When asked if politics is an important consideration in immigration policies and the decision to immigrate, Grover answered in the affirmative.
"It is imperative to get clarity on the political landscape of the host country. Politics itself is part of the vast spectrum of macroeconomics. The actual impact of a new government on the internal policies of its neighbouring countries is highly speculative. As we all are aware, Canadian immigration programs are much more relaxed as compared to other developed nations," he added, "The Canadian government investing heavily in the health and education sectors along with providing great benefits to first-time home buyers are all driving forces for new batches of students and professionals who want to migrate to Canada with their families."
Challenges faced by U.S. immigrants
Another new immigrant, Debashree, who migrated from the U.S. in September 2020, cited Canada's Permanent Resident program as the reason for moving to this country, finding other options easier to explore than applying for a Green Card in the U.S.
"The U.S. immigration system is broken. This is old news. The fact that my husband and I lived in the U.S. for 10 years and still were not eligible for a Green Card is simply sad. If the U.S. wants immigrants, there should be a fair process, yet the per-country cap [on Green Cards] is the biggest roadblock. Expecting employment-based immigrants [i.e., holders of the H-1B nonimmigrant work visa] to wait over 20 years to settle in the country and call it home is not acceptable anymore," she said. 
Debashree believes U.S. immigrants would not look to Canada if U.S. immigration policies were more favourable.
"The U.S. remains the dream for tech workers, and most of us would do whatever possible to stick around to get to the finish line. If the Green Card per country quota issue is resolved, I do not see many people wanting to come north of the border," she added, "On the other hand, if the spousal H-4 EAD [Employment Authorization for H-4 Dependent Spouses] work permit issue is not resolved and the spouse of an approved Green Card holder is not allowed to work any longer, Canada would definitely see a spike in immigrants from the U.S."
Under the H-4 visa category, H-1B visa holders can bring their immediate family members (their spouse and children under 21) to the United States as dependents. The spouse is authorized to work in the United States only after Form I-765 is approved and the spouse receives an Employment Authorization Document card.
Possible decrease in immigration to Canada
In August 2020, Canada welcomed 11,315 new permanent residents, according to the latest Canadian government data. This is of course a low ballpark figure, no doubt caused by the global pandemic and the resulting travel restrictions. 
In the opinion of one naturalized Canadian citizen who arrived in Canada more than a decade ago, Canada's policy toward immigrants is more open than that of the U.S., but the COVID-19 pandemic has reduced the flow of immigrants to this country.
"U.S. Democrats, in general, are pro-immigrant, so it would be better for people who have come to the U.S. on a temporary work visa, as they can be seen to be benefiting from it. However, the backlog that has been created in the past four years will take some time to clear, maybe another four years at least, as implementation and effectiveness will take some time to measure," said Suvadeep Mitra, an application manager in Toronto.
"I don't think there will be an increase of immigrants to Canada for the time being, as we have seen in the last four years. This is of course due to the worldwide pandemic. But there will always be a steady flow of immigrants to Canada because of its open policies on immigration."
Biden's policies also outline larger goals to work on with Congress, such as increasing the number of employment-based visas, providing a path to legalization for the 12 million undocumented immigrants in the country, and creating a new decentralized immigration system for foreign workers that is based on local employers' needs, as well as a new visa option for entrepreneurs. Biden's cabinet would also fix processing for H-4 visas, allowing spouses of Green Card holders to work.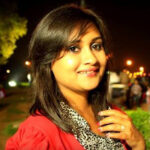 Seemanti's career as a Public Relations professional enhanced her writing skills and jumpstarted her writing trajectory on various subjects. Over the last seven years, she worked with agency giants such as Weber Shandwick, MSL, AvianWe in many sectors such as automobile, consumer durable, manufacturing, healthcare, pharmaceutical, corporate social responsibility. Seemanti holds a Post Graduate Diploma in Mass Communication from New Delhi, India, and a Bachelor's Degree from Bangalore University, India in Communicative English, Journalism and Psychology.