"I'm avoiding public gatherings and other events temporarily until things cool down. My university has been great and is offering mental health support if people need it and they're backing the Indian students."
On Sep. 20, India's external affairs ministry issued an advisory warning nationals and travellers in Canada to "remain vigilant," which has worried many families whose loved ones are here.
On Sept. 21, Prime Minister Justin Trudeau reiterated his call to India's Prime Minister Narendra Modi to "engage with Canada" over allegations that link its government to the murder of Canadian citizen Hardeep Singh Nijjar, prompting the Indian government to cancel processing of visa services in Canada.
McMaster's support services, accessible through its website, lists a range of resources including guidance on travel to India, assistance programs for employees and their families; student wellness and counseling services.
"Nobody here cares about political leaders fighting," said Karan Raj, a diploma student at Conestoga College in Kitchener, Ont.
"I don't think anybody here in Canada cares about the issue, except for those who recently became Canadian citizens and have no Overseas Citizen of India (OCI) card. They will not be able to visit home, as visa services have stopped."
India allows foreign passport holders with OCI cards to travel without a visa.
Sheridan and Humber Colleges in Ontario too posted statements on their websites assuring staff and students they are monitoring the situation..
"Humber will continue to communicate with you as the situation evolves and we commit to ensuring that you have accurate information as quickly as possible," the Toronto college post says.
"The Humber community supports the many students and employees at Humber with direct and indirect ties to India, and we will continue to foster a safe and inclusive environment and support students and employees who are impacted by this ongoing situation.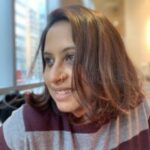 Shilpashree Jagannathan is a journalist from India. She now lives in Toronto and has worked as a business reporter for leading newspapers in India. She has tracked telecom, infrastructure, and real estate news developments and has produced podcast series. She currently focuses on human rights, feminist movements, and other related issues in Canada and India. Her weekends are spent bird watching in one of the Toronto birding hotspots; she loves trails, biking, and a lot of sun.