There is no dampening of enthusiasm even during a pandemic as festivity among the Indian diaspora over the month of October gets going. The dawn of the modern world along the lines of globalization has brought many facets of a new world order where mobilization, immigration, relocation, and emigration have become frequently recurring. Moving to a foreign land and leaving everything behind is a daunting task in itself; add to it all the socio-economic and political lifestyle changes that one has to adapt to and it becomes overwhelming. Amidst these tremendous changes of a new way of life that the current country offers, maintaining the cultural identity becomes a matter of immense significance and source of pride, happiness, nostalgia, and, most importantly, hope.
'Durga Puja' and 'Navratri' — (Homecoming celebrations of Goddess Durga, a deity in Hinduism, as per Indian mythology) are the most significant events for 'Bengalis' and 'Gujaratis' (an Indo-Aryan ethnolinguistic group predominating in India) all over the world. They are much more than just  festivals for these communities. They symbolize strength, positivity, righteousness, and above all, the victory of good over evil.
These festivals are embarked as an emotion that marks the time of joyful tides. Families immerse themselves in this gala of having good food, pandal hopping, music, and cultural evenings and celebrating the Goddesses parental home.
Celebrations by Canadian-formed Community Organizations 
The feeling of happiness and making memories with your loved ones is what everyone looks forward to all year. Amar Pujo Cultural Association of Toronto (APCAT) and Friends of Gujarat are two such organizations based in Toronto, Ontario. They try to recreate this special euphoria that makes this cultural amalgamation an extravaganza that resonates with Toronto's Bengali and Gujarati immigrant communities. Organizing cultural heritage events helps keep them connected to their roots back home, where the celebratory fever grips the heart of everyone regardless of age, caste, class, or gender. Thus, they make sure that no one misses out on their favorite event of the year, even on foreign soil.
How the pandemic affects the spirit of celebration 
Last year, the entire world was crippled by the COVID-19 pandemic, and it had devastating effects for everyone, health-wise and economically. Accordingly, bearing the situation in mind, these organizers cancelled the celebration last year. This year, however, the festival will be held while strictly adhering to the protocols laid down by the government to curb the pandemic. 
Utpal Chakraborty, a member of APCAT—one of the organizing committees, said, "We will keep sanitizers and masks throughout the venue to ensure that we are maintaining COVID protocols. Also, as per Ontario government policy, we are accommodating 50% capacity of the function hall. During Puja days, we will strictly maintain Ontario and Canada government COVID protocols."
He further adds, "Our sponsors and members are definitely impacted due to COVID. The pandemic hit them economically as well. We are supporting them to all possible extent as a family. We have curtailed a few things from our celebration this year, like getting an external artist from India, to accommodate the impact due to COVID."
Sushmita Dutta, another member of APCAT, said, "From the very first year of 2016, when we as a family landed in Canada, we have been associated with Amar Pujo. We celebrated Durga Puja far away from our homeland Kolkata (India), but with the same enthusiasm and fervor in Kolkata until 2019. Then appeared the 'mahisasura' (the evil as per Indian mythology) disguised as COVID pandemic in 2020. The entire plan of Puja celebration was shattered by the rise in cases and lockdown. As part of the community (we) did our part, the 10th year Puja celebration of Amar Pujo was cancelled. We have always tried to involve our next-gen kids in this celebration. To imbibe the very culture in them."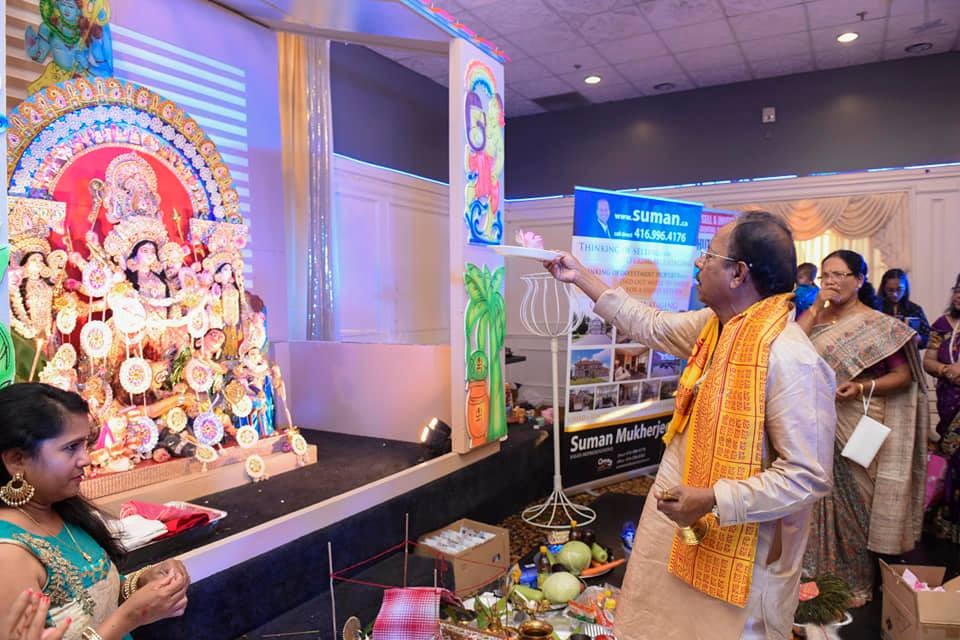 Navratri (meaning nine nights) is another festival celebrated along with Durga Puja and is an essential part of the Puja as it marks the nine days which Goddess Durga spends at her parental home.  Navratri, however, holds more importance to Gujaratis. Nihar Patel, one of the organizing committee members, said, "It was more in 2020 where we felt the effect of a pandemic to the celebration of Navratri. Like many others, we could not be a part of the rituals we culturally celebrate year after year." 
Many organizations will be back to celebrating Navratri this year with protocols for COVID-19. With increasing vaccinations and awareness, people will be preparing to visit different events. With that comes the responsibility of keeping yourself and others safe. 
He further adds, "Since we haven't been off the pandemic yet, we have taken complete precautions for the safety of everyone; sanitizers will be installed at short distances for the people to sanitize themselves at different intervals. Masks would be advised for people not playing 'Garbagarba' (a traditional dance performed during the celebration).!"
"The new immigrants, without a doubt, are joyous about having accessibility to such events in a foreign land," Patel said. "Being able to celebrate is one side of the coin. However, their biggest achievement is being able to pass their tradition to the next generation." 
The traditional festival celebrations significantly impact the youth as all the traditions and rituals require their participation. With such celebrations, they instill values of the culture into the young people and the new immigrants feel homely during these festivals. 
The adaptability of newcomers 
Amidst all the socio-economic and political challenges, what stands out for newcomers is the initial culture shock. Arpita Saha, a member of APCAT, says, "Expatriates, diaspora, exodus, dispersion, dissolution, etc., are terms which every displaced nationality bears in their heart, having separated from their own motherland. But most humans possess this exceptional adaptive power that lets them conquer their challenges on foreign soil and helps them stand out uniquely with their own cultural background and heritage. Not only the Indian communities but foreign nationals also take part in these events." 
Akhil Shah, the organizer of the event and the president of Friends of Gujarat, said," I feel immense joy to bring this festival after a year gap. People have been waiting and their wait finally seems over. Such festivals boost our cultural values on another level and make it recognizable for everyone."
Nilu Dutta, another attendee of the Navratri celebration says, "With added multicultural communities growing each day, more and more people are being welcomed whole-heartedly within the communities. They not only communicate within themselves but also make them share their experience and community in a language of harmony. Being able to celebrate is one side of the coin, the other being able to share with everyone residing in Canada." 
Despite originating as a cultural celebration, these events ensure that the best of both worlds is served. Canada stands true to its name as a multicultural country that helps create a feeling of harmony and a sense of belongingness by accommodating such community gatherings and encouraging the Indian diaspora to immerse in a fun-frolic celebration. These celebrations are no longer restricted to one community and look like they are being embraced by Canadians and other foreign nationals.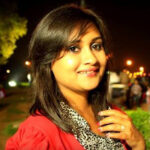 Seemanti's career as a Public Relations professional enhanced her writing skills and jumpstarted her writing trajectory on various subjects. Over the last seven years, she worked with agency giants such as Weber Shandwick, MSL, AvianWe in many sectors such as automobile, consumer durable, manufacturing, healthcare, pharmaceutical, corporate social responsibility. Seemanti holds a Post Graduate Diploma in Mass Communication from New Delhi, India, and a Bachelor's Degree from Bangalore University, India in Communicative English, Journalism and Psychology.