An immigration consultant in India is facing criminal charges in Canada for providing dozens of international students with fraudulent college admissions letters to secure study permits in Canada. 
In a statement on Friday evening, the Canada Border Services Agency (CBSA) announced it is charging Brijesh Mishra under the Immigration and Refugee Act  for allegedly misrepresenting himself as a licensed immigration consultant and offering advice. 
"Following information provided to the CBSA concerning Mr. Mishra's status in Canada, as well [as] his alleged involvement in activities related to counseling misrepresentation, the Agency launched an investigation," reads the statement.   
These charges were announced a week after federal immigration minister Sean Fraser assured international students who were facing deportation that those who have been scammed will be allowed to stay in Canada until their cases are reviewed further.
"The Government of Canada's focus is on identifying those who are responsible for the fraudulent activity and not on penalizing those who may have been affected by fraud," Fraser said on June 14.
See also:
For over two weeks in May hundreds of international students and advocates permanently camped outside CBSA offices in Mississauga, calling on Mendicino and other ministers to stop the affected students from being deported, and to protest against putting the onus of fraud on its victims. 
New Canadian Media first reported on the potentially hundreds of international students facing deportation in March. Several pointed to Mishra as the immigration consultant they had hired to coordinate their visa, travel, and education in Canada. 
It wasn't until after they had spent years and thousands of dollars to study and work here that Canadian immigration officials informed the students that their college acceptance letters were fake and they faced deportation. 
Last week, minister Fraser announced a joint investigation with his office and CBSA further looking into the claims of international students being defrauded by overseas consultants.
Note: This article has been edited on June 30 to correct a mistaken statement that Mishra was arrested in India. He was in fact arrested in Canada.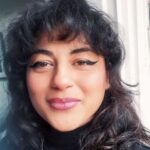 Keitlyn (they/them) is a multi-media journalist residing in Scarborough, Ont. They are interested in long-form journalism that highlights the visibility of BIPOC expression. True to millennial form, they are a small business owner, carpenter and freelance photographer. They were interested in NCM as it understands the "big picture." Journalists are dedicated to truth and democracy. Our communities have not always had access to these privileges. NCM is filling in a large gap that North American media has long neglected.