Interviews with government officials, universities, colleges and settlement service agencies showed the pandemic "accentuated the importance of immigrants and international students in the Canadian labour market." 
"COVID-19 was a very unique case," said Toronto Metropolitan University researcher Ashika Niraula. "There was a global state of uncertainty."
A recent article by Niraula and TMU researcher Melissa Kelly exposed gaps in support to new migrants at the height of pandemic lockdowns as well as the need for more research to better understand how these communities mobilize in times of crisis.
Mainstream organizations "found themselves in a largely unprepared situation," the study said. "Diasporic organizations helped to fill the gap."
Kelly said their findings show grassroots organizations had more culturally appropriate responses than some universities, colleges, settlement services and government agencies were offering. 
"The diasporic communities played a fundamental role in offering culturally sensitive and religiously appropriate support to help South Asians during this very difficult period," the paper said.  
In interviews, religious and cultural leaders, settlement services and doctors said new migrants came to them for housing, work and healthcare during the pandemic. Many newcomers also sought food and community during times of quarantine, or for vaccination information. 
Kelly said the research, carried out since 2019, showed diaspora communities should be given a larger role to play when it comes to supporting highly skilled migrants or international students. 
"They have information that other stakeholders don't have, and they have a way of mobilizing that is not possible for other stakeholders."
Another TMU research project, DEMA, will continue to look at how the uncertainty of COVID-19 affected newcomers' decisions to immigrate to Canada, including a study of 1,000 international students and highly skilled migrants. 
"There's not much talk about how the diaspora mobilized itself in this crisis situation," said Niraula, who is a research fellow on the DEMA project. 
"It is important to understand how this specific diasporic population experienced and overcame the challenges posed by the COVID-19 pandemic."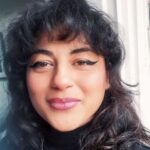 Keitlyn (they/them) is a multi-media journalist residing in Scarborough, Ont. They are interested in long-form journalism that highlights the visibility of BIPOC expression. True to millennial form, they are a small business owner, carpenter and freelance photographer. They were interested in NCM as it understands the "big picture." Journalists are dedicated to truth and democracy. Our communities have not always had access to these privileges. NCM is filling in a large gap that North American media has long neglected.