Seven Conservative candidates representing Greater Toronto Area (GTA) ridings with a significant presence of ethnic Chinese voters came together on Tuesday to promote their party platform.
The Chinese Canadian Conservative Association (CCCA) organized the event for the Chinese language media.
The seven candidates who participated were Bin Chang representing for Scarborough-Agincourt; Joe Daniel, for Don Valley North; Jobson Easow for Markham-Thornhill; Maureen Harquail for Don Valley East; Chungsen Leung for Willowdale; Michael Parsa for Richmond Hill; and Bob Saroya for Markham-Unionville.
Playing the Chinese heritage card
Apart from Bin who came from Mainland China and Chungsen who was born in Taiwan, most of the other non-Chinese candidates also had immigrant backgrounds.
For example, Parsa, who came to Canada at age six, has his roots in the Iranian community, Saroya immigrated to Canada in 1975 from India and Easow, who was born and brought up in India, came to Canada over two decades ago.
"[A] MP who truly represents people needs to understand Canada's diversity."
Daniel, who is South Asian, but speaks with a British accent and has a "mainstream" name, said he has supporters from every community. Born in Tanzania to Indian parents, he went to school in India and started his career in England before coming to Canada.
During the event, he contrasted his support base with that of his Liberal rival Geng Tan, who has publicly asked voters of Chinese heritage to vote for him.
Tan's supporters have shared WeChat messages such as "He (Tan) represents the Liberal that is more friendly to Chinese"; "Without a Mandarin-speaking Chinese politician in the Parliament, who will speak for our Chinese people?"; or "Who will you vote for, a Chinese or an Indian?"
Daniel showed these messages to the media, but shrugged off his challenger.
"Chinese communities are split in three ways: Taiwanese, Hong Kong and Mainland Chinese," Daniel said. "His (Tan's) appeal is to Mainland Chinese. Many of them are completely opposed to what he says. I have a lot of Chinese supporters coming out and canvassing for me who say what he says is wrong."
Daniel's close caucus member, Willowdale incumbent Chengsun, is against ethno-centric campaign strategies.
In reference to a Globe and Mail article earlier this year that said "Toronto's suburbs are shaping up to be a Mandarin-speaking powerhouse for the federal Liberal Party," Chengsun had this to say:
"What is a powerhouse? A powerhouse is the MP that most represents his constituents and [speaks] for them in the House of Commons. Plus, a MP who truly represents people needs to understand Canada's diversity."
"If you rely solely on the Chinese vote, you are going to lose."
He went on to add, "If you rely solely on Chinese vote, you are going to lose because that's not representing all Canadians, that doesn't represent diversity of Canadians. I happen to be Chinese, but I certainly don't see myself as a Chinese candidate because it's incorrect."
He said his message to the Chinese community was to "vote for the government that best represents you."
Wooing the Chinese vote
Alex Yuen, the president of CCCA indicated that although two of the Conservative candidates were Chinese, the organization's mission was to hear out voices from all communities.
Nevertheless, the seven candidates who had gathered at an upscale Chinese seafood restaurant in Scarborough were fully prepared to woo the Chinese community with topics that interested them.
They each had a Chinese name that was most likely given to them by their ethnic Chinese volunteers. For instance Saroya's Chinese name meant "contribute to the country" and Daniel's meant "stronger and talented."
"It's clear that Chinese families share our Conservative values," said Saroya. "They agree with our low tax, balance budget policies and they do not want marijuana to be legal and accessible like cigarettes and alcohol."
Harquail, the only native-born candidate, who also happens to be a cousin of late Finance Minister Jim Flaherty, had this to say: "The Prime Minister recognizes the outstanding contributions that Chinese Canadians have made."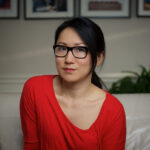 Shan is a photojournalist and event photographer based in Toronto with more than a decade of experience. From Beijing Olympic Games to The Dalai Lama in Exile, she has covered a wide range of editorial assignments.