A cross-Canada campaign by the Hamilton Coalition to Stop the War for the release of Huawei executive Meng Wanzhou calls her arrest "racism against Chinese" and alleges that the U.S. is attempting to start a "New Cold War" with China.
Meng, the CFO of the Chinese telecom giant Huawei, was arrested by Canadian authorities in Vancouver on Dec. 1, 2018 after an extradition request from the U.S. In what is widely perceived as retaliation, nine days later Beijing detained two Canadians, Michael Kovrig and Michael Spavor. The men were held without charges for around 18 months and are still in a Chinese prison, awaiting trial for espionage. Meng was released on $10 million bail one week after her arrest; her extradition trial is underway.
The Hamilton Coalition to Stop the War (HCSW) says its mission is "to press harder for peace" and to end "complicity of the Canadian government to help further the American Agenda." It was founded in 2002 to lobby Canada to stay out of the U.S. war in Iraq and to "unite all the elements in society" who were against America's push in the Middle East.
The group recently held its second online event titled "The Arrest of Meng Wanzhou & The New Cold War on China," a panel discussion with John Ross, a research fellow who works at China's state-owned university, William Ging Wee Dere, a descendant of a Chinese head-tax payer and activist for the redress of the Chinese head tax, and Prof. Justin Podur, an author of several books and host of a podcast called the Anti-Empire Project.
"Yellow Peril meets the Red Menace"
"Anti-Chinese, anti-Asian racism is embedded in Canadian history, long before Huawei or the racist assaults we are facing today during the pandemic," Dere said during the panel. "The present demonization of China to justify the Cold War by Western powers will lead to more anti-Chinese racism as the 'Yellow Peril' meets the 'Red Menace.'"
Canadian William Ging Wee Dere, suffered the effects of the Chinese Exclusion Act of 1923 that completely banned all Chinese immigrants to Canada until 1947, separating him from his father for many years. For 62 years, from 1885 to 1947, Canada had legislation aimed at controlling (and from 1923, prohibiting) Chinese immigration, including a head tax, imposed only on Chinese immigrants, ranging from $50 to a whopping $500.
Dere is an active voice for the Chinese head tax redress in Montreal. Back in 2006, he worked alongside other Chinese Canadian groups and demanded the then Stephen Harper government make an official apology to the Chinese head-tax payers. As a result, a symbolic $20,000 compensation was paid to any surviving head-tax payers and their living spouses. Dere published his memoir, Being Chinese in Canada: The Struggle for Identity, Redress and Belonging, in 2019.
"The case against Meng and Huawei plays into the overall Sinophobic sentiments in Canada," he said. "These Sinophobic ideas are fermented by the media through their vilification of China on issues such as Xinjiang, Tibet, Hong Kong and the Chinese response to COVID-19. Huawei and Meng Wanzhou are caught in this web of anti-China narrative. This is also reflected in how Chinese Canadians are being treated during during the pandemic."
Another panellist, British academic John Ross, called Meng's arrest "a frame-up of an individual that has never been carried out against officials to western companies." He mostly praised Huawei as a giant telecom company with a "huge scale of operation," with "at least 10 per cent revenue in R&D," an "extremely educated workforce," and "the most highest-paid employees."
He also called the attack on Huawei the United States' "Tonya Harding tactic" (referring to the U.S. figure skater who in 1994 orchestrated an attack on her rival, Nancy Kerrigan).
Ross, who has a Chinese name pronounced as "Luo Siyi," is a senior fellow in the Chongyang Institute for Financial Studies at China's state-owned Renmin University, Beijing. He "was the first non-Chinese citizen to be appointed to a full-time post at a leading Think Tank in China," reads his LinkedIn profile.
Meng Wanzhou and "anti-Beijing racism"
Also Justin Podur, an associate professor at York University's Faculty of Environmental and Urban Change, believes that Canada's "kidnapping" of Meng constitutes "economic and domestic anti-Beijing racism." He said the reasons "China is demonized in Canada" are the latter's "imperial handover," its colonial history, and its "imperialism fantasy."
Podur authored several books, including America's Wars on Democracy in Rwanda and the DR Congo. Meng Wanzhou has been a recurring topic on his "Anti-Empire Project"" website.
He further questions Canada's credibility as a human rights defender.
"As you go through Canada's history, some things Canada is accusing China of doing are almost exactly things that we have documented historical evidence that Canada did to First Nations," he said.
As part of its campaign, HCSW launched a Parliamentary petition to free Meng Wanzhou and collected 814 signatures—enough to get it sponsored by the NDP MP Niki Ashton last September. Ashton, a speaker at the Coalition's previous Zoom meeting on the same agenda last November, was bashed by mainstream media such as National Post. In its op-ed, the paper said, "anyone who would write off Niki Ashton as a victim of Chinese propaganda only has to look at her stance on other issues to realize that she has a disturbing habit of siding with despots and terrorists."
The petition stated that Meng's arrest "was politically motivated" because the former U.S. President Donald Trump called her "a bargaining chip" in his trade negotiations with China. It also pointed to "a major deterioration in Canada-China relations with serious negative consequences for many Canadians."
The panel discussion did not touch on China's arrest of Kovrig and Spavor, who are held in isolation and are denied the right to see lawyers or their families, and the HCSW didn't respond to NCM's question about their situation vis-à-vis that of Meng, who has all her legal rights guaranteed and enjoys the comforts of her Vancouver home.
Asked separately to comment on the two Michaels, Dere replied by quoting a list of espionage accusations against them from Global Times, an English-language paper owned by the official newspaper of the Chinese Communist Party, People's Daily.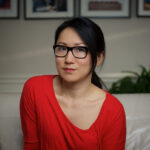 Shan is a photojournalist and event photographer based in Toronto with more than a decade of experience. From Beijing Olympic Games to The Dalai Lama in Exile, she has covered a wide range of editorial assignments.