A Liberal candidate alleges that Andrew Scheer and the Conservatives lead a fake news campaign tailored to the Chinese-Canadian community.
A public debate featuring candidates from three major political parties took place last Saturday at Denison Centre in Markham. Denison Centre, located near Pacific Mall, is in the Markham-Thornhill riding which has a large Chinese population. The debate included Liberal Don Valley North candidate Han Dong, Conservative candidate Sean Hu representing Scarborough-Agincourt and the NDP's Scarborough North Candidate, Yan Chen.
Former Ontario Member of Provincial Parliament (MPP), Han Dong, started his opening speech holding his opponents' campaign flyers. The Conservatives' flyers, printed in Chinese languages, contained disinformation targeting the Chinese-Canadian community, Dong argued.
"They say that if Liberals form the government, they will legalize hard drugs. This is a lie. They say that if Liberals win, we will add a 50 per cent investment tax. This is another lie. The Conservative leader can't clarify his education, work experience, and citizenship while being manipulative during last week of the campaign and hope to get our Chinese votes. This is very inappropriate," Dong said.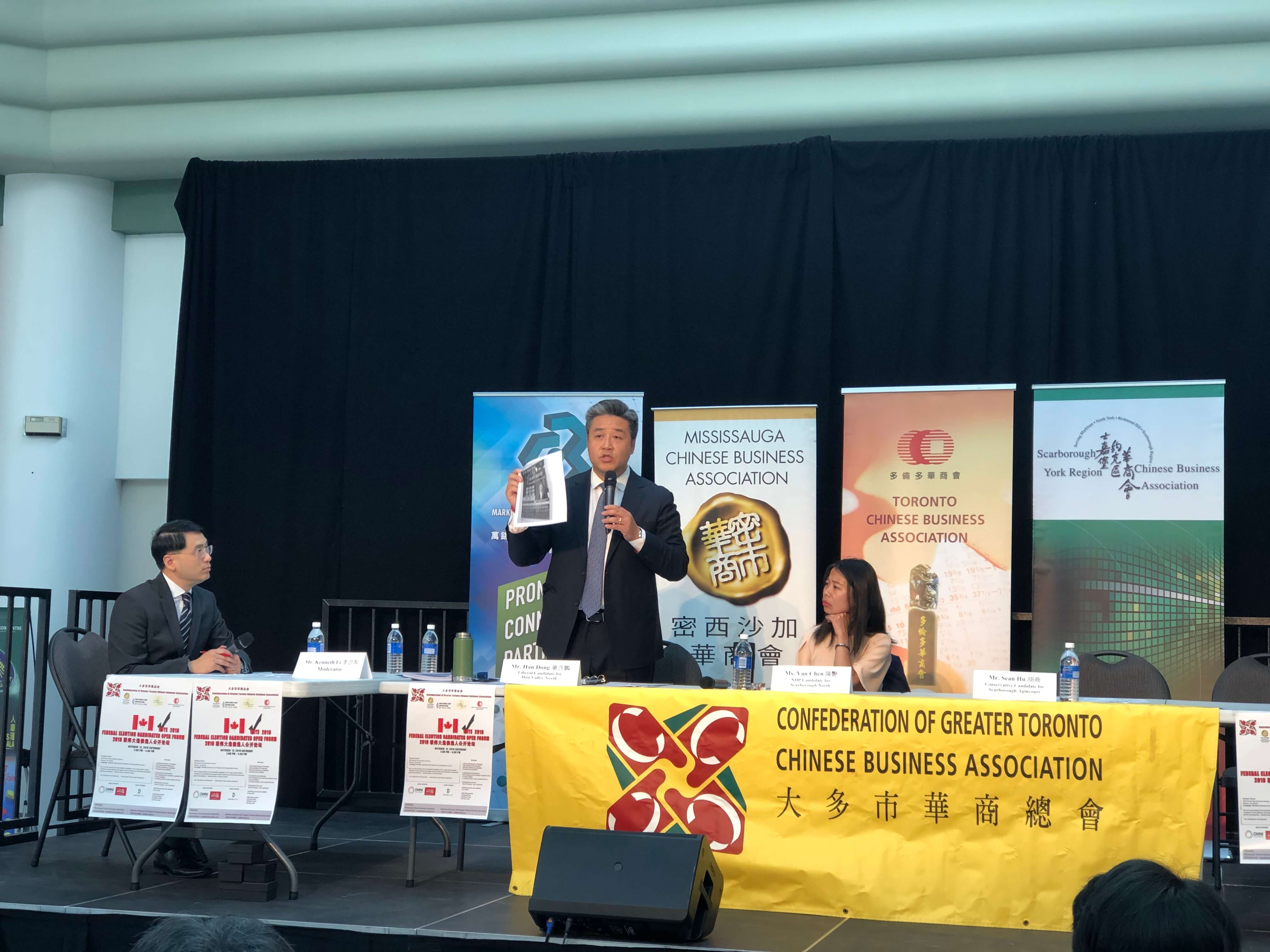 The battle against disinformation
Dong kept the flyers sent by Conservative candidates as evidence of his claim. He has flyers from Markham-Unionville incumbent, Bob Saroya, and from the Conservative representative from his riding, Sarah Fischer.
Dong's Conservative opponent, Hu, didn't address his allegations. However, Hu accused Trudeau's Liberals of focusing on the globe and not Canadians.
As an accountant serving mostly working-class clients, Hu says he's seen his clients' after-tax income decline since the Liberals formed government. 
"Andrew Scheer and the Conservatives have led a campaign of fake news and lies within the Chinese Canadian community. They have attempted to stoke fears and divide communities on topics of immigration, refugees, illicit drugs, and tax policy. They say one thing to Chinese-Canadians and something different to everyone else," Dong said.
Dong urges Chinese voters to go to English or French media outlets and double-check Conservative's messages to ensure their accuracy.
Liberals and Conservatives exchange accusations
Saroya and Fischer didn't reply to New Canadian Media's interview request. However, Conservative National Councillor Jimmy Yu published an article in Chinese about the website 51.ca during Thanksgiving weekend. In the article, Yu urges Chinese-Canadian voters not be fooled by the Liberals.
"Liberal MP Nathaniel Erskine-Smith tabled a drug decriminalization bill last June. The bill has passed the first read in the Liberal controlled House of Commons," Yu said.
Yu was referring to Erskine-Smith's private bill C-460, an Act to amend to the Controlled Drugs and Substances Act and to make amendments to other Acts.
"During a recent French debate, when asked repeatedly about legalization drugs, Trudeau didn't deny it but rather said that 'it will not happen right away' to fool the public. After this was exposed (by the Conservatives), some Liberal candidates started to allege Conservatives lie," Yu wrote. Yu cited the Canada Institute for Health Information's report in September, which found that between 2017 and 2018, 9,089 youth aged 10-24 were hospitalized because of marijuana use.
"There are 1.7 million Chinese-Canadians who believe in investing in our children's future. Legalization or decriminalization of drugs will undoubtedly destroy our kids' future," his announcement concluded.
The Conservatives drug attack ad isn't the only message on Facebook targeting Chinese-Canadians. It also ran an attack ad stating that "Trudeau's Liberal government will place a tax on primary residences for its capital gains as high as 50%." Both ads were in Chinese languages and active between October 6-13.
A message from supporters
Conservative supporter Janice Zhang sees no problem with the Conservatives Chinese-tailored ads. The realtor and mother of two admitted that "legalizing drugs and taxing your home capital gains are the two major concerns that I have too."
What convinced her was Scheer's immigration policy and his focus on economics that will benefit Canada as a whole. "I also feel that Scheer's policy on refugee screening is more practical," Zhang explained.
However, Leqin Lu, a Rotman MBA student studying at the University of Toronto, rebukes the Conservatives strategy. Lu called the Conservatives customized ad campaign "fake news spread by the Conservatives." 
"I don't think the problem is that they pick the topics that the Chinese community cares about. I have no problem with them if they are focusing what they would do to prevent kids from using drugs or protecting the housing market, whatever they think would be beneficial to immigrants," she said. She explained that she particularly disliked the fear mongering of voters and making up stories about opponents policies. 
"I read the Liberal's platform, and it didn't say anything about legalizing drugs. I think they should be penalized for doing so because they are clearly taking advantage of immigrants who may not be fluent in English or familiar with politics," Leqin added.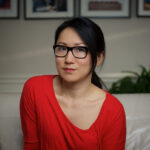 Shan is a photojournalist and event photographer based in Toronto with more than a decade of experience. From Beijing Olympic Games to The Dalai Lama in Exile, she has covered a wide range of editorial assignments.