COVID-19 has brought sweeping changes to how we go about our daily lives. Nothing looks the same like before. Photojournalist Shan Qiao travels across Toronto to capture the stillness of life in Canada's biggest city as it battles to overcome coronavirus.
Toronto's Yonge and Bloor Street intersection during the city's Pride parade, held in June 2019 (left), and during the COVID-19 lockdown this spring. What is typically an extraordinarily busy intersection is nearly empty now.
With the closure of Eaton Centre downtown, the H&M store at Yonge and Dundas streets has been boarded up and the entrance barricaded.
Toronto's posh and trendy neighbourhood of Yorkville, a frequent hotspot for events, such as Toronto International Film Festival and Toronto Fashion Week, is secluded. Nearby high-end shops on Bloor Street are also boarded up as businesses are forced to close because of COVID-19.
Planta, one of Toronto's pricey plant-based restaurants, is closed due to COVID-19. According to a Restaurants Canada's survey, about one in 10 restaurants in the country have permanently closed due to the pandemic. Four out of five restaurants have laid off employees.
A hair salon on Yonge Street is closed until further notice. A survey recently released by the Canadian Federation of Independent Business showed that 58 per cent of their members will not be able to pay their rent in May without assistance.
The Toronto Reference Library, and other branches of the Toronto Public Library, are closed during COVID-19, scrapping many cultural and literacy events, including May's Asian Heritage Month. The City of Toronto has estimated its weekly loss in revenues at $65 million, owing to a sharp drop in TTC ridership and closure of for-rent city venues.
Homeless people gather on a street corner in Chinatown in downtown Toronto. According to Dr. Aaron Orkin, an ER doctor and population medicine expert, there are roughly 8,000 people experiencing homelessness in Toronto. People are sleeping on the streets or near ravines because shelters are unsafe, he says.
Some Chinese supermarkets in Toronto have adopted a 'no masks, no entry' policy, in order to avoid community spread of the virus.
North York
LCBO at Toronto's Rimrock Plaza has confirmed one of its staff tested positive for coronavirus on March 20. The store was immediately closed.
Shortly after the LCBO (above) confirmed its case of coronavirus, the Shoppers Drug Mart, next door, also confirmed one of its staff tested positive for COVID-19. The drug store was closed temporarily. Now, it is only allowing customers to pick up prescription drugs by the store entrance.
Empty store shelves are not hard to find these days as panic buying spreads during COVID-19. Grocery stores have been out of stock on most cleaning supplies and toilet paper.
It's business as usual for Fabian Merlo, news host of Hispanic radio station Ondas FM. He regularly hosts his 5 a.m. news program in the station's North York studio. Media are considered as essential services.
Staying at Home
Neighbours in Bathurst Manor share some laughs while under stay-at-home orders.
With the closure of gyms, fitness buff Momo Attaoui works out at home with the help of a YouTube home workout channel.
Grade 3 student Armando Sifuentes has been participating in online classes at home since April 6. Publicly funded schools in Ontario remain closed up to May 31.
Celebrating special occasions is a challenge. In this photo, a child celebrates their birthday in an empty parking lot in Toronto, in order to abide by proper social distancing rules.
Helping Hands, Everywhere
A food bank is set up outside Willowdale Seventh-Day Adventist Church at Bathurst Street and Finch Avenue, in north Toronto. People follow social distancing and wear masks as they line up to receive boxes of necessities.
A staff hands out a box of necessities outside a food bank in North York's Willowdale Seventh-Day Adventist Church.
North York General Hospital (Branson) site is one of 12 COVID-19 assessment centres in Toronto.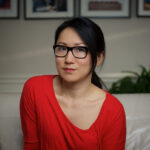 Shan is a photojournalist and event photographer based in Toronto with more than a decade of experience. From Beijing Olympic Games to The Dalai Lama in Exile, she has covered a wide range of editorial assignments.