Ever since Sukhwinder Singh Sidhu met and secretly married his one true love, his life has been one of pain, torture and false imprisonments in Punjab, India.
This week as the architects of his misery are extradited back to India, Sukhwinder aka Mithu has a message for them: "Was our love a crime that Jassi had to be her killed?".
Speaking to Jupinderjit Singh, one of the authors of the book Justice for Jassi, Mithu said; "Finally, my wife's killers will face trial for murder. My sole wish is to see them behind bars."
Mithu, now a truck driver, said: "I'm still her husband. I can't share my love for Jassi with anyone. I want to tell her mother that my love is true and eternal."
MIthu was commenting on last week's Supreme Court of Canada decision that finally paved the way for his wife's uncle Surjit Singh Badesha, 72 and her mother Malkit Kaur Sidhu, 67, to be sent back to India to face murder charges.
Police allege the millionaire blueberry farmer Badesha and his sister Malkit Sidhu hired contract killers to kill Jaswinder Kaur Sidhu aka Jassi because she had married Mithu, a lower-caste auto rickshaw driver in Punjab.
Punjab Police investigations confirmed it was a so-called honour killing plotted by the mother and uncle while the duo were at home in Maple Ridge, Canada.
Born and raised in Maple Ridge, BC, Jassi Sidhu, 24, was killed in June 2000 by hired killers while living with her husband in Punjab, India. In an attack, Mithu was left for dead while Jassi was abducted and later killed.
Police traced 266 phone calls between Jassi's maternal uncle, Surjit Badesha, to the hired killers, becoming a basis by which India formally requested extradition in 2005 of Badesha and Malkit Sidhu to face murder charges.
Last week, 17-years after Jassi was found dead with her throat slit in a ditch outside the industrial metropolis of Ludhiana in Punjab, the Canadian chapter of this tragedy came to a close.
India formally requested Canada in 2005 to extradite Jassi's mother and uncle to face trial after charging and convicting a band of hired killers in connection with the murder.
In May 2014, the British Columbia Supreme Court in Vancouver ordered that duo must be deported to India to face trial.
The struggle to obtain justice for Jassi, however, was set back the following when the British Columbia Appeal Court overturned the extradition order against Jassi's mother and uncle. The appeal court expressed concern that the both of the accused will be beaten and tortured in Indian jails.
The Canadian apex court last week reinstated the original order.
Harbinder Singh Sewak is the Vancouver based publisher of The South Asian Post which won a Jack Webster Award for its work on the Jassi case and is the co-author of the book Justice for Jassi. He stressed that the struggle for justice for Jassi will continue. "This case has shocked many people… many think this murder is about honour and religion… it is about greed," said Sewak.
Fabian Dawson, the lead author of the book said while the Canadian chapter of the Jassi case may have come to an end, the Indian chapter is beginning.
"There is a still a trial and appeal process in India before justice for Jassi is finally achieved," he said.
The book, Justice for Jassi, documents the entire saga and is narrated from the perspective of Mithu, who since his wife's murder has continued fighting to see justice done for his wife, despite threats and attempts to silence him.
The authors scoured through thousands of police and court records in Canada and India, as well as hours of tape interviewing officials. The book shows how her mother and uncle orchestrated Jassi's murder from Maple Ridge.
"We kept the website www.justiceforjassi.com going and we kept the story alive. We will continue to do so until there is justice for Jassi," said Sewak.
Since Mithu and Jassi fell in love, there have been several attempts on Mithu's life and at least six occasions where he has been falsely arrested and jailed.
The first time he was arrested, Mithu was jailed for allegedly marrying Jassi at gun-point. Indian police were given a false affidavit signed by Jassi in Port Coquitlam to effect the arrest. Jassi, however, went to India to say she married Mithu of her own free will and got him released.
In another case, after Jassi was murdered, Mithu spent about 44 months in jail for rape.
Sewak, the publisher of the South Asian Post hired sleuths and lawyers in India to show that the accuser was paid to make the false allegations against Mithu.
Mithu has recently petitioned the Justice Mehtab Singh Commission, which is probing "false" cases registered by the Punjab Police in the past 10 years.
All in all, Mithu has been arrested in six cases, of which he has been acquitted in four.
He claims all of them stem from the revenge-motivated family of his murdered wife who want him not to testify against them.
At various other times, he has been offered millions of rupees and land to stay silent.
But he vowed again this week to fight on for Jassi.
"I'm still her husband. I can't share my love for Jassi with anyone. I want to tell her mother that my love is true and eternal."
"The cops who arrested me told me to forget about Jassi," Mithu said.
"Whenever I refused an offer for a compromise, another case was slapped on me," he has claimed before the Justice Mehtab Singh Commission. On the basis of his testimony, notices have been sent to the police to appear at the hearings.
"From the initial offer of about C$30,000 and 14 acres of land and a passport to Canada, supporters of the accused have promised it all to me.
But I can't trade my love for all this. I just want Jassi's mother and uncle to be punished for what they did to her and me," said Mithu.
---
Republished under arrangement with the Asian Pacific Post.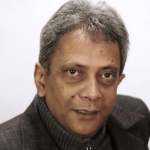 A multiple-award winning journalist, Fabian Dawson is an internationally acclaimed author, filmmaker and media expert. His work over the last four decades spans the globe and he also serves as a consultant/strategic advisor to a variety of international companies. As deputy editor-in-chief of The Province, part of the Postmedia chain, Dawson led initiatives within a special publications group to provide directed content for a variety of organisations. He was named the 2019 recipient of the Bruce Hutchison Lifetime Achievement Award at Jack Webster Awards. Dawson has been invited by the governments of India, Malaysia, Taiwan, China, Hong Kong and the United States to act as a media observer/advisor on a variety of Asian-Canada issues. Dawson, now operates FD Media, which specializes in harnessing editorial assets to revenue generating opportunities.