On January 4, 2006, Ariel Sharon, then prime minister of Israel, suffered a stroke. Sharon never recovered. When he died on January 11, 2014, he had spent the last eight years of his life lying unconscious in a coma. It is this unconscious state that Canadian Palestinian writer Yara El-Ghadban uses as the point of entry for her third novel, I Am Ariel Sharon, a work of profound humanity and courage that seeks to go beyond the news about the Israeli-Palestinian conflict to convey the human tragedy behind the facts.
It is a bold narrative choice that serves to denounce the Palestinians' enduring plight under the Israeli occupation by looking at the mind of Sharon, one of its modern architects and perpetrators.
Intimate, tender, poetic, and ultimately, righteous, I Am Ariel Sharon is a novel that dexterously combines the historical, the political, and the personal into a perfectly calibrated narrative built by the searing monologues of some of the key women in Sharon's life – Sharon's mother Vera, his second wife Lily, and then his nurse Rita – who one by one confront the man and force him to face his legacy before he dies.
It is a risky proposition, but one that allows El-Ghadban to go beyond the news and the politics and into the heart of a conflict that continues to disproportionally impact Palestinian people, and in particular Palestinian children. In May 2021, the reignition of the Israeli-Palestinian conflict left 68 children dead: 66 Palestinian and 2 Israeli.  
Originally published in French in Quebec in 2018, I Am Ariel Sharon is now available in English in the rest of Canada with a beautiful translation by Wayne Grady. 
Fiction, a vehicle for history
The novel opens with Vera's story, Sharon's mother. "You won't be leaving here without knowing the path you left behind," she tells him when she first appears to him in his dreams. 
In vivid and fluid prose, El-Ghadban weaves Vera's entire life's story, from a young girl born with the century in Tsarist Russia to a young woman studying medicine at university, to her marriage to Sharon's father, Shmuel, in 1921. 
It is through her eyes that we see the young couple move to Palestine in 1922, and how we see the dream of Israel come true for Jewish people around the world through the Zionist movement. That dream is one that Vera only reluctantly accepts. It is in this promised land for Vera and Shmuel, that their son, Ariel Sharon, is born in 1928. A work of extraordinary imagination, the novel is nonetheless rooted in vast amounts of research and deep scholarship – El-Ghadban is also an anthropologist – which makes for an illuminating and fascinating read from a historical point of view.
El-Ghadban dedicates a chapter to Lily, Sharon's second wife after the death of Gali, his first wife, and Lily's sister. It is a searing portrayal of a woman deeply in love with a man she recognizes as a brutal military man, and later, a skillful politician. 
Personal tragedies – the death of Gali in a car accident, the death of Gali and Sharon's only son at age 11 in a shooting accident – are evoked alongside the 1967 Arab-Israeli war, a conflict which resulted in the Israeli occupation of the West Bank and Gaza, and whose consequences for Palestinians and Israelis reverberate to this day. "After 1967, there's no more night, no more peace, no more sleep," Lily laments in her monologue. 
Later, she refers to him as "the butcher of Beirut," the nickname Palestinians gave Sharon after his role in the Sabra and Shatila massacre in Lebanon in 1982. Sharon was the Defence Minister of Israel at the time and the massacre at the mainly Palestinian refugee camp was carried out by a Lebanese Christian militia under the eyes of the Israeli Defence Forces. 
Showing an extraordinary mastery of both history and language, El-Ghadban builds a narrative where the political and the personal intertwine to be almost indistinguishable. In doing so, she demonstrates the mark that one single man in power can leave on a people and its land – in this case, both the Israelis and the Palestinians. 
Role of women
While Ariel Sharon is the central figure around which this particular history of Israel and Palestine is constructed, this is ultimately a novel about the women who inhabit the private worlds of the men of war – the women's sacrifices, their pain, their regrets, and their guilt. "Is this the fate of all women: to turn around and contemplate the horror in the wake of men's march toward history?" Lily asks Sharon at one point. 
Appearing to Sharon in his liminal state between life and death, the women remind Sharon of his crimes, of his errors, of the consequences of his acts before he leaves the mortal realm. Here, we see a sort of poetic fury, the enacting of a fantasy of the wronged and the oppressed of being able to confront their oppressor. It's a judgment by words, a judgment carried out by literature and by art. And in this, the power of the novel is undeniable.  
Through this novel, El-Ghadban, representing all the victims of Sharon's acts of war and policy, can have, if not a triumphant, at least a clear and righteous last word. 
I Am Ariel Sharon was published in September 2020 by House of Anansi Press.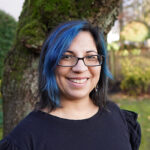 French Editor - Born in Venezuela, Andreina Romero is a freelance writer with New Canadian Media. Prior to writing for New Canadian Media, Andreina was a bilingual contributor at The Source Newspaper, also known in French as La Source, an intercultural newspaper in Vancouver. She is also the creator and host of the podcast Girls Talk About Music and Wigs and Candles which explore music and period films from a uniquely female and Latin American lens. In 2020, Romero also co-founded Identity Pages, a youth writing mentorship program.