A bi-annual competition funded by the Cole Foundation, a Montreal-based nonprofit, is helping create a new legacy of theatre works illuminating Montreal's cultural diversity. 
Youtheatre's Ce monde-là  (In This World), received one of the foundation's Spring 2022 production grants worth up  to $25,000 or 25% of the project budget to update its play about two highschool friends, one of whom is a Haitian immigrant. The play, originally written by Hannah Moscovitch in 2009 in English, will be updated and then  filmed as part of a three-play series for Tele-Québec. The Montreal-based theatre company had previously received funding from the foundation to translate the play from English into French.  
The foundation has been supporting the arts since its inception in 1980, but it was in 2007, when Barry Cole became president of the foundation, that Intercultural Conversations, the theatre-focused grants program, was born. 
"Theatre is stories," Cole told New Canadian Media. "And if we hear the story of different people, we gain a new appreciation for them, for their trials and their tribulations, their joys and their sorrows."
"Theatre for social change"
Cole decided to create the Intercultural Conversations grant partly after reading a report from the 2007 Bouchard-Taylor Commission which sought to explore the concept of  "reasonable accommodation of immigrants" in Quebec. The Commission's report found that Quebec was not as welcoming to immigrants as it should be and that immigrants were becoming "ghettoized," Cole explained. 
A key question Cole asked himself was how to create "a cosmopolitan society" in Quebec, a province where "you have a French majority and Anglophone minority and then a host of other cultures of people coming here to settle," he said. 
"We're trying to create more tolerance between cultures. We're trying to break down racism issues and we are using theatre as a vehicle for that. So it's theatre for social change," Cole said. 
Shattering stereotypes
Ce monde-là tells the story of Neyssa and Bijou, two high school friends who are put in detention after a fight. Bijou, a girl from a privileged background, and Neyssa, the daughter of Haitian immigrants, must then confront their prejudices and differences to preserve their friendship.
While initially written in 2009, the story is still acutely relevant in 2022. However, after a pandemic and a global racial reckoning sparked by the murder of George Floyd in the United States, some aspects of the play needed updating. 
For Véronique Bossé, the play's new director, it was important that the cultural and racial context be accurate and for the characterization of the two teenagers at the heart of Ce monde-là to be a realistic representation of the struggles and preoccupations of today's youth.  
According to Bossé, one of the main concerns during the rewriting was ensuring the character of Neyssa was free from any outdated representations of newcomers or immigrants to Canada.
"We really tried to break it down and not create a stereotype," Bossé said about the process. 
For example, in the updated play, Neyssa's parents are highly educated when they arrive in Quebec from Haiti. Neyssa's mother is  a university professor who pushes her daughter to be a straight-A student. In contrast, Bijou is uninterested in school or good grades as her parents' wealth is not necessarily the result of pursuing higher education.
In the original play, Neyssa's heritage was Jamaican but this was changed to  Haitian in the French version.
Bossé and Moscovitch, who also contributed to the rewriting process, enlisted the help of youth consultants to help them illuminate the teenage characters' ideas, actions, and emotions. One of the consultants was Naïla Louidort, the actress who will play the role of Neyssa in the upcoming revamped play. As Bossé explained, Louidort provided invaluable insight earned through her lived experience as a young Haitian-Canadian.  
Empowering youth through art
Ultimately, Ce monde-là is a play about friendship, Bossé explained, particularly female friendship.
"[The play shows] two strong, female characters who have something to say, who shake things up, who break the mold in which we sometimes have the impression of being caught."
"For young people, it makes all the difference in the world to see characters like [Neyssa and Bijou] because they can identify strongly with them and make them think differently," she said.
In addition to being filmed for Télé-Québec, Ce monde-là will also be touring schools in Montreal and the rest of Quebec this fall. 
Other recipients of the 2022 Cole Foundation Intercultural Conversations grant include Sophie Gee's Bonnes Bonnes about the challenges of embracing a multilayered Chinese identity.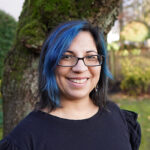 French Editor - Born in Venezuela, Andreina Romero is a freelance writer with New Canadian Media. Prior to writing for New Canadian Media, Andreina was a bilingual contributor at The Source Newspaper, also known in French as La Source, an intercultural newspaper in Vancouver. She is also the creator and host of the podcast Girls Talk About Music and Wigs and Candles which explore music and period films from a uniquely female and Latin American lens. In 2020, Romero also co-founded Identity Pages, a youth writing mentorship program.