A new collection of short stories by Christine Estima delves deep into her Syrian, Lebanese and Portuguese heritage to create a defiant portrait of the Arab immigrant experience in Canada.
Estima said The Syrian Ladies Benevolent Society, to be released by Anansi Press Nov. 14, had its genesis in 2019, after former Coach's Corner host Don Cherry "made inflammatory and racist remarks about new immigrants." 
"You people who come here, you love our way of life, you love our milk and honey, at least you can pay a couple of bucks for a poppy or something like that," Cherry said on camera after noticing that people were not wearing poppies to honour veterans on Remembrance Day. Cherry was eventually fired from the show for his comments. 
For Estima, the comment "felt like a gut punch." Her grandfather, Victor Zarbatany, was one of the few Arab men serving in the Canadian Army during World War II. He came back from the war wounded and suffering from PTSD.
 Estima's jido (the Arab word for grandfather) was one the soldiers who helped take back the Italian town of Ortona in 1943 during the Battle of Ortona, one of the most brutal campaigns Canadians fought during the war. 
The realization that her grandfather's service has been erased from the collective memory so affected Estima that she embarked on a journey of rediscovery of her family history. That journey  led her to learn the deep roots of her Syrian family in Canada and resulted in Living Legacy, a personal essay published in the Canadian Maisonneuve magazine. 
The essay traces the story of Estima's great-grandfather, Michael Zarbatany, who arrived in Montreal from Syria in 1906.
The publication of the essay led to an in-depth interview about her family history with CBC Radio, and the positive responses convinced Estima that she wanted to tell the stories of Arab Canadians.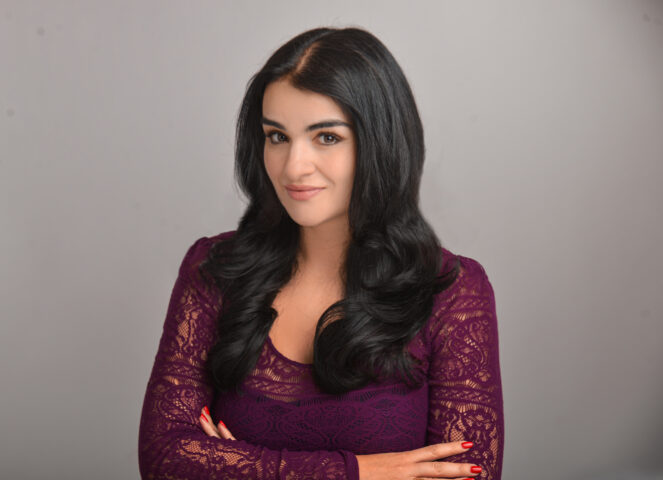 "It was at this point I realized there's clearly an appetite for these stories, and people clearly want more diverse stories, specifically about Arabs, Arab women, Arab Canadians, and how we have been here for such a long time," Estima said.
Identity of the soul
Estima was born in Montreal. Her mixed heritage — Syrian and Lebanese on one side and Portuguese on the other — meant that the question of identity has always been present in her work.
Now a Toronto resident, Estima is a prolific writer and her work has been featured in publications such as The New York Times, The Walrus, VICE, The Globe and Mail, among many others.
In The Syrian Ladies Benevolent Society, a young Lebanese Canadian woman works as a spy on the eve of the Battle of Ortona. Decades later, in another country and time, another young woman born of Syrian parents follows her white fiancé to a remote town in Manitoba, only to have her heart  broken. 
In one story, the narrator imagines touring  the house in Montreal where her Lebanese grandparents lived during the 1930s, 40s, and 50s.  
Although each story focuses on a different character, the reader soon realizes the narratives are linked, each representing a new chapter in the history of the same family. What makes these stories different from other immigrant narratives is that the concept of identity and the sense of belonging or displacement are more elusive. 
As Estima explains, the fact that her family arrived in Canada over a century ago has meant her understanding of her heritage has been different from first or second-generation immigrants. 
"I've spoken to a lot of people in Canada whose families have been here for a while; you do tend to feel a little cut off from where your family came from," she said.
The stories in the collection gave Estima a way to connect with her roots, specifically her Lebanese and Syrian heritage. 
"Writing these stories was about showing how sometimes your body still shows the markers of being an ethno-cultural minority, but on the inside, you feel disconnected from it," she says.
"If you don't have a family tree, you write your own." 
Memorable, vivid, and subversive at times, the stories bring to life a type of female experience seldom seen in immigrant narratives. Estima said her female characters break traditional preconceptions of womanhood, specifically Arab women. 
"I'm not limited by other people's definitions. I expand what it means to be a Lebanese woman, what it means to be a Portuguese woman, a Quebecois woman, a Canadian woman, a woman, you know, and that was very much part of this book. 
"I wanted to push people's ideas of what an Arab Canadian woman is, what that looks like to them."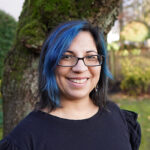 French Editor - Born in Venezuela, Andreina Romero is a freelance writer with New Canadian Media. Prior to writing for New Canadian Media, Andreina was a bilingual contributor at The Source Newspaper, also known in French as La Source, an intercultural newspaper in Vancouver. She is also the creator and host of the podcast Girls Talk About Music and Wigs and Candles which explore music and period films from a uniquely female and Latin American lens. In 2020, Romero also co-founded Identity Pages, a youth writing mentorship program.