Saherla Osman did not immediately apply for the "Black Pen: Writing Creative Program" being offered by the Nia Centre of the Arts last spring, doubting whether she had what it took.  Fortunately, with a little encouragement from another writer friend, she ended up applying on the very last day.
Osman ended up being selected for the program among six other young writers between 16 and 29 years old who were part of the program's first cohort and whose literary works now form part of an anthology compiled throughout the process. The book, Griot: Six Writers Sojourn into the Dark, was published by Penguin Random House in February. 
Osman, who began writing when she was in elementary school, was not alone in feeling this way.
Kais Padamshi,  who's been exploring themes of self-discovery, healing and models of healthy masculinity through his writing from a very young age says he also "experienced quite a bit of imposter syndrome when submitting to the call."
So did Onyka Gairey, who says she felt really excited when she saw the ad, but waited until the last day to send her application as well. Having been writing for only a year, she was also suffering from "self-doubt."
The story of these three young, Black writers is indicative of the difficulty young Black and other BIPOC artists have in seeing themselves in the arts or other positions of leadership within the industry.
Moving beyond stereotypes
The idea of creating "Black Pen" came to Alica Hall, executive director of the Nia Centre, while talking to Whitney French, a writer, editor and publisher.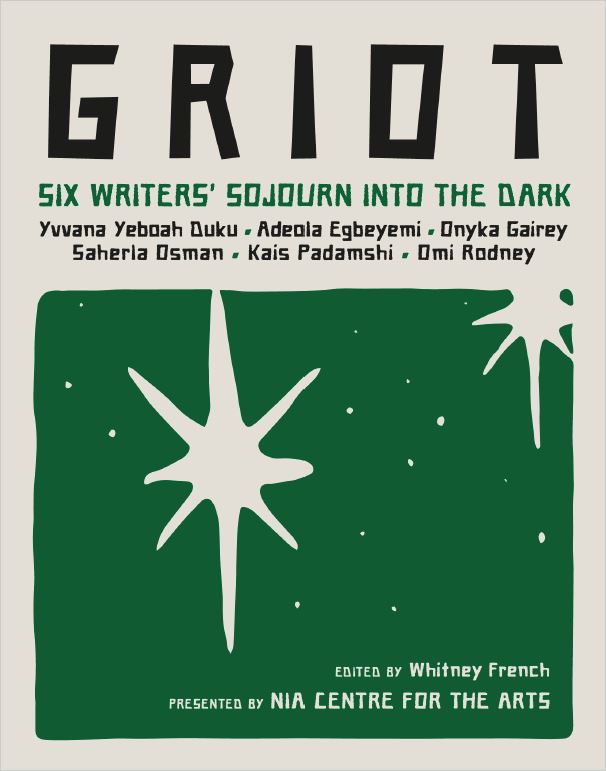 French is also an alumni of the Nia Centre and went on to be the facilitator of "Black Pen," a testament of the impact the institution is having in Toronto's Black community. 
Funded in 2009, the Nia Centre for the Arts offers multidisciplinary arts programming aimed at supporting new and emerging artists of African descent in the city.
For Hall, one of the main purposes of the "Black Pen" program was to provide young writers an opportunity to publish their work, knowing how difficult it is for new writers to be published. The program also focused on providing a safe space for the writers to explore their literary voices and move beyond what is usually asked or expected of Black writers. 
"Often, when Black writers are pitching stories to industry, there's a focus on struggle and pain and trauma. There's a reliance on stereotypes about Black people. You don't often read stories about a young Black woman who's new in the city and is navigating dating and living a carefree life and experiencing some challenges," Hall explains. 
"There's a lot of stories about struggle, about poverty. And while that's part of the Black experience, it's not necessarily everyone's experience."
Emerging voices
Looking at the contributions of the six writers in Griot, it is evident they had free range of exploration.
From "Five," a deeply moving poem about loss from Osman, to Padamshi's elegantly lyrical "portray pieces," and the confident world-building in Gairey's "Raintown," a retelling of "Jack and the Beanstalk" — the participants took their writing to deeply personal depths while exploring a diversity of genres. 
The other three writers in the anthology, Adeola Egbeyemi, Yvvana Yeboah Duku, and Omi Rodney, also contribute works of memoir and fiction. Pulling from fantasy, sci-fi, Ethiopian oral folktales and Jamaican folklore, all six writers demonstrate the range of experience and tradition informing Black Canadian writers.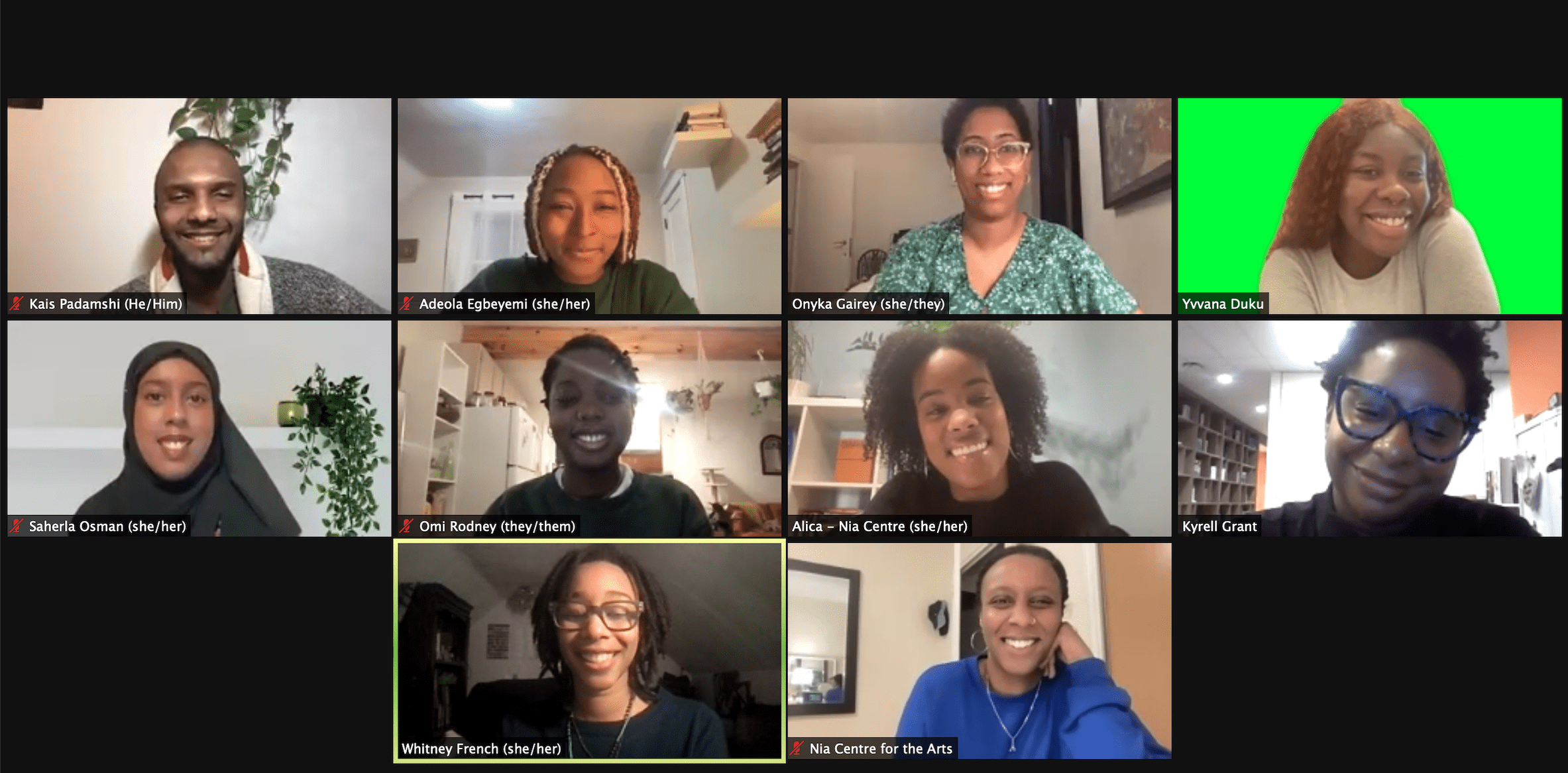 For Osman, Padamshi, and Gairey, participating in the "Black Pen" program has helped them build their self-confidence as writers and have a clearer vision of where they would like to take their careers in the future. 
Gairey hopes to branch out into screenwriting, but also continue novel and short story writing. More importantly, the program has given her the confidence to call herself a writer.
"I did avoid that term for a long time," she says, excitedly. "Am I an aspiring writer? No, I'm just a writer. I am here, and I am doing it."
"The journey has just been ignited," adds Padamshi, who talked to New Canadian Media together with Gairey. 
Padamshi will continue to produce poetry works but also envisions moving into playwriting in the future. 
Being a published author was one of Osman's goals for 2021, though before doing the program, she didn't know how or when she would accomplish it. 
Now that her name is on a book being distributed across Canada, she is thankful for all the people that encouraged her to continue writing through her childhood and teens.
"Now everyone can see all the hard work that I put in. My old friends have reached out and said, 'I'm so glad that you kept writing!'" she shares.
Nurturing writers' potential
Reading Griot: Six Writers Sojourn into the Dark, Hall says what she most loved from the collection is the way the six authors used their writing to push the boundaries of language.  
"Language is constantly being reshaped," she says. "With the advent of technology and multiple cultures and people coming together, we're seeing it change even more rapidly. I feel like that's really reflected in some of these stories."
But as Hall explains, at the heart of the Nia Centre's work is a desire to nurture emerging artists. During the selection process of the writers who would participate in the program, that mandate was always front-of-mind. 
"It wasn't about what they had achieved previously. It's about their potential, their commitment, their willingness to dedicate themselves to their craft. And that's what we really focused on." 
Having just published the first collection as a result of the "Black Pen" program, there is still no specific timeframe for when the second iteration of the initiative will take place. 
For now, Hall is grateful for the support the Nia Centre received from Penguin Random House Canada in publishing the book and hopes to continue working with them and "extend further opportunities for more writers" in the future.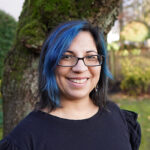 French Editor - Born in Venezuela, Andreina Romero is a freelance writer with New Canadian Media. Prior to writing for New Canadian Media, Andreina was a bilingual contributor at The Source Newspaper, also known in French as La Source, an intercultural newspaper in Vancouver. She is also the creator and host of the podcast Girls Talk About Music and Wigs and Candles which explore music and period films from a uniquely female and Latin American lens. In 2020, Romero also co-founded Identity Pages, a youth writing mentorship program.