Giving back to the community has always been a central tenet of Sikh entrepreneur Harbinder Singh Sewak's business philosophy. This fall, as South Asians prepare to celebrate Diwali and the birth anniversary of Guru Nanak, the founder of Sikhism, Sewak is ramping up his philanthropy, by ensuring the community's places of worship in the Lower Mainland of BC have enough hand sanitizers for gatherings.
"After Vaisakhi, these are the two major events for the South Asian community," said Sewak, who has launched the second-phase of his "It's in your hands" program together with support from the B.C. Dairy Association.
The first "It's in your hands"  program was launched in conjunction with the Vaisakhi celebrations in Surrey and Vancouver last spring, as the COVID-19 pandemic hit Canada. The entire program, costing about $200,000, involves the distribution of hand sanitizer produced by Sewak's Alooatta.com and the installation of dispensers at over 40 Gurdwara (Sikh temples), Hindu temples, and senior and community centres across Metro Vancouver.
"The health of our communities is very important to dairy farmers, and we are happy to continue to support the hand sanitizer program into the fall," said Jeremy Dunn, general manager of the BC Dairy Association (BCDA).
Sewak said the "It's in your hands" program uses ethyl alcohol-based skin-softening sanitizer made in BC with purified water and fresh aloe vera juice that has been approved by Health Canada.
"We are now expanding the program to other groups and companies who want to help the community and channelling whatever we can from the sales to charity organizations," said Sewak, the CEO of the Surrey-based Alooatta.com.
"The reaction has been fantastic," added Sewak, who is also using his Vancouver-based Post Media Group to mount a COVID-19 safety awareness social media campaign, with video vignettes.
"Our world revolves around our Gurdwaras, which are part of our extended community. When the BC milk farmers and Alooatta first started this concept of sewa (sacrifice), I was so impressed, that I made a video and sent that to everyone I knew here in Canada, England and India. This is a great example of corporate giving," said Jas Mann. owner of J&D Kitchen Woodworks in Abbotsford.
Regular visits to the Gurdwara are important for Subway store manager Simranjeet Gill and her husband Amandeep Gill, who attend services at their local Sikh temple with their newborn baby, Jaikirat Singh Gill.
"I had my baby recently and his safety is very important for my family. When I see the dispenser in my Gurdwara in Surrey, I'm so happy that BC dairy farmers care about the safety of our little baby," said Simranjeet Gill.
"It's all about locals caring about locals during COVID-19," said Rita Sharma, an international student at the British Columbia Institute of Technology (BCIT) in Vancouver, as she described the community initiative. "Putting the hand sanitizers out there, for everyone to use freely, to me is the biggest value I have seen in a pandemic related community program," she said.
At the Gurdwara Dukh Nivaran in Surrey, the Alooatta hand sanitizers are being given to a small army of volunteers, who are out in the community delivering supplies and food to seniors and others in need. 
"This will help keep our volunteers safe as they go out to help others," said Giani Narinder Singh, the head priest at Gurdwara Dukh Nivaran. "I cannot thank BC Milk and Alooatta enough for stepping up to serve the community with a product that is so hard to find right now," he said.
Sewak's "It's in Your Hands" campaign comes in the wake of another AlooAtta community initiative last November to honour the 550th birth anniversary of Guru Nanak. AlooAtta made a record-breaking giant candle that stayed lit for over 550 hours at a Sikh temple in Surrey.
The environmentally friendly candle took nearly 2,208 hours to make and was crafted out of vegan soy wax, organic mustard seed oil, and natural extract of jasmine, and is believed to be the longest-burning candle ever made. A submission for the record has been made to the Guinness Book of World Records.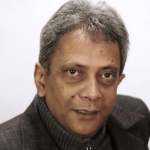 A multiple-award winning journalist, Fabian Dawson is an internationally acclaimed author, filmmaker and media expert. His work over the last four decades spans the globe and he also serves as a consultant/strategic advisor to a variety of international companies. As deputy editor-in-chief of The Province, part of the Postmedia chain, Dawson led initiatives within a special publications group to provide directed content for a variety of organisations. He was named the 2019 recipient of the Bruce Hutchison Lifetime Achievement Award at Jack Webster Awards. Dawson has been invited by the governments of India, Malaysia, Taiwan, China, Hong Kong and the United States to act as a media observer/advisor on a variety of Asian-Canada issues. Dawson, now operates FD Media, which specializes in harnessing editorial assets to revenue generating opportunities.