Berenice was putting away her cleaning equipment when her supervisor broke the news. The next day, Berenice, an undocumented worker, would be replacing another cleaner at the building where she was infected with COVID-19.
Even though Berenice, 27, feared she could be infected and die, she couldn't refuse to work. She needs the money to survive and her five family members in southeast Mexico are also depending on her financially.
New Canadian Media has agreed to only use Berenice's first name because of her precarious immigration status.
When she arrived at the Toronto social housing complex where her co-worker came in contact with the virus, Berenice took extra care to clean everything with strong bleach before she started her shift.
"I cleaned the table, mop, chair, sink, fridge, vacuum. I had to clean all the work equipment to start working. That gave me a lot of tension and fear," says Berenice, who now changes her face mask at work four times a day.
She learned more bad news later on her shift. There were more cleaners who tested positive for COVID-19 in the past few weeks.
"They told me that my four colleagues had COVID and (that) I had contact with two of them," said a stunned Berenice. She also worries she could be putting her roommates at risk too. She lives with three other people who are also cleaners.
Surrounded by COVID-19 risks 
Another Latina cleaner, Patricia Gonzalez, cleans a building that's near a homeless shelter in downtown Toronto. The 39-year-old is also an undocumented worker but has begun the process of applying for permanent residency. Gonzalez puts her health at risk because she needs the job to pay her immigration consultant and to send money to her family in Mexico.
"Every morning, I found syringes and homeless clothes that I have to pick up and take away," says Gonzalez. 
In her seven-hour shift, she cleans three elevators, the lobby and the laundry room and other common areas. 
"I know that I have the risk of contagion, but it is the only way that I can send money to my family," says González, who is originally from Mexico City. On average, she sends one-quarter of her earnings or $700 each month to support her sick mother and a sister who requires surgery, as well as her two nieces.
The sight of young condo residents refusing to wear masks and ignoring COVID-19 social distancing limits by crowding into the elevator frustrates her because she takes great pains to keep herself from getting sick. 
It takes her twenty minutes to get to work. She rides the subway, then transfers onto a bus. 
"I wear gloves in public transportation and I try not to use the seats because there are many homeless and I don't want to get infected. When I get home, I throw away the disposable gloves," says Gonzalez. 
No vaccine plan
For Berenice and Gonzalez, their employers provide them with personal protection equipment (PPE), but they still worry about being infected from their own clothing, syringes or elevator buttons that they have to touch.  
Berenice, originally from Chiapas, said that if they get the coronavirus, their company would ask them to self-isolate, but they would not get sick pay.
"If we want to work again, we need to show a medical report that states we don't have COVID." But Berenice says her employer doesn't provide any information about how to take care of herself should she test positive. Undocumented workers don't have access to provincial healthcare but can go to the hospital for emergency care if they are infected. 
The advocacy group Workers Action Centre (WAC) says the majority of cleaners do not have permits to work in Canada.
"The vast majority are a racialized community, working-class, immigrants, many of them undocumented workers," said Veronica Zaragoza, a Latinx organizer in the WAC. 
For 14 or 15 dollars per hour, these essential workers are cleaning houses and buildings. They work on average 60 hours a week putting their health at risk.
Even as Canada increases its vaccine supply, there is no plan to vaccinate undocumented essential workers.
The Migrant Rights Network estimates as many as 1.6 million people in Canada don't have permanent status. And Canada doesn't yet have a vaccine plan to protect them.
To highlight this issue, the Network started a petition to lobby the federal government to guarantee an "accessible vaccine strategy for migrant and undocumented people."
The advocacy group points out that Canada relies on thousands of undocumented workers to do the essential work of helping to contain the virus by cleaning contaminated surfaces, yet the government is failing to protect them.
This story has been produced under NCM's Advanced Mentoring program led by Professor Susan Harada and Judy Trinh.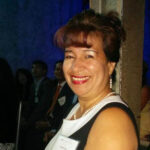 Isabel Inclan has worked as a journalist for more than 20 years, in both Mexico and Canada. She began working as a foreign correspondent in Canada in 1999 for Mexican media. She has been a New Canadian Media contributor since 2018. Her main areas of interest are politics, migration, women, community, and cultural issues. In 2015, Isabel was honoured as one of the "10 most influential Hispanic Canadians." She is a graduate of Masters in Communication and Culture at TMU-York University. She is a member of CAJ and a member of the BEMC´s Advisory Committee.