UPDATE:
The body of a Mexican tourist has been found in B.C.'s Osoyoos Lake.
Carlos Tomas Aranda Burgoin, 30, was reported missing on July 7 after he fled from police. Burgoin had been working at an orchard in the area and following a disagreement with another worker, he left the property, according to a friend.
Burgoin, who did not speak English, was later seen at a local resort and the employees called police because they couldn't understand what he wanted. The man fled when officers arrived.
Osoyoos RCMP is working with the BC Coroners Service to determine when and how Burgoin died, according to an Aug. 24 press release.
Burgoin's father, Octavio Aranda, said he learned from the RCMP that his son's body was found Aug. 22 near Gyro Beach at the foot of Main Street in Osoyoos. He travelled to B.C. to identify the body.
Aranda issued a statement of his own on Sept. 11 criticizing the RCMP for not confirming the identity of the body by DNA testing before announcing that it was his son who was found dead in the lake.
"The RCMP statement is irresponsible and unprofessional in revealing the identity of the body found without having a minimum of scientific support, like a DNA sample or necropsy," Aranda said in his statement.
He said Burgoin studied tourism in Oaxaca, Mexico and arrived in Vancouver as a tourist on June 9.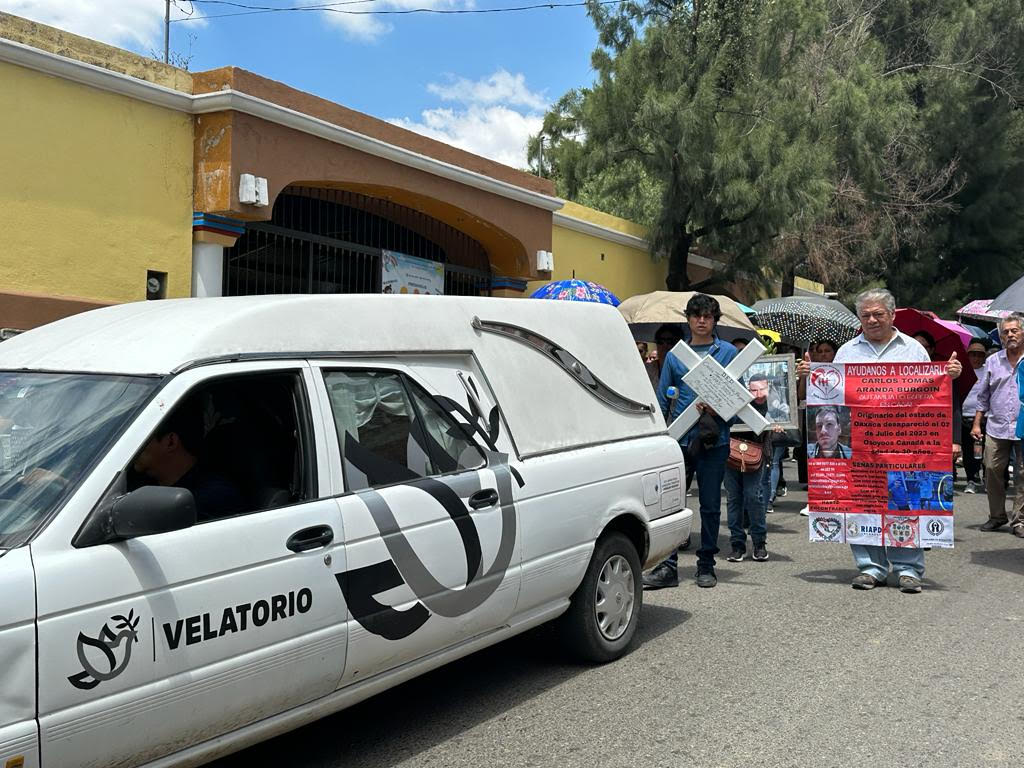 ORIGINAL STORY PUBLISHED AUG. 14, 2023:

Mexican tourist Carlos Aranda Burgoin had a brief conversation with an RCMP officer at a hotel in Osoyoos, B.C. on July 7. Then he disappeared.

Police have been looking for the 30-year-old who was working and living at a local orchard but so far they have no leads.

Burgoin's father, Octavio Aranda, travelled from Mexico City to search for his son and has organized demonstrations at the National Palace, the seat of the federal government, claiming police aren't looking hard enough.

Interpol has issued a yellow notice (to locate a missing person) and Aranda said the RCMP's handling of the case will be included in the next conversation between Prime Minister Justin Trudeau and Mexico's President, Andres M. Lopez Obrador.

Looking exhausted from looking from the search for his son, and heartbroken, Aranda's voice breaks and his eyes fill with tears during a video interview.

"The police told me that they have searched for him but without success," he said from Osoyoos. "They told me that if there were no new clues they couldn't search. I asked the Mexican consulate to ask the police to keep looking because my son could be lying in the bushes."

Aranda searched the area where his son was last seen, which is surrounded by wildfires and close to Osoyoos Lake. He travelled last week to Mexico City to meet with Secretary of Foreign Relations, Andrea Barcena, who promised she would take the case, he said.

Aranda wants the Mexican government to pressure Canadian authorities to add resources to the search for his son and to investigate his disappearance.

"Until today I do not have any written report from the RCMP," Aranda said, adding that in the first three weeks after his son vanished, he did not feel supported by the RCMP or Mexico's representatives in Canada.

Aranda said his son decided to travel to B.C. after finishing his tourism studies in his native Oaxaca in southeastern Mexico. He wanted to get to know the west coast as a tourist and he brought along his childhood friend, Angel.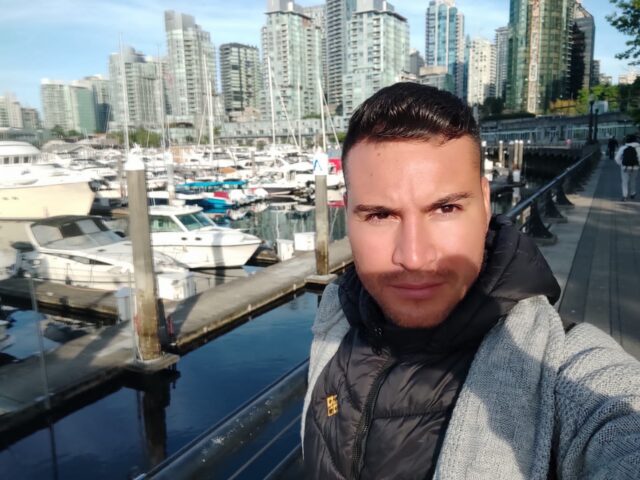 The pair arrived in B.C. on June 9, and according to Aranda, they ran out of money and started working at the Brar Fruit Stand & Orchards near Osoyoos Lake, which is about 6.5 kilometres from the U.S. border. The farmer permitted them to live on the farm while they worked.
A farmworker who answered the phone at Brar Fruit Stand & Orchards confirmed that Burgoin and his friend worked at the farm for about 12 days packing cherries and that they were living on the property.
"Carlos was a nice young man. It is unfortunate what has happened. We are concerned about his health and wellbeing. We hope the police find him," the farmworker told NCM. He asked to remain anonymous.
Aranda said Angel told him Burgoin argued with two other Mexican workers at the farm on July 7 and became upset and left the property. Burgoin walked to Spirit Ridge resort hotel which overlooks the lake and asked the hotel staff for help.
Aranda was given access to the hotel surveillance video where he can see his son speaking with hotel staff.
"He looks scared and nervous," Aranda said. "He asks for help, but the hotel staff don't understand him so they call the police. Carlos told them that he doesn't trust the police."
He said the Osoyoos RCMP told him that when the officer asked Burgoin to get into the police car, he ran out into a field.
Aranda said he filed a missing person report with the RCMP on July 28 and was told he would receive a report on the investigation in 30 days.
He said his other son, Josue, received an email on Aug. 4 saying police would release the report at the end of August — two months after Aranda filed the missing person report.
"This is too much time," Aranda said.
The Mexican consulate in Vancouver issued a press release Aug. 3 stating it has provided assistance and protection to the Aranda family.
"Several searches have been carried out in the area in collaboration with the Oliver/Osoyoos Search & Rescue volunteer organization," the press release said. "Drones, mounted police, volunteer groups, canine teams and sophisticated topographic equipment have been used."
Despite these efforts to find his son, Aranda said he didn't get the help he needed.
"As humans, we should have helped my son," he said. "I only asked them to do more searches, but neither the consul nor the police wanted to do it. We did searches with local people in Osoyoos."
Osoyoos RCMP Sgt. Jason Bayda said the case is "very puzzling."
"This is a very difficult case. It is unusual that a person goes missing without any threat," Bayda said. "This is a young man missing. We don't know why he ran."
Bayda said language has been an issue because Aranda doesn't speak English. He said police used a translation system and have been able to communicate through Aranda's nephew, who speaks English.
"We have spoken with the family and the Mexican consulate many times," he said.
Police were preparing to start a fifth search for Burgoin using drones, Bayda told NCM during a telephone interview.
"At this point, we don't have any idea where Carlos Aranda went."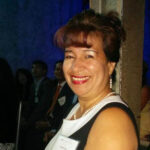 Isabel Inclan has worked as a journalist for more than 20 years, in both Mexico and Canada. She began working as a foreign correspondent in Canada in 1999 for Mexican media. She has been a New Canadian Media contributor since 2018. Her main areas of interest are politics, migration, women, community, and cultural issues. In 2015, Isabel was honoured as one of the "10 most influential Hispanic Canadians." She is a graduate of Masters in Communication and Culture at TMU-York University. She is a member of CAJ and a member of the BEMC´s Advisory Committee.