The "Freedom Convoy" of truckers rolling towards Ottawa to rally against cross-border vaccine mandates is gathering steam from thousands of Canadians, even as a new poll shows a majority are in favour of imposing more restrictions on the unvaccinated.
As of time of writing, the Freedom Convoy's GoFundMe page reports over $3.6 million in donations from 26,775 people while its Facebook page following had swelled to 87,500 followers.
The rally originally started as a protest against the federal mandate for cross-border truckers, which went into effect on Jan. 15. The new rules require drivers to be fully vaccinated against COVID-19 in order to cross the Canada-U.S. border.
An Ipsos poll published Monday and conducted exclusively for Global News showed that 67 per cent want the government to impose further measures on the unvaccinated population, with nearly half (49 per cent) of the respondents blaming the unvaccinated for prolonging the pandemic – now entering its third year.
At the same time, more people are also speaking out against mandates and lockdowns joining groups to voice their dissent, said Sean Simpson, spokesperson for Ipsos Canada.
"The big difference is that Canadians gave politicians a free ride early in the pandemic," he told New Canadian Media.
"That is no longer the case as Canadians are certainly fatigued by the lockdowns and restrictions…There is now more room for dissenting voices and they are more emboldened to speak out."
In addition, given the breakthrough cases after vaccination and boosters, many feel that this is no longer a pandemic of the unvaccinated, he added.
Simpson said he was not surprised that many not directly related to the trucking industry have voiced their support of the Freedom Convoy as the organizers have successfully linked the recent cross-border mandate to empty shelves at grocery stores and increased costs because of supply chain disruptions.
One of them is Cathy Samms-Brule, who descried herself as a human rights activist in Winnipeg.
"I'm (in) a passenger vehicle going into this convoy…I'm going on my own expense to stand with the truckers to fight for ours and our children's and grandchildren's freedoms!" she said in a Facebook post.
Strongly disapprove
Meanwhile, the Canadian Trucking Alliance (CTA) said it does not support and strongly disapproves of any protests on public roadways, highways, and bridges. 
CTA believes such actions – especially those that interfere with public safety – are not how disagreements with government policies should be expressed. 
"The Government of Canada and the United States have now made being vaccinated a requirement to cross the border. This regulation is not changing so, as an industry, we must adapt and comply with this mandate," said CTA president Stephen Laskowski. 
"The only way to cross the border, in a commercial truck or any other vehicle, is to get vaccinated."
Laskowski said the vast majority of the Canadian trucking industry is vaccinated, with the overall industry vaccination rate among truck drivers closely mirroring that of the general public. According to the Canadian Trucking Alliance, in Vancouver, South Asian immigrants "now account for the majority (55.9 per cent) of drivers. The share in Toronto is not far behind at 53.9 per cent."
As of last weekend, nearly 82 per cent of the eligible population – aged five and above – were fully vaccinated, according to covid19tracker.com.
Despite the CTA's disapproval, the Freedom Convoy that plans to gather in Ottawa on Jan. 29 has no plans to put the brakes on the cross-country rally.
"Small businesses are being destroyed, homes are being destroyed, and people are being mistreated and denied fundamental necessities to survive. It's our duty as Canadians to put an end to this (sic) mandates," the organizers state in their GoFundMe page.
"To our Fellow Canadians, the time for political over reach is over."
James Menzies, the editor of Today's Trucking, who has been covering the Canadian trucking industry for more than 18 years, recently wrote protests like the Freedom Convoy rarely deliver results, aside from angering the motoring public and casting shade on the industry.
"One disturbing trend is the amount of money being thrown at recent attempts to bring commerce to a halt," he wrote in reference to the organizer of the Freedom Convoy initiative Tamara Lich, who he described as having a history of association with radical groups, including the recently formed federal separatist Maverick Party in Alberta.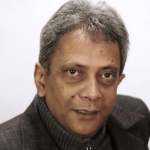 A multiple-award winning journalist, Fabian Dawson is an internationally acclaimed author, filmmaker and media expert. His work over the last four decades spans the globe and he also serves as a consultant/strategic advisor to a variety of international companies. As deputy editor-in-chief of The Province, part of the Postmedia chain, Dawson led initiatives within a special publications group to provide directed content for a variety of organisations. He was named the 2019 recipient of the Bruce Hutchison Lifetime Achievement Award at Jack Webster Awards. Dawson has been invited by the governments of India, Malaysia, Taiwan, China, Hong Kong and the United States to act as a media observer/advisor on a variety of Asian-Canada issues. Dawson, now operates FD Media, which specializes in harnessing editorial assets to revenue generating opportunities.