Canada's trucking industry is looking for new immigrants to fill at least 9,600 truck-driving jobs immediately, and tens of thousands more vacancies in the next couple of years.
Craig Faucette, chief program officer of the nonprofit industry organization Trucking HR, said Canada has 23,532 driver vacancies. This number is expected to increase to 55,000 in 2024, according to the Canadian Trucking Alliance.
Canada has developed several immigration policies to grant work permits and permanent resident status to foreign workers who are experienced truck drivers in their home country. They are eligible for Canada's online Express Entry system under the Federal Skilled Worker Program. A non-Express entry is also available through the Provincial Nominee Program.
To qualify for jobs as truck drivers, applicants need at least five months of continuous work experience in Canada or abroad.
Last February, the federal government announced an investment of up to $46.3 million with Trucking HR Canada. The "Driving Economic Recovery" project provides subsidies to support recruitment, training and wage subsidies for up to 1,400 new drivers as well as 1,200 other professionals that are in demand within the trucking sector.
While national trucking organizations are actively recruiting new drivers from Canada and abroad, some private fleet owners argue the industry is not seriously short of truck drivers — at least at this time.
"There is an excess capacity of trucks in the market searching for freight," said Mike Millian, president of the Private Motor Truck Council of Canada.
He said cargo volumes have succumbed to a downsized consumer demand, which is impacting the entire economy.
"As soon as the current recession ends, we will be in a state of severe and critical shortages, again," Millian said. "Now it is time for recruitment."
Two international students from India who took up trucking jobs soon after getting their two-year diploma courses said driver training was a challenging process.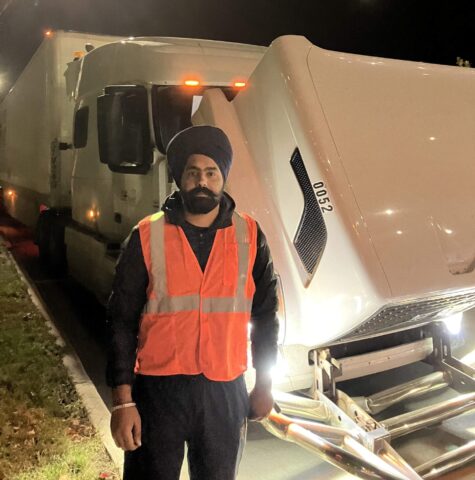 "There was onboard support with a co-driver for a few months before we hit the road on our own," said Sandeep Singh, who completed a two-year course in law, and is now driving a 53-feet trailer truck to make money.
"Speeding cars pose the biggest risk. We have to be alert about wild animals — moose, bears, large birds and trees. Other challenges lie when taking bends and maintaining 105 kilometres per hour speed to meet delivery time.
"We are in constant communication with headquarters and they are aware whether we are running on time. I park at truck stops to fuel, eat and rest. We sleep in the truck using the mattress we carry."
Deep Sharma, who completed a supply chain management course but is now driving a refrigerated trailer, said he knows of several other international students who have joined the trucking industry, attracted by the money and the "sheer joy of adventure and excitement," he said.
Ahmed Dawish, who emigrated from Libya and now lives in Ottawa, said he was an experienced truck driver, but faced difficulties getting a licence until he completed additional training in order to work in Canada.
"Luckily, I got a job soon after my training, and as a result I did not have to undergo the sufferings of several new immigrants with work visa experience," Dawish said. "It was only $16 to $17 per hour initially, but now I am good with full pay and all benefits."
Job Bank salary data shows truck drivers can make $34 per hour; in British Columbia, the average wage is $38 per hour.
The trucking sector has one of the oldest workforces, with one third of drivers over 55 years of age and nearing retirement. Statistics Canada data shows that newcomers make up a higher proportion of the trucking industry, especially in Ontario, compared to other industries.
Overall, 17.8 per cent of Canada's drivers have South Asian backgrounds. In Vancouver, South Asian immigrants account for 55.9 per cent of drivers.
In 2022, Canada had More than 300,000 employed truck drivers. In the first nine months of 2023, that number increased to 316,700.

Gita Abraham is a journalist of 45-year standing and has worked in national dallies and magazines in New Delhi including  Hindustan Times and India Today. For 15 years she was the Feature Editor of  The City TAB in Bangalore. She was also  a Professor of Journalism, at the Asian College of Journalism in Chennai. Treading the thin line between fact and fiction, Gita has  launched her debut novel "Daughter of the Blue Hills"   early this year.  She  and her husband are snowbirds shuffling between Chennai and Ottawa. She has two daughters and two frisky grandsons who inhabit her world.