Immigrant women living in low-income areas of urban Ontario deliver healthier babies than their non-immigrant neighbours, according to a recent study.
Published in the Canadian Medical Association Journal, the study compared the risk of serious health problems and death of newborns at birth. The eight researchers, led by Dr. Jennifer Jairam, at the University of Toronto's Dalla Lana School of Public Health, compared live births from 148,050 immigrant and 266,191 non-immigrant mothers between 2002 and 2019.
They found that newborns of immigrant mothers in these neighbourhoods suffered fewer severe health complications, except for those whose home country was Jamaica or Ghana. The study included women from 20 countries; babies born to mothers whose home country was China had the lowest number of serious health issues at birth. 
One of the study findings was that some new immigrant mothers have more income, education and a better understanding of healthy lifestyles than the typical residents of the neighbourhood. Immigrants also live in low-income areas for a shorter time than non-immigrants, who tend to remain in these communities.
Women who are healthy and more resilient are also most capable of migration, the researchers concluded, and immigration policies may make it easier for healthy immigrants to move to Canada.
The researchers recommend that public health interventions take more factors, such as strong family ties and cultural practices, into account when designing programs to improve health outcomes for all babies born to mothers in low-income neighbourhoods.
 Doctors agree there is a vital link between the health of mothers and their newborns. The study suggests that the "Healthy Immigrant Effect," may transfer from a recent immigrant to her baby. This is a phenomenon in which immigrants arrive in their new country, often in better health than the native-born residents. The health advantage diminishes over time, and often falls below the country's general population. This may be due to the challenges of adjusting to a new environment, stress or the adoption of risky behaviours. 
Dr. Susan Kurian, who is part of the Ottawa-based Arnprior Family Health Team, agreed with the researcher's conclusions. She said non-immigrant mothers who live in lower socioeconomic neighbourhoods are more likely to have several health problems, which is a concern. These women often face a number of challenges, including limited access to quality healthcare; inadequate nutrition; higher levels of environmental stressors; and limited resources for healthy living, she said.
Kurian said poverty contributes to a higher incidence of chronic conditions such as hypertension, diabetes, obesity, mental health and illness related to substance use.
 A Statistics Canada report from the 2011 census identified Arnprior as the town with the highest rate of child poverty.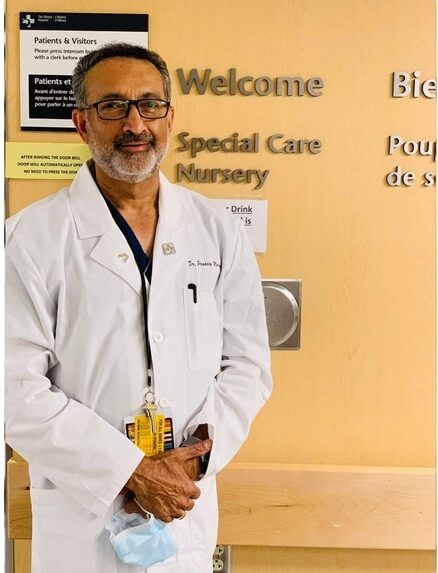 "Unfortunately, these co-morbidities can have profound effects on maternal health and pregnancy outcomes leading to increased serious neonatal morbidity and mortality," Kurian told NCM.
She said the lower incidence of babies born with severe health problems may be explained by the resilience, strength, and determination immigrants bring to their new country.
"In the face of various challenges, immigrants often exhibit remarkable adaptability and resourcefulness. They may come from backgrounds with higher education and health literacy helping them to navigate unfamiliar systems, language barriers, and cultural differences," Kurian said.
Neonatal specialist, Dr. Pradeep Merchant, chief of the Division of Neonatology at Ottawa Hospital's Civic Campus and assistant professor in the University of Ottawa's paediatrics department, supported the study's findings, but said many factors need to be considered when looking at neonatal health complications.
He said immigrant mothers are not necessarily in the best health when they come to Canada. Many have anaemia and some are prone to high blood pressure, diabetes, communicable diseases, chronic illness, mental health disorders and poor social well-being.
None of these afflictions, even HIV infection, prevent people from immigrating "but these symptoms do not make them unhealthy or healthy – healthy is a wide term and it is incorrect to use it for each and every factor," Merchant said.
A report by the Council of Agencies Serving South Asians notes a few factors that might explain why immigrants have babies with fewer health complications at birth.
Its study found new Canadians were less likely to smoke, consume alcohol or ingest marijuana during pregnancy. These habits can increase the risk of low birth weight and other health problems. It also found that women were more likely to receive prenatal care in the first trimester of pregnancy, which is considered critical for promoting healthy fetal development.  

Gita Abraham is a journalist of 45-year standing and has worked in national dallies and magazines in New Delhi including  Hindustan Times and India Today. For 15 years she was the Feature Editor of  The City TAB in Bangalore. She was also  a Professor of Journalism, at the Asian College of Journalism in Chennai. Treading the thin line between fact and fiction, Gita has  launched her debut novel "Daughter of the Blue Hills"   early this year.  She  and her husband are snowbirds shuffling between Chennai and Ottawa. She has two daughters and two frisky grandsons who inhabit her world.