Content Warning: This article includes mentions of sexual assault.
A cross-section of Tigrayan-Canadians are unhappy that Canada and the rest of the Western powers have stood by and done little or nothing to stop the mass killings and genocide of their people in a brutal war with Ethiopia and Eritrea. Instead, the war with Eritrea has led to over 1 million Tigrayans displaced; 1.5 million daily facing hunger and starvation, while over 120,000 women and girls have been raped and are now unable to ever have children again in Tigray in the North-East corner of Africa. New Canadian Media has seen a joint letter sent to the office of Prime Minister Justin Trudeau by the Association of Tigrayan Communities in Canada pleading with him to intervene. 
Based on Statistics Canada Population Census data, there are 31, 910 ethnic Tigrayans in the country as of September 2021.
Raising awareness to the conflict
Getachew Girmay, a Tigrayan community leader based in Winnipeg, told NCM that "high schools, monasteries, churches, industries, hospitals", were destroyed in inhumane attacks on innocent Tigrayans in a brutal conflict that broke out in November, 2020 between the break-away Tigray region and Ethiopian forces.
Similarly, Gebrehiwet Pewelbe, ex-Assistant Secretary of the Tigrayan Community in Manitoba lamented that: "Nothing came from the Canadian government. The government has failed to recognize our efforts so far. I even met with the former immigration minister, Ahmed Hussein. I met him many times and yet he refused to even declare what was going on as genocide. We started communicating with Canadian government officials on June 17, 2021, but till now there has been no serious response."
According to Pewelbe, "We wrote a letter to Ottawa to help airlift many of our people who are now refugees in Sudan (women and children) to Canada. But the government of Canada has failed to meet that demand.  Despite the fact also, that we presented evidence of the Ethiopian government using mass starvation as a weapon of war and other atrocities committed against our people, nothing has changed."
Global Affairs Canada countered the complaints that Canada did nothing to help the besieged Tigrayans. Spokesperson of Global Affairs, Genevieve Tremblay revealed that, "In 2021, Canada provided $43 million in humanitarian assistance funding to its UN, Red Cross, and NGO partners to assist people affected by crisis throughout Ethiopia, including those affected by the conflict in Tigray and surrounding regions." Additionally, "In 2022, Canada provided a total of $65.78 million in humanitarian assistance funding for people affected by crisis across Ethiopia, including in Tigray."
Furthermore, in response to allegations that Canada declined to airlift Tigrayan refugees to Canada to help alleviate their suffering, Tremblay said that, "IRCC has made a commitment to resettle refugees from Africa and the Middle East, beginning with 200-300 individuals in 2022 and 700-800 in 2023 and up to 1,000 annually starting in 2024."
A Dec. 5, 2022 news release by the House of Commons Sub-committee on International Human Rights, acknowledged that during hearings last year, "witnesses testified about gross human rights violations amounting to war crimes, crimes against humanity and ethnic cleansing" in Tigray and that "…members heard of women being held against their will, tortured and violently raped by groups of Ethiopian and allied soldiers in front of their husbands and children."
Concerns from the diaspora
On a personal level, all Tigrayans whom NCM spoke with say they have since lost contact with their families and friends back home.
One of them is Winnipeg-based Yirgalem Kidane, who insists the war has affected the lives and livelihoods of all Tigrayans either at home or in the diaspora. In her words, "I have not heard from my father back in Tigray for two years now. I have no idea if he is dead or alive as well as all of my family members back home. This is because telephone lines, communication, internet have all been cut off. Schools, banks, hospitals have been shut and closed down since 2020. 
"No information comes out about the people left behind. How do you live everyday and carry on everyday, not knowing if you will ever see your family members alive again? How, how?"
Regarding an ongoing peace deal recently signed between the warring parties and supervised by the African Union, Girmay agrees that peace is good in order to "save the rest of peoples' lives and natural resources, but there is still something unresolved. Yes, we have a ceasefire between Ethiopia and Tigray now, but what about Eritrea? How do you take them out after they were invited by Ethiopia?"
Suzi Gebremusse, a Winnipeg resident of Tigrayan origin laments: "They say there is peace but it is not peaceful. The Ethiopian forces and Eritrean soldiers are still very much there. I wish to go back home one day to be there with my people and be there and suffer with them. Tigrayan people are all like family."
Kidane agrees and speaks in the same vein. "As far as I know, the Canadian government has offered that any Tigrayan who is in Canada as a student or on a temporary basis, is free to stay on in the country. That is the only Canadian government offer of help that I know."
Repeated efforts by NCM to get a response to these allegations from the Ethiopian government were unfruitful. In a phone call to the Ethiopian embassy in Ottawa, NCM was given a WhatsApp number to send our enquiries to. Since the questions were sent to that number on Dec. 14, 2022, there has been no response from the embassy.
For its part, the House Sub-committee resolved that "all those who have committed violations of international human rights and humanitarian law be held accountable. The Sub-committee urges all parties to the conflict to fully engage in the peace and transitional justice processes."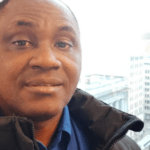 Emmanuel Nwaneri is a journalist with about 27 years of writing, travel and journalism experience in Nigeria, South Africa and Australia. He moved to Johannesburg in South Africa where he spent 10 years as a writer, journalism tutor and commentator. His time in South Africa afforded him the chance to observe the fast-changing dynamics of a country popularly-known as "a rainbow nation." He relocated to Winnipeg with his family in 2018 where he has since found interest in the Customer Service industry. He has published Once Upon A Woman and is working on a second work of fiction.