While tens of thousands of Canadians lost their jobs due to COVID-19, Jacky Sun, on the other hand, wants to quit his job if his employer doesn't allow him to wear a mask at work.
Sun's job is a shift machine operator at a west-end Toronto plant with more than 200 workers. What agonized him was that when he returned to work last week wearing a disposable face mask, he was asked to remove it.
"I totally don't get it," Sun says. "The manager asked me to have further discussion with our health and safety specialist if I don't understand the policy. He also showed me an email sent by our general manager on 'facts around masks,' stating that the masks we wear are surgical masks, and they can't prevent Coronavirus, but instead will cause 'panic' to our workforce," he adds.
He was also confused by what his management quoted as Health Canada's guideline on "wearing masks." The Public Health Agency of Canada, until March 31, contrary to medical professionals urging people to wear masks, had the same messaging for Canadians: if you're healthy, you don't need a mask to prevent the spread. Wearing a mask when you are not ill may give a false sense of security.
Canada's latest health advisory states: "Wearing a non-medical mask or homemade mask in the community has not been proven to protect the person wearing it, however, it can be an additional measure to protect others around you." The advisory was last updated on Apr. 6, reversing course on a previous recommendation suggesting that only masks should be worn only by those already sick and frontline caregivers.
"This is absolutely insane! Can they (Health Canada) not see how China contained the spread of the Coronavirus in just two months by mandating wearing masks in public areas? Why Canada can't just simply learn from the experience?" Sun argues.
"Our Health and Safety Specialist basically showed me the Ontario Health and Safety Act and section 23 to prove our company's policy follows the guidelines. My manager offers me two options, either come to work without wearing a mask, or stay home."
"I think I will quit my job. Can't risk my health and my family's," Sun adds.
More than a month ago, when Canada saw the Coronavirus as an epidemic in China, an online petition launched by Chinese Canadian KY So asked to "Stop bullying those who wear masks." An action specifically targets York Regional Councillor Joe Li. On February 23, Li asked a woman who wore a face mask that "if you are not sick, please do not wear mask" during a public event at Woodside Square in Scarborough.
Li reiterated that "according to Health Canada, the risk was low. Wearing masks will make the public nervous". He also said that "at his wife's restaurant, wearing masks is not allowed. If you are sick, stay home." He also said that the restaurant also asked a delivery person who came with a mask to not do so next time. Otherwise, he will not be allowed to enter the restaurant.
Li's public statement backfired with the Chinese community. The online petition states that "while wearing a mask in Ontario might not be a recommendation by Ontario's Ministry of Health at this moment, everyone has their own right to make such a decision for themselves."
The petition demands Li to make a public apology and has since received 6,463 signatures.
As the pandemic quickly spreads one month later, there are more people wearing masks in the public sphere in Toronto. Businesses in Scarborough like Field Fresh Supermarket have imposed "No Masks, No Entry" policies in Chinese and English for shoppers. It also has security personnel checking people's body temperature before allowing them to enter the supermarket.
On the contrary, St. Urbain Bagel in Thornhill posted a notice stating that "Wearing Mask is not allowed inside the store." It was posted by blogTO on social media, and the sign has since been replaced by "we're closed for Passover" on March 31.
A Facebook page entitled Canadians for Pandemic Preparation has been set up to raise public awareness and preparedness by sharing videos, news and some medical vlogs with related subjects. One of its primary pleas is to "wear masks if you are out."
Joseph Tsang, co-organizer of the campaign and a DJ of Chinese A1 radio, is critical of the Canadian government for not "speaking science."
"During SARS, our Canadian media was asking everyone to be careful. But since the outbreak of the Coronavirus in China, our governments, especially the federal and media, spent much more efforts in fighting racism, fake news, xenophobia and vilifying masks-wearing instead of preparing the country and educating Canadians regarding health science," Tsang says.
Tsang is not buying Canada's Chief Public Health Officer Dr. Theresa Tam's claim that current evidence doesn't support public needing masks. "If she is not citing any particular research and not providing any data to support her view, she is not speaking science, it can only be counted as her personal opinion," he says.
Note: This story has been updated to reflect the Apr. 6 public health advisory.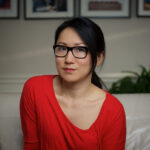 Shan is a photojournalist and event photographer based in Toronto with more than a decade of experience. From Beijing Olympic Games to The Dalai Lama in Exile, she has covered a wide range of editorial assignments.