When immigrant journalists like Gerard Keledjian arrive in Canada armed with decades of television production experience and fluent in English, Arabic, and Armenian, they expect to find a job in the media industry relatively quickly.
What Keledjian found upon his arrival over 10 years ago instead was an industry that was "very closed" to immigrants and only too eager to label them "ethnic media."
"My language (English) was more than enough for the positions that I applied for," says Keledjian, one of the many respondents who recently participated in the first groundbreaking Canadian study on the socio-economic conditions of first-generation immigrant and refugee journalists conducted by New Canadian Media. 
"But in this industry, it is difficult even to get a call for a job interview."
That's how he ended up volunteering at Rogers TV Toronto, a community channel, in order to begin building so-called Canadian experience, since no employer seemed to care about the years of expertise he'd already gained as a television producer throughout the Middle East and North Africa. 
But not even that helped. Although he eventually started landing job interviews, the arguments for not hiring him were always that he was new and did not know Toronto well enough.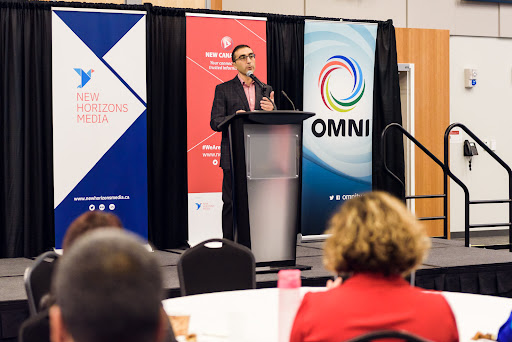 Keledjian, like many immigrant and refugee journalists, arrived in Canada at a time when journalism jobs had begun to systematically dwindle.
According to the Digital Media at the Crossroads 2020 report, the number of journalism jobs in Canada dropped by over 20 per cent from 13,000 in 2013 to 10,200 by 2018.
"Little research exists but what there is suggests Canada's newsrooms lack diversity and are challenged to represent/appeal to the Canadian population," the report states.
It further warns that in the streaming business, "big tech and big international brands will continue to divert the attention of Canadians." 
It concludes by suggesting that government support of journalists in smaller communities and some entrepreneurial initiatives "might preserve the emphasis on democracy."
Mainstream media's loss
Eager to work as a journalist in Toronto, in 2015 Keledjian launched his own media outlet, New Canadians, the nation's only national TV show and web-based series dedicated to newcomers and would-be immigrants. 
In the first six years, he has grown his TV program to reach over $100,000 in yearly revenue, even managing to hire over 25 professionals, primarily internationally educated media and communications professionals, and Canadian-born young graduates.
He has also produced over 118 half-hour TV episodes — all of which helped him win the Pioneers for Change Award for Excellence in Innovation in 2015 and the MNLCT Community Impact Award in 2016.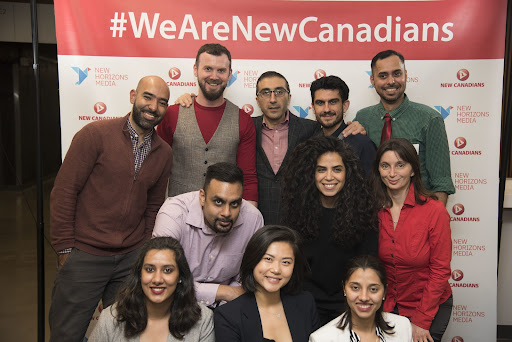 In his view, by shutting out immigrant journalists, Canadian mainstream media loses out on a wide network of international contacts and thus on "opportunities for better coverage in international news."
For example, he says, if a Canadian outlet wanted to cover a story about South America or the Middle East, a journalist from those regions could provide context, research and even on-the-ground contacts to interview.
He recalls that during the Canadian Broadcasting Corporation's (CBC) coverage of the Arab Revolution (Arab Spring) in 2011, many of the reports misidentified city names.
"They (CBC) missed an opportunity for better coverage," he says, as he could have connected them "to the Arabic network." 
"Canada is a diverse country, and (the) media should reflect that," he adds.
Not the only option
Passionate about newcomer integration and immigrant entrepreneurship, Keledjian is also the founder and managing director of New Horizons Media Inc., a multicultural social enterprise for video production and content creation. 
There, he works with a team of internationally-trained media professionals, Canadian-born young graduates, and people with disabilities to assist Canadian non-profits and small businesses with storytelling and brand messaging through content creation.
These endeavours have helped Keledjian realize and accept that Canadian mainstream media "is not the only option" for immigrant journalists. 
"They can pursue a self-option in media, focusing on their niche of interest," he says. "We used to focus on the main players, but we can start community news outlets."
Keledjian says he considers unions within the media industry to be a "barrier" because it limits the opening of new positions for immigrant journalists. He therefore recommends starting with small positions first, trying internships, volunteering for a "short time" as a way to both showcase and hone journalism skills while also establishing professional connections.
In order to better help immigrant journalists integrate, and as a way of recommendation, Keledjian says more internships are needed to help new immigrant and refugee journalists get a sense of the landscape. He also recommends opening up more permanent staffing positions for ethnic reporters; mentorship opportunities, and job contracts.
"Both parties of the media industry — media organizations and immigrant journalists — must understand each other," he concludes.
---
This article is based on the results of the first Canadian study on the socio-economic conditions of first generation immigrant and refugee journalists, currently underway.
Please complete our survey on immigrant and refugee journalists here .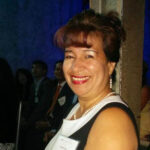 Isabel Inclan has worked as a journalist for more than 20 years, in both Mexico and Canada. She began working as a foreign correspondent in Canada in 1999 for Mexican media. She has been a New Canadian Media contributor since 2018. Her main areas of interest are politics, migration, women, community, and cultural issues. In 2015, Isabel was honoured as one of the "10 most influential Hispanic Canadians." She is a graduate of Masters in Communication and Culture at TMU-York University. She is a member of CAJ and a member of the BEMC´s Advisory Committee.