Media are generally accorded the status of fourth estate in liberal democracies such as Canada, although some populations see them as watchdogs.
These days, the media are fighting a battle for their own survival and are fragmented and discriminated against. In some parts of the world, the media are increasingly labelled as lapdogs rather than watchdogs.
For a vibrant democracy, both mainstream and ethnic media must work in tandem, like the two wheels of a well-oiled bike designed on the principle of equitable distribution of load and speed. Freedoms, including that of expression as enshrined in the preambles of constitutions of many nations, have to be ensured by those in power.
Canada prides itself on being a multi-ethnic and multicultural society where equal opportunities are afforded to everyone, but complaints of discrimination on the basis of ethnicity, race, religion and region continue.
The media is expected to highlight all cases of discrimination, but their owners also claim discrimination when it comes to providing a level playing field for all stakeholders. The voice of visible minorities — the ethnic media — find themselves pitted against mainstream media when it comes to getting equal treatment to reach their audiences.
One example of this unequal treatment is the accreditation to cover the Olympic Games. The Canadian Olympic Committee (COC) approved only a few ethnic media or their representatives for accreditation for the most recent Summer and Winter Olympic Games.
As a senior sports journalist, my applications for the past two summer Olympic Games (2016 and 2020) were rejected. The reason provided in a letter from the COC was "because of overwhelming response and limited quota." As a sports writer, I have attended six Summer and one Winter Olympic Games and cannot recall seeing a sports journalist representing Canada's multicultural or ethnic media. Without access to the Olympic Games, we have to look at other options to meet the requirements of our followers or readers.
Sports are a great unifier and the Olympics bring people together from all races, regions, ethnicities, colour and creed. But when it comes to granting accreditation to ethnic or multicultural media, that spirit of togetherness disappears.
If Canada's smaller multicultural and ethnic media are to grow, they have to have equal opportunities to cover the big events for their readers and viewers.
Athletes from various minorities and ethnicities have represented Canada at the Olympic, Commonwealth and Pan Am Games — and they have won medals for their country.
I have approached Pascale St-Onge, the former federal sports minister, as well as Tricia Smith, president of the Canadian Olympic Committee, about this discrepancy. I have also raised it with Canada's new Minister of Sport, Carla Qualtrough.
There is no audit or transparency in the process of granting accreditations by either the Canadian Olympic Committee or other Canadian sports associations which mostly favour the CBC or corporate media.
Accreditation decisions should be transparent and available for scrutiny by the media and the public. And If there is a quota system, it needs to be fixed so that multicultural and ethnic media are included.
Smaller ethnic media can't afford to send representatives to cover the Olympic Games. But those who can should not be denied an opportunity for reasons other than their professional competence.
"There is a need for a regulatory authority to oversee fair distribution of accreditations on the basis of credibility and reach and not ethnicity of a media house," says Varinder Singh, an ethnic journalist based in Brampton who previously worked for the leading Indian newspaper, The Tribune.
When Pierre Poilievre, leader of the Conservative Party, was in Brampton, Ont. to watch the GT20 Canada cricket tournament that concluded Aug. 6, I asked him about his stand on discrimination against ethnic media in the granting of accreditation for major sporting events such as the Olympic Games, as well as important international tennis, soccer, basketball, hockey and baseball competitions.
Poilievre supported the idea that multicultural and ethnic media be given equal access to these events. He said that if elected, he would discontinue Prime Minister Justin Trudeau's policy of all federal money and accreditations going to mainstream media.
"We promise freedom for all, as all media, including multicultural media, will get the same chance, same support, same accreditation and same financial support," he said.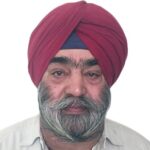 Prabhjot Singh, an award-winning journalist recognized for investigative journalism, environment and business reporting, sports and feature writing. He joined The Tribune, the oldest and largest circulated English daily in North India, in 1976 and continued working for it in various capacities for almost four decades. Currently, a Media Consultant based in Toronto/Chandigarh, he has also remained associated with various news agencies, including Reuters, and media houses like PTC News (India/Canada), Parvasi Media (Canada) and the Liberal World (India). He is particularly interested in Indian Diaspora and Sikh Diaspora in particular. His work has also appeared in various international and national newspapers, magazines and journals.