Canadian newsrooms have made little progress in their efforts to diversify their ranks, and they don't appear to be very aware of it, the Canadian Association of Journalists' (CAJ) second annual newsroom diversity survey shows.
"First and foremost, most newsrooms continue to not be representative of the communities they serve," the survey's final report, released last month, concludes. 
"While there was an uptick in percentages for Black, Middle Eastern, Latin and Mixed Race journalists, most of them are employed by a handful of large newsrooms and are more likely to work in part-time roles."
But it appears this fact eludes "most newsroom managers," as the survey showed that nearly 70 per cent of them thought their newsroom was either "somewhat" or "very representative" of the communities they serve.
Brent Jolly, president of the CAJ, says that's precisely why the survey's results were compared against census data — to understand who the newsrooms were actually serving and whether their makeup was representative of that.
Additionally, while 33 more newsrooms participated this year (a total of 242 of 760 approached), overall that only represented a 30 per cent response rate (a total of 5,012 journalists).
"It's very easy to say, 'We're representative' and move on. I think what it really takes is some data like this to actually step back and say, 'Well, what needs to happen?'" Jolly told NCM.
"It's my hope, really, that those who participated in this year's survey use it as an opportunity to say, 'Well, maybe we're not doing what we think we are,' and to reflect on that and to implement changes that help ensure that they are better reflecting their audiences."
Veteran journalist Melissa Ridgen was more blunt, saying the industry is a "little arrogant" about its own achievements.
"That seems so absolutely questionable, to me, that we would view our usefulness that highly," said Ridgen, an award-winning Red River Métis journalist with nearly three decades of experience.
Some key findings:
78 per cent of journalists identify as white, 4.6 per cent identify as Indigenous and 17.5 per cent identify as a visible minority.  

About 8 in 10 newsrooms reported having no Latin, Mixed Race or Middle Eastern journalists on staff.  

About 8 in 10 newsrooms reported having no Black or Indigenous journalists on staff. 

83 per cent of supervisors identify as white, compared to 2.7 per cent who identify as Black, 3.5 per cent identify as Indigenous and 5.5 per cent who identify as Asian.  

77 per cent of newsrooms report having no visible minorities or Indigenous people in the top three leadership roles in newsrooms.  

Black journalists are more likely to work in a part-time role, compared to a supervisor role with 2.7 per cent of supervisors identifying as Black and 4.3 per cent of part-time employees identifying as Black.

12 per cent of interns identify as Indigenous, compared to 3.5 per cent of supervisors.  

Only 0.2 per cent of supervisors identify as non-binary, compared to 2.5 per cent of interns who identify as non-binary.
Precarious work at best
While the second survey shows some improvement over last year's figures, it notes that overall, "visible minorities are less likely to be in supervisor or full-time roles than their white colleagues." 
"Latin journalists hold the least number of full-time roles at 1.1 per cent, with Middle Eastern at 2.3 per cent, Black at 2.7 per cent, Mixed Race at 3.2 per cent and Indigenous journalists at 4.2 per cent," it states, stressing that it's also men who are most likely to be in these and in supervisory roles compared to women.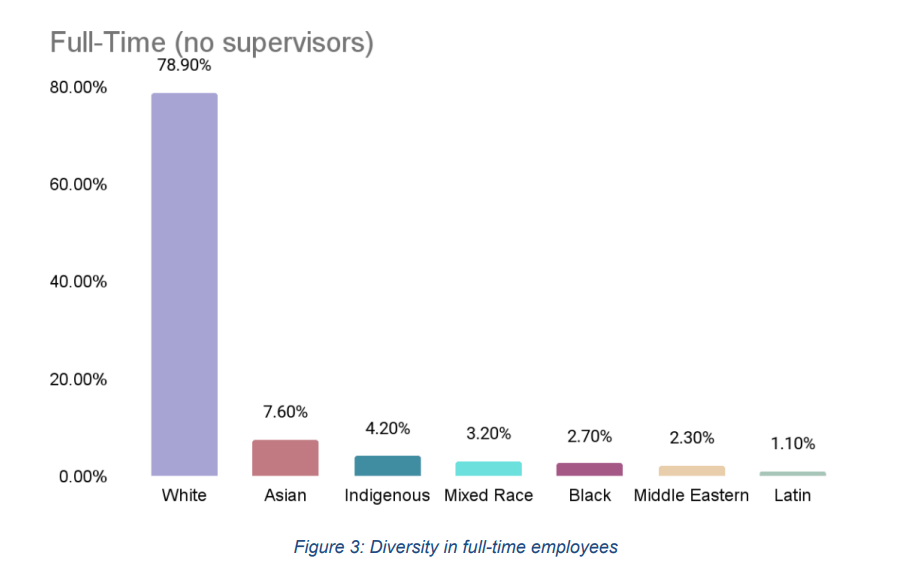 "Much of the racial diversity in the industry is concentrated in more junior and precarious roles, with a handful of newsrooms employing the vast majority of visible minority and Indigenous journalists."
Jolly says these findings help put a spotlight on not only the precarious employment that racialized journalists face, but their inability "to really impact the news agenda" in a way that resonates with distinct communities.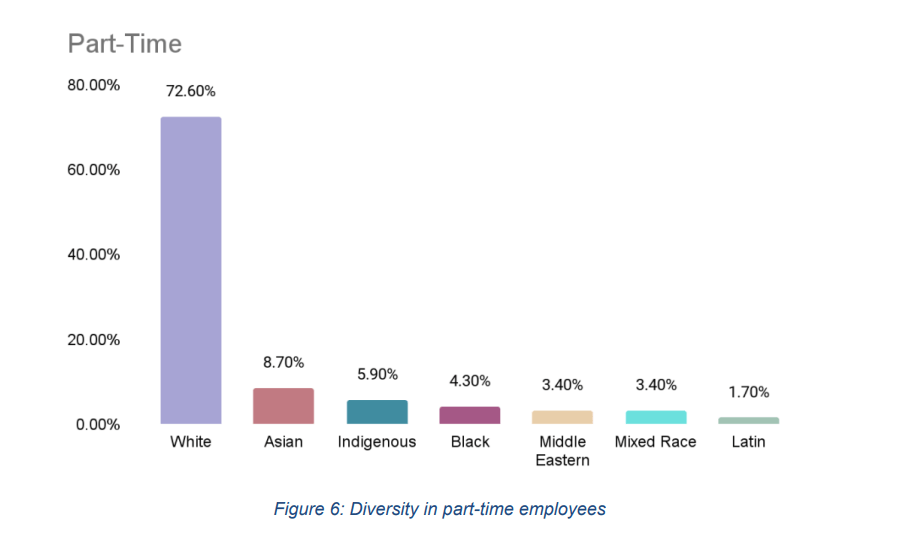 "Lived experience is a valuable commodity and something that we need to be more mindful and respectful of," he said.
Ridgen – an outlier who joined Global News as the Network Managing Editor in October – also stresses the importance of understanding diversity as not just skin colour but a range of lived experiences – from economic status and political leanings to immigration status and personal upbringings. 
"You don't see a lot of people who come from broken up families, or families ripped apart by child welfare or residential schools, or even a lot of refugees joining our profession," she said, adding that, by and large, the industry is made up of middle-class individuals with certain privileges.
A 'hostile environment'
Citing census data, the Tyee reported in December that journalists across Canada, and in B.C. in particular, are leaving the profession, with 10,555 journalists in 2021 compared to 13,470 in 1991 across the country.
Meanwhile, communications professionals working in advertising, marketing and public relations have nearly doubled in B.C. alone in the last five years, outnumbering journalists here 18 to 1 (1,205 vs 21,765 in 2021).
While that study doesn't specify why they are leaving, NCM's own groundbreaking study showed that immigrant journalists face even greater systemic and financial barriers, driving many to choose between seeking employment elsewhere or living precariously as freelancers.
Jolly says it's also counterproductive to the industry as a whole to have such a revolving door of workers who constantly have to be re-trained. 
"I just don't think that's a very strong way to operate," he said, adding that there is even a business case to be made, because "being representative and inclusive isn't just good for making one go to sleep easier at night, but also for the bottom line."
More importantly, he added, the more this happens in a multicultural place like Canada, the less representative and democratic the country becomes, which is likely to breed even more distrust towards journalists among the public. 
"Democracy is not a one-size fits all…. It needs to grow and evolve and change as society changes," Jolly said. "Particularly with those who don't trust the media… some of that comes from not seeing stories and people of various (communities) reflected." 
The Reuters Institute's 2022 Digital News Report found that only 42 per cent of Canadians reported trusting "most news, most of the time" – a 13 per cent drop since 2016. 
At the same time that many are leaving, Ridgen says many may also not be joining the media's ranks because they don't see themselves in it.
Having worked at the Aboriginal Peoples Television Network (APTN) – Canada's only national public Indigenous news network – for over 13 years, she says it was a "constant struggle to find Indigenous journalists."
While she doesn't pretend to speak for all Indigenous people, she says her experience tells her that's because historically, "journalists have not done well covering Indigenous people and Indigenous issues," which has fuelled Indigenous people's distrust of the media.
"Why don't indigenous people want to get into our business? I think it's because they see the media as the enemy," she said, adding that she suspects this is similar for other visible minorities.
"You don't see yourself reflected in newsrooms or in news coverage, so you don't want to get involved, right? You look at it like it would be a hostile environment." 
Committed to journalism
That's why Jolly and Ridgen agree it's important to seize opportunities such as the one Ridgen has achieved to move the dial forward in significant ways.
Ridgen says in the few months she's had her new role, she's seen "such a willingness (from colleagues) to do better in covering Indigenous issues, and doing it sensitively and respectfully." 
Jolly says while people like Ridgen have a responsibility to try to "bring others along," the change must not fall on individuals but on the industry to make systemic changes. 
One way newsrooms can take charge of this is by offering mentorship and professional development opportunities for freelancers and other mid-career professionals in precarious situations who don't come from legacy media backgrounds. 
This would help them "implement their knowledge and their experience in a way that helps shape the news agenda," Jolly said.
"I hope that we can find ways to ensure that those who are committed to journalism, that journalism in turn, shows its commitment to them."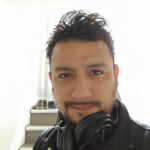 Fernando Arce is a Toronto-based independent journalist originally from Ecuador. He is a co-founder and editor of The Grind, a free local news and arts print publication, as well as an NCM-CAJ member and mentor. He writes in English and Spanish, and has reported from various locations across Canada, Ecuador and Venezuela. While his work in journalism is dedicated to democratizing information and making it accessible across the board, he spends most of his free time hiking with his three huskies: Aquiles, Picasso and Iris. He has a BA in Political Science from York University and an MA in Journalism from Western University.