As Halloween creeps up on us this week, just about everything related to the hit Korean Netflix series Squid Game has become a hot item for this year's horror holiday.
From tracksuits to masks, Dalgona candy to figurines, Squid Game paraphernalia  has become the most searched term on Google this Halloween season, according to a survey by FatherMag.com.  
It has also been the most Googled Halloween costume in Canada in the past 30 days, the survey found using Google Trends. 
For Han Seung-min, the Korean-Canadian chef who helms Sai Woo, one of Vancouver's oldest and most iconic restaurants, the popularity of the series helps him connect with his childhood and an opportunity to showcase traditional Korean food.
"It's a way to get people talking about the Korean way of life and food," said Han, who like millions of others binge-watched the dystopian drama series that has taken the world by storm.
"I played these games growing up as a kid in Korea," said Han, who together with his staff, has come up with a unique Halloween treat for Vancouverites: Squid Game Nights at Sai Woo.
"It will be a unique way to enjoy Halloween this year," he said, adding that he's prepared a six-course traditional Korean dinner menu (featured in the drama series) for the special evenings.
Staff will don Squid Game costumes while Han will be the 'Front Man' orchestrating the evening from his kitchen.
In between bespoke cocktails and the dinner courses, patrons will play at their tables Ppogi, or "honeycomb," which involves cutting out shapes from a sugar-and-honeycomb candy with a needle; and a version of Gganbu, or the marbles game.
During the evening, patrons will be given numbers and be called out to take centre stage and play Ddakji. The game is played with two coloured tiles. One player places theirs on the ground, and the other tries to flip it by slamming their own tile onto it.  
The non-lethal, atmospheric and sure-fire memorable night comes with house prizes from Sai Woo, which originally opened its doors in Vancouver's historic Chinatown in the 1920s.
"No, we won't be eliminating anybody," quipped Han, a Cordon Bleu-trained chef.
Squid Game Nights at Sai Woo begins Oct. 28 and runs through Halloween night.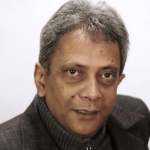 A multiple-award winning journalist, Fabian Dawson is an internationally acclaimed author, filmmaker and media expert. His work over the last four decades spans the globe and he also serves as a consultant/strategic advisor to a variety of international companies. As deputy editor-in-chief of The Province, part of the Postmedia chain, Dawson led initiatives within a special publications group to provide directed content for a variety of organisations. He was named the 2019 recipient of the Bruce Hutchison Lifetime Achievement Award at Jack Webster Awards. Dawson has been invited by the governments of India, Malaysia, Taiwan, China, Hong Kong and the United States to act as a media observer/advisor on a variety of Asian-Canada issues. Dawson, now operates FD Media, which specializes in harnessing editorial assets to revenue generating opportunities.