When we study the history of our country, should we examine it critically, use it to inform current policies, or highlight our national successes and values?
The question "Why Study History?" was the subject of a survey conducted by the firm Leger Marketing for the Association for Canadian Studies.
The results reveal that people under 35 saw critical thinking skills as the best rationale for the studying of history. The 55 and over cohort was more likely to endorse the strengthening of identity.
The results also suggest that history educators have placed increasing emphasis on the need to develop critical thinking skills, whereas some governments feel that thickening national identities should be a component of history lessons.
Jenny Carson, an assistant professor at Ryerson University and a social historian, finds this age dichotomy interesting.
"[The younger group encompasses] potentially people who are entering the job market and are focused of how they can use their degrees to enter the job market which is totally fair; it is more than just learning critical thinking – of course," she comments.
The older group seemed to take a more aspirational approach, seeking to reinforce and discover different identities. "Maybe older Canadians are able to think of it in that way [more] than younger Canadians because they are not thinking about it as a way to enter the labor market," she suggests.
The importance of understanding our history
Carson elaborates that while understanding the past doesn't enable us to predict the future, but it may improve our ability to figure out what to do in our current situation.
"Understanding a woman — how did we go to vote, what was it like 100 years ago when we couldn't vote — how do those kinds of limitations affect us and how we were able to mobilize to overcome them?"
"Those movements have their roots in past social movements."
She continues, "Social movements, civil rights movements — those are relevant and important movements for today. We have the Black Lives Matter [movement] or the movement to end income inequality. Those movements have their roots in past social movements."
Summarizing her point, Carson states, "History tells us how people have created change."
Professor of history from the University of Ottawa, Pierre Anctil, agrees with Carson: "A person who is not aware of the past very often will find themselves unable to understand the present."
Critical thinking as a necessary tool
Anctil says that while history has always been influenced by actors, history requires "complete independence of opinion," free from the whims of power groups or the actions of a state.
"This is where we seek critical thinkers," he says. "If we study the past we have to study on the basis of what we understand of the past, not a proposed narrative that will fit what the present requires."
When it comes to rediscovering or refashioning a country's national identity, Carson emphasizes that we must analyze the actors' reason for doing so.
She refers specifically to the Harper government's redesign of the Canadian Museum of Civilization, which in 2012 was granted a $25 million overhaul.
Pierre Anctil says history requires "complete independence of opinion."
According to Carson, this was an attempt to "create this extremely celebratory history that didn't pay enough attention to the ways on which Canadian history was about [the] displacement of indigenous people who were here first."
Carson also describes a shift in the way history is taught in Canadian curriculum. While in the past it largely focused on politics and political actors who were predominantly white men, today the teachings are more diverse.
"That's really important, that universities can connect themselves to what's reflected in the history, not just the people who were in power who make decisions," she states.
Teaching Canadian history today
Steven Schwinghamer, a historian at Pier 21, insists that history is really about a frank and front debate.
"It's not about certainty. It's not about finding one story. It's about an exchange, and in a country like ours where there's so much opportunity for interesting exchange, history is really valuable tool."
In a country as diverse as Canada, Anctil says finding a single story is next to impossible.
"There is not only one narrative to Canadian history; this is a conclusion to which most historians are coming to at present," he explains.
"It's not about certainty. It's not about finding one story. It's about an exchange."
Moving forward, Carson says that in order to attract more critical thinkers to the study of history, creating personal connections is important. "If you teach it as a story and try to construct a narrative and make it about people, I think that is more relatable."
For Schwinghamer, "History is fun."
"Working with history means working with mysteries, with complicated questions," he continues. "Finding these answers means immersing yourself in an amazing exploration of human past. It's really satisfying."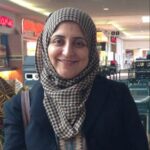 Tazeen is based in Mississauga and is a reporter with the New Canadian Media. Back in Pakistan where she comes from, she was a senior producer and editorial head in reputable news channels. She holds a master's degree in Media and Communication and a certificate in TV program production from Radio Netherlands Training Center. She is also the recipient of NCM's Top Story of 2022 award for her story a "A victim of torture, blogger continues fight for human rights in Pakistan"