Abdullah Aljalout, displaced from his home when war broke out in Syria, spent 10 years working as a maintenance engineer in a factory in Lebanon before finding a path that would change his — and his family's — future.
Through Talent Beyond Boundaries (TBB), a global non-profit agency that has partnered with the Government of Canada to implement the Economic Mobility Pathways Pilot (EMPP), Aljalout landed a position with a company in Shelburne, Ontario in 2019. In 2022, after COVID restrictions were lifted, he and his wife and their three young children resettled in Dufferin County, about 100 km north west of Toronto.
"My wife discovered Talent Beyond Boundaries through social media and I signed up for them," said Aljalout, who holds a degree in electrical engineering. TBB responded and offered him a job in Shelburne as a maintenance technician at a bottled water production plant. 
"My job here is according to my experience," he said. "My team's responsibility is to keep the production line working and (to make) fixes if any breakdowns happen." 
Aljalout applied to come to Canada as an economic immigrant with permanent resident status through the  Ontario Immigrant Nominee Program. 
With the number of displaced people surpassing 100 million and insufficient resettlement spaces worldwide,  Canada is expanding its non-traditional resettlement program for skilled refugees and other displaced people, the Economic Mobility Pathways Pilot (EMPP), to fill in-demand jobs in Canada. 
The new pathway was announced on March 27 by Sean Fraser, Minister of Immigration, Refugees and Citizenship (IRCC), and will open this summer. It will complement the existing EMPP pathways, in an effort to settle up to 2,000 skilled refugees and their families in Canada in the years to come. 
Related: 
IRCC partnered with TBB, which works to match skilled refugees with employers in Canada. TBB has joined with national refugee-led organizations Jumpstart Refugee Talent, TalentLift Canada and other EMPP-implementing partners to expedite the settlement process for newcomers. In most cases, it enables immigrants to move to Canada within six months and promptly start working. 
TBB works with employers who have job vacancies at every skill level, from entry level positions such as hotel cleaners to specialized roles in 
a variety of industries, including construction, healthcare, hospitality, and information technology. 
TBB Canada also works in partnership with Fragomen Canada, which specializes in immigration law and consulting, to facilitate the settlement process.
Lara Dyer, Canada Director of TBB, says there are about one million jobs that are vacant in Canada at any given time, making the expansion of the EMPP "a good opportunity to put those two needs together. " 
TBB is working on a list of potential candidates who meet the EMPP eligibility requirements, including their occupational code (for immigration purposes) and their availability to work for any employer across Canada.
Rasha Abdulsattar, an immigration consultant at One Milestone to Canada Immigration Services, says the number of displaced persons who have come to Canada under the pathway is much lower than the proposed targets.
She said her clients are mostly from the Middle East, where the political situation is "complicated" and most displaced people are living in precarious situations. 
"They are working overtime with survival jobs and do not meet the eligibility criteria," she said. 
An example of eligibility criteria being a barrier can potentially be seen with the Atlantic Immigration Program, which requires an applicant to have one year of work experience in a related field sometime within the past three years.
Often even those clients who may have once had highly skilled jobs are now trying to eke out a living any way they can while displaced.
Abdulsattar  hopes the expanded EMPP will address the varied needs of refugees, "so that more skilled refugees take advantage and join the Canadian workforce."   
The EMPP is a facilitative measure, where the candidate has to qualify for one of the following immigration programs, as the pathway combines refugee resettlement and economic immigration: 
Atlantic Immigration Program

Provincial Nominee Program

Rural and Northern Immigration Pilot
According to IRCC, the support provided overseas is tailored to refugees. The selection criteria, including the ability to settle independently in Canada, is assessed using economic immigration requirements.
While TBB matches the candidates to employers based on their skills and experience, the employer is expected to offer a full-time, permanent job and contribute to the immigration costs of the new hire (i.e.  application fees, immigration consultant fees, etc.). 
The employer is also expected to ensure that the employee is connected with local government-funded settlement services and ensure their company is welcoming to newcomers (e.g. by offering cultural sensitivity training).
As TBB prepares candidates to put their best foot forward in terms of skill sets, they also assist employers who would like to give a chance to these refugees. 
"We really count on working with great employers who have labour needs, but also are excited about the mission, and filling their (refugees) needs," said Dyer.
IRCC has also partnered with Windmill Microlending for the loans to help candidates with the initial settling process. 
Aljalout was eligible for a zero-interest loan, which he used to secure reliable transportation.
"I bought the car to go to work and to use it for my family," he said.
CICnews.com reports that Refugees and protected persons accounted for 17.2  per cent of all Canadian immigration classes, as a total of 75,330 resettled refugees and protected persons landed in Canada in 2022.
Many displaced persons still face several challenges that haven't been addressed by EMPP.
For example, Abdulsattar said she was recently contacted by a Syrian refugee living in Turkey, but his status has not been renewed by the UN High Commission for Refugees since 2019.  
She said that meeting EMPP requirements is also challenging for many who are living in difficult circumstances. Some may not have the documents they need, while others may not be working in the sector they worked in before. There's also the ongoing  challenge with those who work in licensed professions and need Canadian credentials to work in Canada. 
Dyer hopes that the expanded EMPP program addresses these issues. In the meantime, she says there are ways to work around the obstacles, and some employers are flexible. 
For example, "If an individual can't go back to their employer for a letter that validates their work experience, they may ask a coworker, and that would be accepted under the EMPP," she said, likening it to a one-time travel document issued by the IRCC to refugees who don't have passports.
She also hopes that the new pathway for skilled workers will allow them to work in Canada under their existing credentials, for example, when a displaced doctor is being brought in to work as personal support worker. 
Dyer says that the criteria for the new EMPP program are not known yet, but hopes they will address these barriers.
"When somebody has put in the time to get a degree or to get whatever the relevant training is in their home or host country, we want them to be able to work in that field and to earn the wage that's relevant for their credentials, here in Canada as well," she concluded.
_________________________________________
This story was written in partnership with Village Media as part of New Canadian Media's microcredential on inclusive journalism.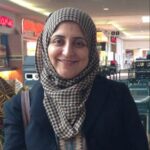 Tazeen is based in Mississauga and is a reporter with the New Canadian Media. Back in Pakistan where she comes from, she was a senior producer and editorial head in reputable news channels. She holds a master's degree in Media and Communication and a certificate in TV program production from Radio Netherlands Training Center. She is also the recipient of NCM's Top Story of 2022 award for her story a "A victim of torture, blogger continues fight for human rights in Pakistan"

Brenda Jefferies is Editor of BurlingtonToday, one of 19 news sites owned and operated by Village Media. She was a reporter and editor at Flamborough Review for 17 years before leaving to take on freelance editing projects for companies such as Teva Canada, NIIT Learning Solutions and Our Kids Network. Brenda's work has been recognized at the provincial, national and international levels, with awards for local sports, headline and editorial writing. Her passion for community news led her back to journalism and she is excited to once again cover local stories that matter. You will find her out and about in Burlington (try the coffee shops first).