Canada's labour force needs skilled workers. 
Trained, accredited professionals who dream of finding work arrive in Canada every day.
The solution may seem self-evident but is, in fact, quite complex, says an employment specialist who works with new immigrants.
"There is a big difference between what newcomers expect (and perhaps are told) prior to arriving and the opportunities for them once they've arrived," says Christine Hall, an employment specialist who works with clients at Halton Multicultural Council (HMC).
This gap is especially pronounced in Ontario's healthcare sector. 
According to a report released in March 2023 by the province's Financial Accountability Office (FAO), Ontario is projected to be short 33,000 nurses and personal support workers by 2028 despite Premier Doug Ford's investment in the sector.
The report suggests that the shortage of nurses and Personal Support Workers (PSWs) "will jeopardize Ontario's ability to sustain current programs and meet program expansion commitments."
Three provinces – New Brunswick, Saskatchewan and Manitoba –  joined  with National Nursing Assessment Services (NNAS) to expedite the certification process. The NNAS announced June 21 that advisory reports for internationally trained nurses will be issued within five days of all documents being received.
 Experts are recommending that Ontario follow suit, and adopt the new expedited credential accreditation for IENs.
"The expedited process in other provinces is a very farsighted approach that could help newcomer nurses obtain their licences in a shorter time frame," says Nyanquoi Suah, manager of the refugee settlement service program at Progress Career Planning Institute in Toronto.
In addition to credential assessment, skilled newcomers face several other barriers, including the cost of the process and language proficiency. 
Regina Carvalho is an internationally trained nurse who brought 12 years of nursing experience when she arrived in Canada in 2019. She also earned a hospital management degree in South America. 
"I always worked in hospital emergency, Intensive Care Units (ICU) and clinics in Brazil," she said.
Giving up hope of working as a nurse
After four years passed – including the stalled period of COVID-19 –  she recently landed a casual position as personal support worker (PSW) in senior care. This came after she gained Canadian experience taking care of her father-in-law, who has dementia.  
"Christine is very nice, she helped me create a resume and I found this job online,"  says Carvalho of her experience working with HMC.
Carvalho, who now resides in Oakville, arrived in Canada on a tourist visit and got married. The cost for her and her 16-year-old son to become permanent residents under spousal sponsorship was $10,000.
She wants to resume the nursing career she trained for here in Canada, but says the cost for internationally trained nurses to gain accreditation is exorbitant, and they face other barriers, as well. 
So for now, at least, Carvalho's plan is in the doldrums. 
"I don't have this much money to start a new process as I spent everything in the past four years," she said. 
The accreditation process includes fees paid to regulatory bodies and expenses to obtain the credentials from the country of origin. In some instances, newcomer nurses have to travel back home to obtain evidence and have to forgo earning while they stay outside Canada.  
Carvalho, 46, said the settlement process in Canada has also been slowed down by a language barrier. She started government-funded language classes in 2022, once she was approved as a permanent resident. 
"It's a long process," said Hall, citing language, family demands and finding accommodation and transportation as additional factors that are unique to each individual. "Are they prepared?" 
Barriers vs shortfall of nurses
A  New Registrants Report suggests that the College of Nurses of Ontario (CNO) registered more new nurses in 2021 than in any year since 2018, and the greatest number of new IENs on record. The report also states that the boost in registrants comes at a significant moment as the health care system continues to respond to COVID-19. The report records 12,449 new nurses in 2021 –   a 19 per cent increase from 2020, and a more than 15 per cent increase from 2019. 
Suah says that the duration of the licensing process creates a significant challenge. The main delay comes from the document assessment process by National Nursing Assessment Service (NNAS), which means some nurses end up taking bridging courses.
Bridging programs are typically specialized programs that enable newcomers to upgrade their credentials to a comparable Canadian standard. The NNAS assessment of a nurse's credentials, for instance, may deem that a course such as biochemistry is not comparable to Canadian education. The College of Nurses of Ontario (CNO) could then require the nurse to take biochemistry at a Canadian college before they can proceed with their licensure. 
Suah notes that some internationally educated nurses (IENs) have to start nursing education from year one and complete a new four-year degree.  
"I have encountered nurses who have spent two to three years going through the licensure process, and when frustration sets in, some have abandoned the process," he said. 
It is very difficult for newcomer nurses, especially those who are older, to go back to school. And this can often mean the bitter end of their nursing career – the profession they love and have worked in all their lives before immigration.  
"It can be very heartbreaking and I call it an unacceptable price for immigrating to Canada," says Suah. 
Policy change to include low-interest loans and capacity enhancement at assessment centres
Suah suggests that financial subsidies for newcomer nurses would address the cost barrier. This could be a mix of study grants and low-interest loans, payable after the recipient has completed the licensure process.    
Ontario's fiscal watchdog FAO issued a long-term spending forecast on June 13 2023, suggesting the province will record  $22.6 billion in "excess funds" over the next few years. The FAO estimates that the health sector represents about $4.4 billion in excess funds.  
Last year, British Columbia also adopted measures to make it easier for eligible IENs to enter the province's health system and provide the much-needed skills and services within a shorter time frame. The measures include $9 billion in bursaries to help with assessment fees and consolidating the provincially based assessment processes for IEN candidates.
An expedited pathway has also been recommended, via policy changes that would diversify the assessment process to resolve the delays from NNAS and enhance the capacity to process the assessments in a more timely manner. 
In Ontario, agencies like HMC (which is primarily funded by Immigration, Refugees and Citizenship Canada) work to help newcomers navigate the many layers of programs and accreditation hurdles in front of them – whatever their experience and training may be.
For some clients, job search assistance may be as straightforward as updating a resume and cover letter; for others it may mean several years of preparation to get back a career they trained for.
Hall says the province's labour pool can only benefit from the expertise of skilled newcomers.
"We don't track numbers but I can tell you anecdotally that almost every single person I talk to has a university degree," she said. "It's not uncommon for me to speak to somebody who has two bachelor's degrees or a bachelor's degree and a master's. I speak to people with PhDs – that's normal.
"We all talk about it all the time, how many amazing newcomers there are in our country who are under-employed."

Brenda Jefferies is Editor of BurlingtonToday, one of 19 news sites owned and operated by Village Media. She was a reporter and editor at Flamborough Review for 17 years before leaving to take on freelance editing projects for companies such as Teva Canada, NIIT Learning Solutions and Our Kids Network. Brenda's work has been recognized at the provincial, national and international levels, with awards for local sports, headline and editorial writing. Her passion for community news led her back to journalism and she is excited to once again cover local stories that matter. You will find her out and about in Burlington (try the coffee shops first).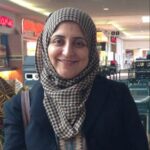 Tazeen is based in Mississauga and is a reporter with the New Canadian Media. Back in Pakistan where she comes from, she was a senior producer and editorial head in reputable news channels. She holds a master's degree in Media and Communication and a certificate in TV program production from Radio Netherlands Training Center. She is also the recipient of NCM's Top Story of 2022 award for her story a "A victim of torture, blogger continues fight for human rights in Pakistan"