The works of four immigrant authors have been longlisted for the Scotiabank 2021 Giller Prize, one of Canada's most prestigious annual literary awards recognizing the best Canadian works of fiction. 
The longlisted novels are What Strange Paradise, by Egyptian Canadian writer, Omar El Akkad; The Son of the House by the Nigeria-born, Halifax-based writer, Cheluchi Onyemelukwe-Onubia; Swimming Back to Trout River, by Shanghai-born Linda Rui Feng; and Em, by Vietnamese-Canadian writer, Kim Thúy.
What Strange Paradise
What Strange Paradise is Omar El Akkad's second novel. It tells the story of nine-year-old Amir, the sole survivor of a group of refugees trying to make their way to safety by boat. Once on land, Amir meets Vänna, a teenage girl who vows to help him. Their connection later leads to a close friendship.
In their review of the book, literary magazine Quill & Quire called the novel an "immediate, visceral reading experience."
El Akkad's previous novel, American War, was widely acclaimed around the world. In 2018, it was selected as one of the competing books in the CBC literary contest Canada Reads.  
In an email statement to New Canadian Media, El Akkad said: "It was such a wonderful and unexpected surprise to find out my novel had been longlisted. Writing is, almost by definition, a lonely pursuit. For years I was alone with this book, and to now suddenly find myself mentioned in the same breath as these truly exceptional writers is more than just an honour, it's a reminder that I belong to a community of craft. That's a very comforting thing, to feel one belongs."
El Akkad was born in Egypt but moved with his family to Qatar at the age of five. When he was 16, his family decided to move to Canada, landing in Montreal. In Canada, El Akkad became a journalist and reported for the Globe and Mail for 10 years, including covering the war in Afghanistan for two years. 
The Son of the House
In Cheluchi Onyemelukwe-Onubia's debut novel, The Son of The House, "The lives of two Nigerian women divided by class and social inequality intersect when they're kidnapped, held captive, and forced to await their fate together," according to Dundurn Press.
In a tweet after the longlist was announced, Onyemelukwe thanked her publishers for bringing the book to Canada, saying she was "thrilled, joyful, humbled that The Son of the House has been longlisted for Canada's prestigious Scotiabank Giller Prize 2021."
Onyemelukwe is a health lawyer, an academic, and a writer. After completing her studies in law in Nigeria and working extensively in the field of health and gender, Onyemelukwe obtained a doctorate in law from Dalhousie University, in Nova Scotia. She shares her time between Lagos and Halifax. 
Em
Em is Kim Thúy's fifth novel and the fourth to be translated from French. Em is the story of two orphans in Saigon connected by destiny and the shared history of growing up in the remnants of the painful Vietnam war. Em was translated from French by Sheila Fischman. 
Similar to El Akkad and Onyemelukwe, Kim Thúy expressed gratitude for being included in the long list. 
"Writing is a privilege not easily accessible to immigrants. So I count myself among the luckiest people in the world to be able to do it for a living. Being selected for the Giller allows me to pretend that the time spent on writing is justified because it is a job," Thúy said in a message to New Canadian Media. 
Thúy was born in Saigon. At the age of 10, she became a refugee, leaving her home country by boat, like thousand of others, and settling in Quebec with her family. Thúy's first novel, Ru, published in French in Quebec and France, became a worldwide success. In Canada, the book was the winner of the 2010 Governor General's Literary Award for fiction.
Swimming Back to Trout River
Swimming Back to Trout River is Linda Rui Feng's debut novel. Set in China and America, the novel follows a family as they try to find their way to themselves and each other after they are separated in the aftermath of the cultural revolution. Publishers Weekly's review of the book noted that "Feng captures humor and grief in equal measures […] and she elegantly references Chinese concepts of fate and luck while building toward a poignant conclusion."
"I'm both delighted and humbled to be part of this group of amazing writers. There is, of course, no single immigration narrative—any more than there is a single love story—and I'm glad to be adding mine to the multitudes," Feng said in an email to New Canadian Media. 
Feng is a professor at the University of Toronto, specializing in Chinese cultural history. She currently lives in Toronto.
The Giller Prize shortlist will be announced on October 5th, with the winner announced on November 8th. 
Previous winners of the prestigious award include some of the highest recognized literary figures in Canada such as Alice Munro, Margaret Atwood, and Michael Ondaatje. The 2020 Giller Prize winner was Souvankham Thammavongsa for her book of stories How to Pronounce Knife.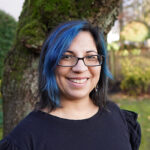 French Editor - Born in Venezuela, Andreina Romero is a freelance writer with New Canadian Media. Prior to writing for New Canadian Media, Andreina was a bilingual contributor at The Source Newspaper, also known in French as La Source, an intercultural newspaper in Vancouver. She is also the creator and host of the podcast Girls Talk About Music and Wigs and Candles which explore music and period films from a uniquely female and Latin American lens. In 2020, Romero also co-founded Identity Pages, a youth writing mentorship program.