It has been a fulfilling journey for Dr. Alice Benjamin. Born in a small village in Kerala, India, she immigrated to Canada with a freshly minted medical degree from New Delhi and went on to make significant contributions in maternal-fetal medicine. In recognition of her outstanding achievements, in 2020 she was awarded the Officer of the Order of Canada, one of the country's highest civilian honours.
When Canada sought nominations for a role model whose achievements stood above the rest, who had enriched the lives of others and made outstanding contributions to their fields of endeavours, Benjamin was an obvious choice. She was distinguished for her "dedication to the community and service to the nation," through her work in the field of obstetrics and high-risk pregnancies."
Dr. B., as she is fondly called by her colleagues, has been the pillar of the Department of Obstetrics and Gynecology at the Royal Victoria Hospital (RVH) in Montreal since 1979. Specializing in high-risk pregnancies with complex medical problems, she has performed over 10,000 deliveries, including the first interval delivery of twins in Canada born seven weeks apart. The first baby was delivered at 23 weeks, and the second baby was kept in the uterus until 30 weeks. Both were safely delivered vaginally.
Then, in 2001, a patient was diagnosed with leukemia at 26 weeks of pregnancy and delivered five weeks later. The cord blood collected from her baby at delivery was used for the bone marrow transplant which saved her mother's life. "They were two of my very happy cases," Benjamin tells NCM.
Benjamin's key to success is not only about a sense of duty.
"I see every pregnancy as a journey founded in a trusting relationship with the patient," she says. "We hope, ultimately, this culminates with a healthy mother and baby. The first cry we hear is the most anticipated and joyous sound."
Over the past 40 years, the RVH corridors have become very familiar to this soft spoken 75-year-old physician. Her beloved patients maintain that she is deserving of every accolade she received because, she goes above and beyond her duty.
A pioneer of maternal and fetal medicine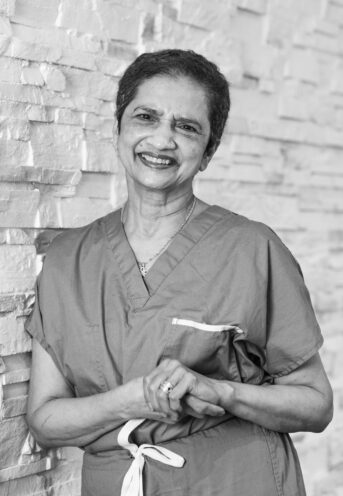 Among the many firsts credited to Benjamin was the development of the Antenatal Day Centre to care for diabetic patients and other high-risk pregnancies. A pioneering approach in Canada at the time, it was implemented in other centers, minimizing prolonged hospital stay and stillbirths.
Her string of firsts in Canada also includes a successful diabetic renal transplant pregnancy and delivery in 1984. And in 1994, she oversaw Quebec's first peritoneal dialysis pregnancy and delivery.
Just as her patients have a lot to be thankful for, so do her students, as Benjamin. has shown the same commitment to teaching, being a mentor and role model to hundreds of medical students and residents from McGill University training in obstetrics and gynecology at RVH.
Her genuine desire to educate herself and others contributed to the creation of four awards to recognize academic achievements amongst residents and trainees: The Alice Benjamin Award for Excellence in Obstetrics, The Molson Award for Educational Excellence, The Dr. Alice Benjamin Leadership Award, and The Dr. Alice Benjamin Global Maternal and Child Health Fund, which supports the training of residents in developing countries.
In recognition of her achievements and contributions, she was awarded Chevalière of the Order of Quebec in 1993, the Distinguished Indo-Canadian award in 2000, as well as the Carl Nimrod Educator Award by the Association of Professors in Obstetrics and Gynecology in 2014.
Benjamin's strides in the field of obstetrics in Canada came with much commitment to her profession. "It is hard work, passion, meticulous attention to details, with a trusted relationship with the patient that results in a healthy outcome," she says.
The journey from India to Canada
Benjamin was home-schooled until she was in Grade 3, as there were no schools nearby. As years passed, her father enrolled her in middle school and later in college, the reputed St. Teresa's in Ernakulam in Kerala state. It was her father who provided young Alice with the encouragement and stoked her ambition and passion for medicine; before she knew it, she was studying at Lady Hardinge Medical College in New Delhi for her MBBS degree.
She was still in India when she was introduced to George Benjamin through a family friend, and they were married shortly thereafter. He had completed his training in polymer chemistry and was working in Canada at that time. Dr. B. arrived in the country in 1971.
"This land received me with open arms," Dr. Benjamin tells NCM. "Canada literally embraced me. As an immigrant, I never felt estranged, alienated. I was welcomed and given every opportunity to be part of the community and to succeed. Of course, I did my best. I gave it my all…"
Following her internship in Toronto, she moved to Montreal, where her husband was transferred to, fortunate to get the last residency spot at McGill. It did not matter to her that she was the only woman in her batch of residents when she first started at McGill. It gave her the impetus to work hard and to prove herself equal to her peers.
"I kiss the ground I walk on," she says. "And for the education McGill gave me, and the hospital which made me have all the colleagues, everything, everybody I work with. And for this amazing, amazing, amazing, incredible community that supported me all along. My husband, my daughter, my team, my colleagues, my hospital, my superiors, patients, community—they all contributed to my success."
Aside from all of her treasured awards, an endearment she values the most is being called "our doctor Benjamin." And she remains Canada's very own adopted daughter. Miles and milestones, the little girl from Piravom (Kerala) has come a long way indeed.

Gita Abraham is a journalist of 45-year standing and has worked in national dallies and magazines in New Delhi including  Hindustan Times and India Today. For 15 years she was the Feature Editor of  The City TAB in Bangalore. She was also  a Professor of Journalism, at the Asian College of Journalism in Chennai. Treading the thin line between fact and fiction, Gita has  launched her debut novel "Daughter of the Blue Hills"   early this year.  She  and her husband are snowbirds shuffling between Chennai and Ottawa. She has two daughters and two frisky grandsons who inhabit her world.