With concerns about COVID-19 and racial tensions top of mind for most Canadians, the final four contestants vying for the leadership of the Conservative Party of Canada presented differing visions about how a government under their leadership would confront these pressing issues during a debate held last week in Toronto.
Peter MacKay, the former minister of foreign affairs, who many believe to be the current frontrunner, said he believes that systemic racism exists in Canada. He recalled how Viola Desmond, a prominent Canadian civil rights activist, was prohibited from a theatre in New Glasgow, N.S., where he grew up.
"[We need] to have more members of our minority and cultural communities represented in [our] institutions," he said.
'Individual' versus 'systemic' racism
Leslyn Lewis, the first female visible minority to run for the party's leadership, spoke about the difference between 'individual' and 'systemic' racism.
The lawyer, and former Conservative candidate defined 'individual racism' as an evil intention, while 'systemic racism' deals with outcomes that are negative.
Lewis admitted she believes that racism exists in Canada. She made reference to residential schools, the high conviction rates for Indigenous people as evidence.
Erin O'Toole, the former minister of veterans affairs, did not answer definitively when questioned about whether or not racist practices and attitudes are embedded in government policies. Instead, O'Toole called out Prime Minister Justin Trudeau for his poor record on reconciliation.
Ontario MP Derek Sloan, who has been the most controversial of the four candidates, admitted that there is racism in Canada, but that critics should not call Canada a "racist country."
Sloan zeroed in on Quebec's controversial Bill 21, which bans the wearing of religious symbols by public sectors workers in Quebec. "[The bill's provisions] are a violation of minority rights," he said.
In response to the widespread calls to 'defund the police', all four candidates said they did not support the idea.
Candidates united against Trudeau
With regards to the COVID-19 pandemic, all candidates provided full-throated criticism of the Trudeau government for their allegedly "lax" reaction, the poor supply chains for personal protective equipment (PPE), and mixed messages about wearing masks.
"If we would've done our travel ban earlier, we would not have to do a complete economic shutdown…an economic shutdown ultimately becomes Justin Trudeau's dream," said Sloan. "He gets to hand out money basically for free."
MacKay decried the decision by the Trudeau government to ship PPE to China.
"To send 16 tons of personal medical equipment on the plane […] we should've had Michael Kovrig and Michael Spavor back," he said. "We could have done much better, and we will do much better under a Conservative government."
The day after the debate, China officially charged Kovrig and Spavor for spying, apparently a retaliation to Huawei's CFO Meng Wanzhou's arrest in Vancouver airport in December 2018.
O'Toole said the Canadian Emergency Response Benefit (CERB) should be ended. Lewis called for a cost impact assessment about future measures.
Scant discussion about immigration
The candidates largely avoided discussion about immigration.
Sloan has pledged to reduce immigration levels from 350,000 a year to 150,000 a year, in order to make housing prices for immigrants more affordable.
O'Toole wants to make sure the immigration system is fair, compassionate and rules based. "If unemployment remains high in the aftermath of COVID-19, it may be necessary to temporarily reduce skilled immigration as it would be unfair to applicants that there are not employment opportunities," his platform states.
Ballots for the new leader will be cast in late August.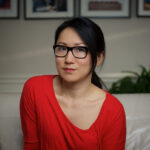 Shan is a photojournalist and event photographer based in Toronto with more than a decade of experience. From Beijing Olympic Games to The Dalai Lama in Exile, she has covered a wide range of editorial assignments.