Military regimes and dictatorships fear art, says Mwafaq Katt, a famous Syrian cartoonist, animator and human rights activist who came to Canada with his family in 2011 to be able to continue to practise his art freely.
"Dictators and fascist governments with soldiers, warplanes, tanks and rifles fear lines on a piece of paper," Katt told NCM. "Because the task of art is to burn the political sacred with humour or drawings."
Katt, 66, is one of the artists declared "inappropriate" by the Bashar Assad regime responsible for the civil war in Syria. A member of PEN Canada, Katt draws cartoons for various magazines and websites, creates visuals for book covers, and makes animated films. He is one of hundreds of banned artists among millions of Syrians whose return to Syria depends on the change of regime.
The cartoonist spoke to NCM about his experiences as an artist, why in Syria his drawings were considered a crime, and the story of his arrival in Canada.
For those who don't know you, can you briefly describe who you are?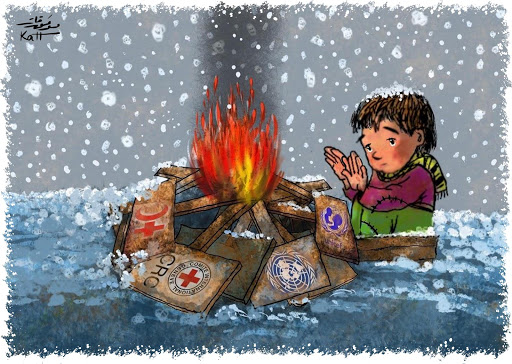 Mwafaq Katt: I was born in Damascus, and I have been living in Toronto since 2011. In 1974, I published my first political cartoons in the Communist Youth Union's secret newspaper. In 1975, the Youth Union offered me a scholarship to study art in Moscow. I worked for The Moscow News as a cartoonist. In 1982, I graduated with a master of arts, having majored in animation.
After my military service I worked for Syrian TV and became the head of animation from 2009 to 2011. I was also professor in animation, illustration and visual arts at the University of Kalamoon, the International University of Science and Technology and the Higher Institute of Dramatic Arts in Syria. After the beginning of the Syrian Revolution in March 2011, my wife, my two children and I moved to Canada, where I continue my artistic work. I recently won the Arab Cartoon Award in Qatar.
When and how did you discover your talent?
I realized my artistic destiny at Al-Kindi Cinema in Damascus. After watching the cartoon The Little Humpbacked Horse, everyone left the hall except for me. I was 12 years old at that time. Little did I know that seven years later I would be a student of the director of that film. His name was Ivan Ivanov. Thanks to him, I was the first foreign student to study at the Moscow Film Institute, with a specialty in animation.
Compared with Syria, can you do your art in Canada? 
I paint daily, because it's the only space of freedom I have left. I currently have a large collection of paintings ready for display. The conditions for display in Canada differ from the conditions in Syria. Here, you need a business manager who supervises your production, as art is seen as a commodity like any other product, and the laws of the market apply to it.
I find it difficult for the artist to both excel in their craft and think about the market. We can also see that throughout history. … It is sufficient for us to look at the Renaissance to know that the rich and the clergy are the ones who determined the direction and style of art. The artist was able to create, however in the end their work would always be subject to both market conditions and capital.
Where do you get your inspiration for your drawings or animations?
Until now, humanity has not been able to discover the essence and mechanism of the creative approach. "My wife is not convinced that when I sit on the balcony and smoke, I'm in the thick of work," says one cartoonist. Ideas come without permission, they fly through space, they are everywhere. The cartoonist is like a hunter, he roams the world and hunts for ideas, and he should always be ready.
Why do you think artists are one of the first targets of regimes? You make cartoons — what kind of crime do they find in cartoons?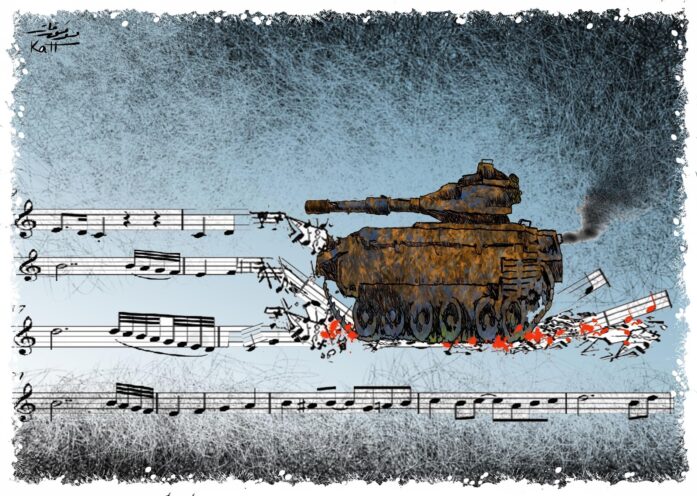 Political cartoons' … primary mission is to break the political sacred with brief humour. What is really surprising is that countries with military planes, tanks and chemical weapons are afraid of a few black lines on a white paper. Is this not evidence of the power of this art?!
The military regimes were unable to bear and understand this art, and responded with brutality and hostility. They assassinated (the Palestinian cartoonist) Naji al-Ali, tortured Akram Raslan to death, and smashed Ali Farzat's fingers (both Syrian cartoonists). And similar incidents were repeated in Tunisia, Algeria and Egypt, and indicate the importance and role of political cartoons in contributing to changing the social and political mentality in societies.
How can an artist cope with prohibitions and oppression?
Since the beginning of the Arab Spring, cartoonists have joined the street by painting graffiti in Tunisia, Egypt, Libya and Syria, as new artists have emerged. Their works excelled in capturing the details of life and the daily lived conflict.
Additionally, social media such as Facebook played a big role in bringing the artists' work to a broad and thirsty audience with no state censorship. So we saw an explosion in the amount of collaborations, which led to many artists drawing influence from each other, causing the entire scene to progress forward. As a consequence, the audience is beginning to view political cartoons as a satirical but valid analysis of the political situation.
How has your life in exile in Canada affected your art?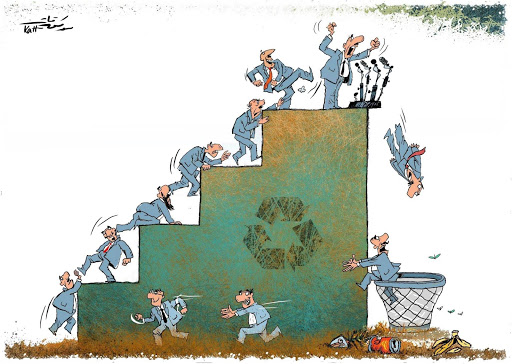 After my graduation party from the Institute of Cinematography in Moscow, my professor, Boris Nemencki, said to me: "When you are over the sea and you are returning to your country, throw everything you have learned into the sea and start over."
I did not comprehend his words until a decade later, when I discovered that the sky is not blue, and the trees are not green, and that the art is to see things not as they are but as you want. And this world belongs to you: act with it as you wish, God created this world. The artists create their own world.
How do you see the future of caricature and art in the digital age?
Today, a website, television station or printed newspaper are not without one or more cartoons, and political cartoons have become an essential part of the fourth estate.
Some caricatures preceded the political event and warned of the occurrence of social and political disasters like the one we are living in now. This understanding and ability to predict and interact with events made the cartoonists famous personalities with a wide audience that followed them. After all, we all remember here Naji al-Ali and how he used to tell us every morning about the political "weather conditions" through his art..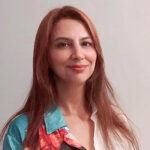 Arzu Yildiz graduated from Istanbul Bilgi University in TV Journalism Department and has worked as a journalist, editor and senior reporter. She has written critical pieces of investigative journalism about unresolved murder cases in the Southeast against Kurdish businessmen and illegal weapons supply to Syria. She has four books published and writes for New Canadian Media.