The 44th Toronto International Film Festival (TIFF) ended Sunday after screening 333 films from 84 countries, representing 87 languages and dialects.
Beyond its annual economic impact of $189 million, and the glamour of countless actors who graced the red carpet, TIFF gave audiences the chance to see films that reflect the current political climate. Some stood out because they address extreme policies that exacerbate nationalism and hatred towards migrants.
"Jojo Rabbit", directed by New Zealand actor and director Taika Waititi, won the high-anticipated Grolsch People's Choice Award this year. It's a touching and daring satire about a young German boy who discovers a Jewish girl hiding in his home and consults with his imaginary best friend, Adolf Hitler. Like Roberto Benigni's "Life is Beautiful", "Jojo Rabbit" exposes the crudeness of Nazism and anti-Semitism.
"We need to remind ourselves there's no room in this world for hate and intolerance. Let's put an end to that, and replace it with love. We have to keep telling these stories," said Waititi in a video TIFF shared after announcing the award winners.
A World at War
TIFF also featured the world premiere of Spanish director Alejandro Amenabar's latest film, "While at War." Amenabar is known for his Oscar-winning film "The Sea Inside", as well as "The Others" and "Open your Eyes." "While at War" looks at the early years of the Spanish Civil War and controversial writer, Miguel de Unamuno. Unamuno defended Spain against the anarchists but got caught in the fascism of dictator Francisco Franco.
The words, "while at war" were deleted from the final version of a legal document, giving Franco control over Spain from 1939-1975. The wounds left from these bloody years are still open for many Spaniards today.
In an interview with New Canadian Media, Amenabar admitted that his film gave him an excuse to talk about the extreme political positions in some countries around the world.
"The nationalism that is associated with the right or extreme right is something that is permeating in our societies. In the early twentieth century that triggered a world war," said the director. "While at War" portrays Franco as an ignorant and weak general, who was in charge of a whole country.
"History can be repeated"
When asked about the similarities between Franco and the billionaire who became president of the United States, Amenabar expressed worry. Amenabar accused Donald Trump of having "little respect for immigrants, women, the disabled, is in charge of running a country," adding that the president is "so visceral and inspires so little confidence."
Amenabar also pointed out that the new generations see fascism as "something historical, but without realizing it we are finding it now. It scares me to see young people who support Trump and express their racism as normally. History, unfortunately, can be repeated."
The filmmaker referred to the international migrant crisis in Europe, Central America, South America (Venezuela) and the resurgence of anti-immigrant policies in many countries. As an immigrant himself, he clarified that it's normal to talk about politics and regulations regarding migration, but said it's "dangerous criminalizing or exacerbating the hate to migrants. This behaviour leads what we are seeing, unfortunately in the United States: open hate against migrants." He referred to the mass shooting in El Paso, Texas, that left 22 people dead, the majority being Latin American immigrants.
Both films are just two of the many films that exemplify the diversity of films at TIFF this year. By choosing "Jojo Rabbit" for the top prize, Canadians have expressed concern about the reappearance of anti-immigrant extremist voices in a country of migrants.
This week, a controversial billboard ad appeared in Bedford, Nova Scotia. The billboard read: "Say NO to Mass Immigration," and was endorsed by the People's Party of Canada. The October 21 federal election has much at stake.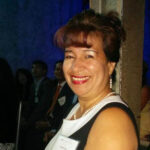 Isabel Inclan has worked as a journalist for more than 20 years, in both Mexico and Canada. She began working as a foreign correspondent in Canada in 1999 for Mexican media. She has been a New Canadian Media contributor since 2018. Her main areas of interest are politics, migration, women, community, and cultural issues. In 2015, Isabel was honoured as one of the "10 most influential Hispanic Canadians." She is a graduate of Masters in Communication and Culture at TMU-York University. She is a member of CAJ and a member of the BEMC´s Advisory Committee.