Filipino Canadians are underrepresented in the federal government despite their rich and diverse contributions to the nation. To tackle the problem, the Pinoys on Parliament conference (PoP) works to encourage political participation among Filipino Canadian youth so that they can become the leaders of the future.
"We are underrepresented in politics and in many vital professions," former Ambassador of the Philippines to Canada, Petronila P. Garcia, said, kicking off the third annual PoP conference. "One in every 36 Canadian is of Philippine descent, with nearly 1 million Filipino Canadians now calling Canada home. And yet, we do not have any Filipino Canadian in the federal parliament." 
Meanwhile, the Philippines is one of the top sources of immigrants for Canada "because of our work ethic, a very strong command of the English language and the solid reputation we have as a people known for our ability to adapt to situations and circumstances," Garcia said in her keynote speech.
The three-day event, filled with panels, workshops and more, was attended by around 88 participants from across the country.
Although Filipino representation in Canada has not reflected the population, several members of the community have made significant contributions. Dr. Rey D. Pagtakhan served as Cabinet Minister for Jean Chrétien and Paul Martin; he also served as an MP from 1988 to 2004. 
Florfina Marcelino of the New Democratic Party was the first woman of colour to be elected to the Manitoba Legislature in 2007 and served as Provincial Minister for Culture, Heritage and Tourism. Both her daughter, Malaya Marcelino, and brother-in-law, Ted Marcelino, are Members of the Legislative Assembly. 
In British Columbia, Mable Elmore was the first Member of the Legislative Assembly of Filipino descent and Jocelyn Curteanu is serving her third term on the Whitehorse City Council. 
Garcia, who was the first female Ambassador of the Philippines to Canada and has had a long career as a diplomat, encourages youth to get politically active for the community while staying connected to their Filipino roots. 
"You must have a voice at the table to achieve, and in order to achieve that, you must have teamwork. And that is the aspect of bayanihan [community spirit] that I would like to emphasize now. You have to harness that bayanihan spirit in you and the pride as a Filipino Canadian." 
Origin of Pinoys on Parliament
Venus Ramos, PoP's Director of Social and Cultural Affairs, has been a part of the initiative since its early days. Originally from Winnipeg, which has a large Filipino population, Ramos said that when she first moved to Ottawa for school she didn't meet any Filipinos, prompting her search for her culture. 
After becoming more involved with Filipino organizations in the area, she began to realize there was more to being part of a community; she wanted to help the community. 
"And our question was, you know, we're here, we're Filipinos, young Filipinos who work at the parliament, but why aren't we represented in leadership positions of government? And then that question grew because we were also in various fields. I was in science. Some of my friends were in PoliSci, others were in Art. And so that question really grew to why aren't we represented in a list of other fields? … We wanted to give that platform for people to see that we're there and that we can take a leadership position," said Ramos. 
PoP's first conference was held in 2019 in Ottawa and had 100 delegates from Quebec to British Columbia. The conferences cover a variety of topics in their workshops and panel discussions from Filipinos in many fields. 
"The biggest thing I learned from PoP is that Filipinos are everywhere, and they specialize in everything," said Ramos. 
Bayanihan: the spirit of community
The conference's theme this year is Bayanihan, a Tagalog word for "the spirit of community" that many Filipinos can resonate with.  
"Bayanihan is an important concept in Filipino culture as it enables a sense of nation," Garcia said. "It promotes a culture of collaboration and empowerment of every individual through teamwork and innovation. In the next few days. During this conference, you will have the opportunity to discuss how you can come together to achieve a common goal, stronger representation in federal politics, therefore, bayanihan should be our call to action." 
Ramos thinks that the virtual Pinoys on Parliament was a really good example of the spirit of bayanihan in action.
"Because whatever is happening around the world right now, we are still trying to find a way to build that community, and just really adjusting to make it possible," she said.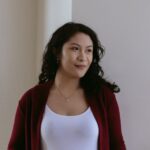 Rhea Lisondra is a Carleton Journalism and Humanities graduate and is based in Trenton, Ontario. She reports for New Canadian Media and is a co-host on the podcast AZN Connection.