Canadian immigrant service providers are worried that the Conservative government's proposed election bill will potentially impact the voter participation rate of new Canadians and ethnocultural communities in future elections. Currently, citizens who don't have proper identification can vote if someone else can vouch for their identity. If the new bill passes, vouching would be banned – a problem for new Canadians who want to vote but may lack proper identification simply because they're new to the system.
"We know that many folks who tend not to be on the voters list and/or have ID that is deemed to be appropriate are folks who are low income or new to the system," said Debbie Douglas, executive director of Ontario Council of Agencies Serving Immigrants (OCASI), based in Toronto, whose member agencies provide a variety of services for new Canadians, including professional development services, tools to help newcomers learn about Canadian citizenship, and language services. "The fact that they will be showing up to vote and not find their name on the list or have a voter's card and not have appropriate ID will absolutely disenfranchise them," she argued.
"Folks tend to vote for those that have their interests at heart and if a large number of new Canadians are disenfranchised or aren't able to participate, than their interests aren't able to be represented politically," she added.
The fact that they will be showing up to vote and not find their name on the list or have a voter's card and not have appropriate ID will absolutely disenfranchise them.
Mixed views
The Conservatives maintain the bill will improve the electoral process. "The Fair Elections Act is improving the integrity of the election. We've found with reports that the vouching system is full of errors and mistakes. Forty-two per cent of Voter Information Cards were filled out incorrectly. The electoral process is very complex, it's open to abuse," said Conservative MP Andrew Saxton in an interview. Even with the changes, he pointed out that there are still 39 pieces of identification for Canadians to prove their identity and where they live.
However, even with vouching in place, a report by Statistics Canada found that new immigrants are less likely to participate in elections than more established immigrants. Data from 2011 indicated that only 51% of recent immigrants voted, compared to 66% for more established immigrants. The numbers also differ greatly among various ethnic communities and among genders.
Further to the controversy around vouching, the new legislation will also ban Elections Canada from running education campaigns that promote voting. According to Elections Canada spokesman John Enright, the federal body undertakes comprehensive strategies to get out the vote among ethnocultural communities and new Canadians prior to and during election season (see the list below). Under the proposed bill, the responsibility to educate Canadians about voting would fall to the federal parties.
Elections Canada CEO Marc Mayrand has vocally opposed the new bill on several of its proposed changes. "In our attempts to improve the electoral system, we should not lose sight of our shared goal of ensuring the right to vote for all Canadians. Our democracy belongs to all Canadians, and should be accessible to all Canadians, and be seen as fair and trustworthy," said Mr. Mayrand in a statement. "I hope that the final bill reflects a broad consensus that secures the confidence of all electoral participants."
Summary of Elections Canada outreach

If the proposed bill passes, Elections Canada would no longer be able to educate Canadians about voting. This change may hit new Canadians the hardest, as they often have questions about the voting procedures when they come to a new country, and it may lower the voter participation rate of new immigrants even further.
Elections Canada would no longer be able to educate Canadians about voting. This change may hit new Canadians the hardest.
Here's a list of the outreach and advertising that Elections Canada does prior and during elections:
Outreach prior to elections:
Citizenship guide: Elections Canada supplies information to Citizenship and Immigration for inclusion in "Discover Canada: The Rights and Responsibilities of Citizenship" which is used by newcomers to study for the citizenship test.
Upon request from community-based organizations representing ethnocultural communities and/or new Canadians, Elections Canada presents to groups about the Canadian electoral process.
Outreach during the 2011 federal general election:
Community outreach: Community relations officers (CROs) provide ethnocultural communities with important information on how, when and where to exercise their right to vote. Officers deliver their messages by setting up information kiosks, making presentations, hosting discussion groups and distributing communications material. In the 2011 election, 129 CROs were hired for ethnocultural communities.
Information and advertising campaigns: Special efforts were made to inform and engage groups and communities that were likely to experience difficulty in exercising their right to vote, or those who could not easily be reached through Elections Canada's general advertising campaign.
Outreach was conducted with the Institute for Canadian Citizenship who reach new Canadians. They put a link and button on their web site for first-time voters.
Voter information was (and remains) posted on the Elections Canada web site in 27 heritage languages. This information was also available in print form and more than 24,500 voter identification information sheets and over 24,800 voter information guides were ordered in heritage languages.
Email bulletins were sent to over 550 ethnocultural organizations across Canada informing them about registration, voting rules and Elections Canada's services, and inviting them to distribute the e-bulletins through their networks, on their web site, blog or social media pages.
Almost 2,000 information kits (hard copy) were distributed to organizations representing members of the ethnocultural communities. Information kits included samples of various informational materials available in multiple languages, and/or an order form and a request that the organization assist Elections Canada in disseminating information to their membership.
Electors could obtain information directly from Elections Canada by phone about registration, voting procedures, polling locations and other common topics. A three-way language interpretation service was offered in over 100 languages.
Complementing Elections Canada's main advertising program to help reach ethnocultural communities, ads were also featured in multiple languages on specialty television and radio, in community newspapers and as Internet banners.
Source: Elections Canada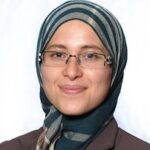 Amira Elghawaby is an award-winning journalist and human rights advocate. Along with frequent appearances on Canadian and international news networks, Amira has written and produced stories and commentary for CBC Radio, the Ottawa Citizen, the Literary Review of Canada, and the Globe and Mail. She is currently a freelance contributing columnist for the Toronto Star.