How much does it concern you that your emails, texts, social media, and phone calls might be monitored?
If recent polling from both around the world and here at home is any indication, it probably concerns you quite a bit.
Earlier this month, the Pew Forum published the results of a global survey that shows a significant majority of people from around the world find it unacceptable that the U.S. monitors both foreigners and its own citizens.  The same poll shows that a wide margin of those polled in 43 countries disapprove of the U.S.'s monitoring of the communications of other world leaders.
Most Canadians would probably agree. They weren't polled by the Pew Forum's latest Global Attitudes Project, but did recently share their own thoughts about domestic espionage. It seems Canadians find spying just as distasteful, at least when it's breaching their own privacy.
A national survey in Canada by Forum Research released this past June found that 79 per cent of those polled expected their online data to remain private. A majority also disagreed with the Canadian government's tabling of new legislation that would grant wider latitude to law enforcement to gather data from telecommunication companies. Bill C-13, a 70-page bill which includes praiseworthy provisions around cyber-bullying, has raised alarms from those claiming that our rights to privacy are being stealthily infringed upon.
Of all the government agencies collecting Canadians' data, including the Royal Canadian Mounted Police (RCMP), the Canadian Security and Intelligence Service (CSIS), and the Communications Security Establishment Canada (CSEC), CSEC was least trusted.
Individual freedoms
Perhaps that's because while Canadians don't know much about the million-dollar agency, they did learn that CSEC had been spying on travellers using airport Wi-Fi. That information came from whistleblower Edward Snowden's trove of classified documents obtained from the U.S.'s National Security Agency (NSA); Snowden's disclosures, incidentally, have diminished America's standing in the world as a protector of individual freedoms.
"Canadians are quite rightly upset at the volume of their personal data which is routinely available to law enforcement and others with less pure motives. It is clear they don't want their data made available and expect it not to be," explained Forum Research President, Dr. Lorne Bozinoff in a news release about the poll. "It is instructive that among the agencies trusted the least with their data are CSEC, which is in charge of collecting it, and the telecommunications companies, who are the ones who are legally permitted to supply it."
In their own defence, CSEC has claimed that it isn't monitoring the specific communications of Canadians, but only the metadata. That means the content of phone calls, emails, texts, etc., isn't being recorded, only the locations from which communications are happening, as well as to who and from whom.
This data is in high demand. The federal privacy commissioner revealed late last spring that government and law enforcement agencies made nearly 1.2 million requests for Canadian's user data in 2011.
Foreign espionage
Spying has long been a shadowy hallmark of international relations. And yet, recent disclosures that the U.S. had tried to obtain classified German intelligence prompted Chancellor Angela Merkel to remark wryly that she considered spying on friends and allies a "waste of energy".
The Snowden documents also revealed that like the NSA, CSEC had spied on friendly countries. Namely, Brazil, in what some termed economic espionage. No surprise that the news didn't go over well with the Brazilians. However, Canadian security analyst Michel Juneau-Katsuya (a former CSIS senior intelligence officer), told the CBC that it isn't unusual for countries to spy on each other where they have economic stakes.
Fuzzy rules
Yet further disclosures in July about the NSA's monitoring of the emails of prominent American Muslim leaders raises more questions.  The rules around the warrantless monitoring of foreign nationals and American citizens seemed to blur when federal agents decided to keep tabs on the emails of a senior political candidate for the U.S. Republican Party, several high-profile academics, and the head of a large civil rights organization.
"I just don't know why," said Faisal Gill, one of the targets of the NSA spying, in an interview with The Intercept. The investigation by Glenn Greenwald and Murtaza Hussain found that his email accounts were monitored while he was a Republican candidate for the Virginia House of Delegates. "I've done everything in my life to be patriotic. I served in the Navy, served in the government, was active in my community — I've done everything that a good citizen, in my opinion, should do," he explained.
"I've done everything in my life to be patriotic. I served in the Navy, served in the government, was active in my community — I've done everything that a good citizen, in my opinion, should do."
 Growing outcry
"[The] revelations prove what we've long suspected — that our spy agencies are running hugely invasive and reckless surveillance operations against their own citizens," wrote Steve Anderson, Executive Director of Canada's OpenMedia.ca on its website following the story.
"This kind of spying tears at the very fabric of our democracy and we're already seeing how it can affect law-abiding citizens in their daily lives. Clearly, government spying operations are out-of-control and must be reined in," he continued. The community-based organization has organized a coalition of prominent academics and institutions to oppose Canada's Bill C-13, as well as a video [see below] and petition aimed at educating Canadians about the legislation's shortcomings.
Are these fears legitimate? Do our spy agencies monitor the communications of individuals indiscriminately, even when they are clearly "friends" and "allies"?
Global attitudes on spying shift dramatically when the targets of the state's vast monitoring apparatus are suspected terrorists. Not surprisingly, a majority agree that it's acceptable to scrutinize the communications of those who would potentially do harm.
Unfortunately, though, our governments have failed to show that they are capable of doing the job with care and precision. That should prompt more of us to demand greater scrutiny of their actions and be skeptical of their assurances.
---
Amira Elghawaby is a freelance journalist, human rights advocate in Ottawa and NCM's History/Multimedia Editor.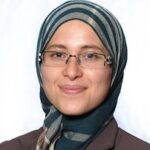 Amira Elghawaby is an award-winning journalist and human rights advocate. Along with frequent appearances on Canadian and international news networks, Amira has written and produced stories and commentary for CBC Radio, the Ottawa Citizen, the Literary Review of Canada, and the Globe and Mail. She is currently a freelance contributing columnist for the Toronto Star.