New statistics show that the highest rate of COVID-19 is happening in the Greater Toronto area, putting multi-generational homes under the microscope as potential sources for outbreaks. 
The Neighbourhood Change Research Partnership and the University of Toronto mapped areas in the GTA with high rates of COVID-19 and found they overlapped with communities that have a large proportion of "mutually dependent adults" living in one house.
According to Statistics Canada between 2001-2016, there was a 37.5 per cent increase in the amount of multi-generational homes across the country. 
Over the past year, housing prices have also soared to new heights, putting home ownership out of reach for many independent adults. To buy a home, extended families often have to pool their resources.
How city planners and politicians balance this national trend toward bigger families living in tight spaces and the potential health hazard they represent, remains an open question.
Hot button issue
Alberta's Premier Jason Kenney faced backlash when he said in a radio program that many in the South Asian community live in multi-generational homes with large families putting them at risk of infection.
In September 2020, Brampton Mayor Patrick Brown on CBC's Metro Morning radio show said it was quite common in his city to find homes with multiple generations of the same family living together. 
Brampton has the distinction of having the highest average number of people living under one roof in Canada with 3.5 residents compared to the national average of 2.4. 
The mayor expressed that such living conditions could contribute to community spread.
"If you have a young person going to school and he infects the family, it could be 15 people that are affected. And so there's a greater risk of a more extensive spread," Brown said.
Brampton's COVID-19 test positivity rate in October 2020 hit 9.6 per cent which at the time was twice the national average. 
In many immigrant cultures, living with parents, grandparents and extended family is a way of life. 
But it's not just new immigrants gravitating toward multi-generational living arrangements. 
A national survey by Finder.com last July estimated that at least 1.5 million adult Canadians moved back in with their parents, while approximately one million Canadians (4 per cent) said they were thinking of doing the same.
Unaffordable rent and crowded housing
In Canada, a key step to mitigating the risks of a future pandemic involves finding a solution to the housing crisis.
Peel Region, one of the hardest-hit COVID-19 hotspots in Canada, has a high proportion of newcomers and international student residents. 
It's estimated that more than 30,000 international students are living in the region, many of whom are forced by financial circumstances to opt for crowded and unhygienic rooming house accommodation. 
The sheer number of international students in addition to new permanent residents seeking housing has increased demand for all kinds of rental units and has fuelled the rise of illegal rooming houses.
According to the city's bylaw department, Brampton received 2,244 complaints about unregistered basement units and illegal lodging houses in 2019.
 "I've seen 25 of these kids in one home," said councillor Gurpreet Dhillon who has seen first-hand the substandard conditions in which they live. Dhillon says that some homeowners running these lodging houses have even incorporated sleeping quarters in their kitchens.
In an interview with the Toronto Sun, Mayor Brown pointed out the urgent need for good housing options for his city's international students.
"It's created a situation where the students are being taken advantage of. We think there may be 30,000 illegal rental units — in a city of 700,000, that's saying something — but we need significant grounds to lay charges," said Brown.
In addition to student needs, MPP for Mississauga-Malton, Deepak Anand says there are several other factors at play including low interest rates and the rising cost of owning or renting homes.
"Many international students have a budget of $400-$500 a month, but rent for a basement is about $2000. To break even, six to ten students live together," Anand said in an interview with New Canadian Media. 
Chitranj is an international student who has been in Canada for nearly two years.
He works at a large warehouse and pays his rent in cash, so his landlord doesn't have to register the extra tenants he takes in. 
NCM is not identifying him by his last name for privacy reasons.
 "Some pay $280 a month for just a mattress and a small space to keep their belongings. The hygiene level in such places leaves much to be desired," he said.
Chitranj says his fellow students are often working minimum wage jobs and struggling to pay tuition while sending money back to their parents.  
He tells NCM he knows several acquaintances who share a house with over a dozen renters.
The reality is that COVID-19 is disproportionately impacting people of colour, many of whom work in low-paying frontline jobs with no sick pay who live in crowded and cramped living spaces.
Unless housing becomes affordable, these newcomers as well as future newcomers will continue to be at risk of contracting an infectious disease, forcing a possible pandemic replay in the future.
________________________________________________________________
This story has been produced under NCM's Advanced Mentoring program led by Professor Susan Harada and Judy Trinh.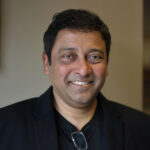 Pradip Rodrigues began his career as a journalist at The Times of India, Mumbai. Since moving to Canada in 2000, he has written for several media outlets both here and in India on a variety of issues. Prior to joining NCM, he was at CanIndia newspaper for eight years.