Nestled in the scenic and stunning rolling dry desert hills and mirror lakes of Okanagan Valley in beautiful British Columbia is the town of Oliver – the wine capital of Canada!
Oliver's population of 5,000 is made up of about 1,000 Sikhs. If one drives along the town's Main Street, one is bound to see a turbaned Sikh or a Sikh lady in Punjabi dress, as well as the Sikh Gurdwara (Sikh place of worship). And as one proceeds through the scenic Okanagan Valley one is struck by the greenery of wineries and fruit orchards, and depending on the time of the summer, one will drive by cherry, peach, apple, and perhaps prune trees all along Highway 97.
Oliver's Mayor Ron Hovanes describes his town as an "authentic farming community." Other than driving along the fruit-tree-lined highway, one can pull into one of the many wineries for tasting, buying, or even a meal.
The Sikhs started migrating and buying orchards and vineyards in Oliver and the Okanagan Valley about three decades ago. Farming is in the Sikh genes. Their ancestral home state of Punjab is the breadbasket of India. Sikhs are also successful farmers in Australia, Kenya, Fiji, among other countries.
The Sikhs bought orchards/vineyards predominantly from the Portuguese, who had migrated here in the 1950s. Mayor Hovanes explains the origins of Oliver are in the irrigation canal built in 1926 under British Columbia Premier John Oliver, after whom the town is named. The intent was to settle returning British veterans of the First World War.
The British migrants were followed by Germans in the 1930s and Hungarians in the 1940s and 1950s. Sikhs own about 70 per cent of orchards and wineries. The average holding is about 10–12 acres, and according to farmer Bhupinder Singh Karwasra, an acre generates an income of about $8,000 to $10,000. Prices of land have doubled or tripled since Sikhs first bought land at $4,000 an acre.
Apart from farming, Sikhs are venturing into other trades and commercial enterprises. Paramjit Singh Chauhan owns and operates East India Meat Shop on Highway 97, down the road from Oliver. Similarly, Surjit Singh Aulakh this month set up a hairdresser shop on Oliver's Main Street.
Oliver-born Baljeet S. Dhaliwal, a graduate of Simon Fraser University, is now a manager at one of BC Tree Fruits packinghouses. Others, such as Toor twin brothers – Randy and Jessie, have set up an 80-acre, state-of-the-art Desert Hills Estate Winery on what was once an apple orchard. They are the second Sikh family to settle in the area, in the footsteps of Major Dhaliwal. The Toor brothers, from Village of Ucha Jattana, immigrated from India to Canada in 1982 and settled in Winnipeg. On the urging of their sister Lucky Gill, who is involved in the hospitality industry, they moved to Oliver in 1988. Randy Toor was elected to one term on Oliver Town council in 2005.
Oliver's major communities – indigenous, Portuguese, Caucasian, and Sikhs live in silos, with little or no informal social interaction other than in schools, shopping centres and workplaces. Mohinder Singh Gill, president of the Sikh Gurdwara, attributes this partly to lack of English speaking skills among Sikhs. For instance, the Sikh seniors meet at the Gurdwara instead of going to the central seniors centre.
The indigenous Osoyoos people, almost all live on a reservation adjoining Oliver.
Punjabi was offered at Oliver High School until recently and the search is on for a Punjabi instructor.
Fortunately, days of ugly racism are almost over, though I was told of schoolyard fights among indigenous, Sikh and white students.
According to Mayor Hovanes, there is "no overt racial tension," and former Town councillor Randy Toor observes there is "very little evidence of racism and it is fading away."
The future looks promising for the Sikh community in Oliver, though many young Sikhs are opting to head to urban areas and into professions other than farming. But for now, most Sikhs make up a dynamic, vibrant and growing community in Oliver and the Okanagan Valley.
---
Bhupinder S. Liddar is a Kenya-born Sikh and a retired Canadian diplomat. This piece was republished under arrangement with the Oliver Chronicle.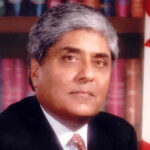 Bhupinder S. Liddar is a retired Canadian diplomat and former publisher-editor of "Diplomat & International Canada" magazine and can be reached at www.liddar.ca. He is also a member of the NCM Collective.