EDITOR'S NOTE: This story includes discussion of suicide. If you or someone you know is thinking about suicide, support is available 24/7 by calling Talk Suicide Canada (1-833-456-4566) or, for residents of Quebec, 1 866 APPELLE (1-866-277-3553).
In the past two years, at least 47 international students from India have died from drug overdoses and suicides in the Lower Mainland of British Columbia, according to figures gathered by the Gurdwara Dukh Nivarin Sahib in Surrey. More than $200,000 has been spent by the Gurdwara on sending the bodies back to India.
Narinder Singh Walia, the Gurdwara's religious leader, says he has personally dealt with 39 cases, and has assisted with another "eight to 10 bodies" being reported to the Gurdwaras by friends and family of the deceased who needed non-financial assistance with the funeral proceedings. 
Walia estimates "80 per cent of bodies sent to India… (died from) overdoses."
In February, PressProgress reported that at least 30 additional Indian students had died in Canada over the last three years, based on an analysis of GoFundme pages for the families of the deceased.
It should be noted that the rate of international student overdoses in B.C. cannot be sourced, as  coroners there do not differentiate statistics based on race (excluding Indigenous people). Nonetheless, funeral directors have also found the higher rate of international student deaths "undeniable," as PressProgress reported.
In Ontario, the issue is significant enough that at least one Gurdwara religious leader will be meeting with the Peel Public Medical Officer of Health at the end of the month.
Citing Immigration, Refugees and Citizenship Canada (IRCC) data, Professionals in International Education News reported that Canada had a total of 807,750 study permits in 2022, an annual increase of nearly a third, and that 41 per cent of study permits are held by Indians.  
Financial pressures 
According to a 2021 report by One Voice Canada, a non-profit that supports vulnerable migrants and students, overdoses are often due to financial pressures that can lead to mental health crises in international students.
To begin, estimates from topuniversities.com calculate domestic undergrads pay $6,463 a year while international students pay around $36,100. International student fees are also unregulated in B.C. and most provinces, according to the British Columbia Federation of Students (BCFS).  
Canadian universities require international student revenue to function, as Centennial College in Toronto told the CBC in 2021. In that same report, Ontario's Auditor General confirmed that 68 per cent of tuition fees in that province come from international students. To justify that, universities cite the government cutting funding by 30-50 per cent. 
Meanwhile, as the cost of living increases for everyone, some international students are forced to work illegal cash jobs for sub-minimum wage. 
"I worked in a restaurant as a cashier, and I was paid $6.25 [an hour] at one job, and the other was $7.25," says Jobanjeet Kaur Malhi, an international student and a member of the Naujawan Support Network (NSN) in Ontario, which helps international students recover stolen wages. Malhi says the network can see as many as 40 requests for assistance a day. 
She says this desperation to find a job, and the unlivable wages international students are paid, combined with being isolated from their families, living in a foreign culture and being overworked, has caused mental health issues to many students. 
Walia, the Gurdwara's religious leader, confirms it, saying many Indian students often begin taking recreational drugs to cope.
"Overdoses are because of mental health," he says, adding that many international students feel trapped, living "hand-to-mouth," and unable to go home due to familial debt. 
Seeking a better life
Most Indian students come to Canada in hopes of becoming permanent residents and to be able to work in Canada. This is due to a scarcity of well paying jobs in India as well as corruption. 
In India, Malhi says she had obtained a doctoral degree, but was "not ready to pay" a bribe for what she had "worked hard to get."  
"But the next person sitting on the other side of the table was," she says. 
But even in Canada, this job scarcity follows international students, as evidenced in a viral video from July where hundreds of students lined up for several blocks outside of a local grocer for a job fair.
Once these students arrive in Canada, many of them work 60- to 70-hour weeks. A student at a university in Surrey, who wished to remain anonymous, says one friend "worked 70 hours" and another "like 13-hour shifts."
Jeevan Sangha, former editor of a South Asian magazine in B.C., says "one of the biggest issues that we've seen is that a lot of the exploitation is happening by the hands of our own community." 
Unequipped and unskilled
There are also many unequipped students who come to Canada because universities offer referral fees of about $2,000 per student to International English Language Testing Systems (IELTS) centres in India. 
In 2018, Niagara College found that a third of its Indian students required support to complete assignments in English. 
Immigration Consultants in India, at times also falsify documents to send more students, part of the reason why 700 students in Canada faced deportation earlier this year. 
IELTS centres have also been found falsifying test results. 
In 2018, for instance, Niagara College had to re-test 400 students who were suspected of having fake test results. In 2022, Times of India reported another 950 students in Canada and the USA who had allegedly paid roughly $23,000 each for fake IELTS results. 
Indian students also serve as an unskilled labour force. 
In a 2017 student profile document, Kwantlen Polytechnic University in Surrey note that it had more than 5,900 international students, 76 per cent of whom are from India, primarily attending the Surrey campus. The use of Indian students as unskilled labour is prevalent enough that Tsawwassen Mills Mall runs eight coach buses a day from KPU Surrey to bring students to predominantly retail and food service jobs at the mall. 
Still struggling
Knowing what she now knows, Malhi, from NSN, worries that "[life is] going to be the same for [many international students] for the next five or 10 years." 
When asked about her future prospects, Malhi says she's still "struggling here," and that her current situation "is compelling me to not think about my future right now." 
"Students definitely should focus more on finding an opportunity" at home, she suggests. "If they find one, they definitely should not migrate to another country." 
— With additional reporting by Fernando Arce
_____________
If you are an international student in distress and would like to speak about your story with an NCM editor, please contact Paul Bucci at editor@newcanadianmedia.ca.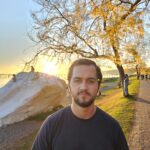 Lorne Putman is a writer, student and journalist from White Rock, British Columbia. His work focuses on countering false narratives, highlighting inequity, and cross-cultural stories, particularly in the South Asian diaspora. Lorne, who recently spent time in Punjab, India, is a second year political science student at Kwantlen University. In his spare time, Lorne can be found at the gym, track, or any variety of restaurants and places of worship. Lorne can be reached at lorneputman76@gmail.com.