Did the seismic shift in Canada's political landscape, a year ago, following the election on October 19, 2015, also trigger a shift in Canada's diplomacy, defence and development agenda? To a large extent, yes, and for the most part for the better.
The first strong signal of change in policy came immediately after the election when Prime Minister Justin Trudeau declared Canada's intention to accept 25,000 Syrian refugees by Christmas 2015. The former Conservative government of Stephen Harper had been dragging its feet on this issue and most of Western Europe was devising ways to block their entry.
Canada re-surfaced at the United Nations – the world family of 193 nations. Former Prime Minister Stephen Harper's disdain, disrespect and disapproval of anything to do with the UN was well-known, resulting in Canada's isolation at the UN, including losing its bid for a seat at the Security Council, the ultimate decision-making body on world affairs. While Harper rebuffed the UN, Prime Minister Justin Trudeau embraced the world body, and addressed the General Assembly in September declaring, "Canada is back" on the international scene.
Good money after bad
In re-emerging at the UN, Canada also pledged financial assistance to various UN agencies that was withdrawn by the previous Conservative government. One must, however, caution against throwing good money after bad, in the case of UN agencies, as they are rife with inefficiency. The previous Conservative government was adamant in demanding accountability before approving funding for any UN requests for financial assistance.
A country the size and strength of Canada can leverage its influence effectively and efficiently through multilateral organizations. Hence, Canada seems to be enhancing its role in various international and regional organizations, including, the G-20, NATO, and the African Union, among other forums. While pursuing the Canadian agenda through multilateralism remains an essential part of Canadian diplomatic strategy, bilateral relations are also playing an important part, as with Prime Minister's state visit to China in September and various foreign heads of government knocking on Ottawa's door.
Pursuit of free trade agreements goes on with the same vigour as under the Conservatives. The Canada-India Free Trade agreement seems to have died with the defeat of the Harper Conservative government. Much too much energy was wasted on this agreement, which at the end was designed to appease Canadian voters of Indian origin, most of whom were not too impressed or thrilled with the blatant and transparent vote-getting antics.
Canada's relations with the United States of America are foremost on Canada's diplomatic agenda. Trudeau has restored much needed personal diplomacy with U.S. President Barack Obama, who addressed the Canadian Parliament in June. And, Trudeau was the first Canadian Prime Minister to be hosted at a White House State Dinner, in March, in almost two decades.
Within a year of coming to power, the Liberal government has kept its commitment to climate change agenda, by signing the Paris Agreement on controlling carbon emissions.
Canada has resumed an active role in defence matters, too, with a promise to participate in UN peacekeeping operations. The problem is that while Prime Minister Trudeau committed to providing 600 Canadian Armed Forces troops, we have not found a place to deploy them. The government seems to have put the cart before the horse. 
Showcase our pluralism
Consistent with the previous government, Canada is actively monitoring Russian jockeying in the Baltics and Ukraine. It has pledged to contribute more troops, as part of NATO's efforts to protect and ensure sovereignty of the Baltic states.
Whereas the Harper government was hostile to an international development agenda and inflicted serious financial cutbacks to the Canadian International Development Agency (CIDA), the Liberal government has resumed Canada's role in providing humanitarian and development assistance, be it immediate help in the aftermath of the recent hurricane in the Caribbean or funding women's education and literacy programs to furthering gender equality, under the aegis of UN agencies.
As for the future, the volume of consular matters will continue to increase and become more challenging, both because of changing demographics and dealing with countries that have different value and legal systems.
Instead of indulging in cost-cutting exercises, Canada needs place more diplomats in foreign missions. We should end the practice of replacing Canadian diplomats with locally-engaged staff.
One hopes that the year-old Trudeau government will continue to make Canada's presence felt on the international scene, as it has in the past year, and showcase the Canadian experiment in building a pluralistic and multicultural society.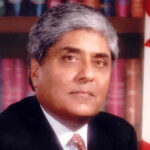 Bhupinder S. Liddar is a retired Canadian diplomat and former publisher-editor of "Diplomat & International Canada" magazine and can be reached at www.liddar.ca. He is also a member of the NCM Collective.