When about a week ago, Canada's International Trade Minister Chrystia Freeland cried in Brussels, her sniffles were heard around the world.
The Times of London carried a story on October 22 headlined, "Trade deal failure reduces Canadian minister to tears". The story reported that "a tearful Canadian minister declared that the European Union was incapable of reaching an international trade deal" after the Canada-European Union free trade agreement floundered, after seven years of negotiations.
The Canadian minister's tearful display was soaked up by both British and Europeans, who were closely monitoring developments as Canada and the EU attempted to rescue the deal. This last-minute hurdle is perhaps instructive in the run up to complex negotiations that will accompany an exit plan for a member state.
The British voted in a referendum in June to leave the 28-country common market of 500 million.
Amidst the swirling British Brexit drama, The Times story also contained a stark warning: "The failure to agree the EU-Canada deal – vetoed by a single Belgian region – indicates the pitfalls Britain will face as it attempts to forge a new commercial relationship with the EU."
Parlez-vous Brexit?
In another twist familiar to Canadians, Michel Barnier, the French lead negotiator for the European Commission, suggested that he expects his native tongue to be used at meetings and in documents that will determine Britain's future relationship with the EU. 
Fortunately, German Chancellor Angela Merkel stepped in to offer a compromise, suggesting there need not be an "official language" for the talks at all. All of this transpired while British Prime Minister Theresa May was on her first visit to the EU.
Negotiations for Britain's exit from the EU will be complex, as it is the first time that a country has decided to leave.
As the British pound tumbles on foreign exchange markets, its economy showing signs of slowing down and financial institutions and international companies looking to leave Britain and relocating their European headquarters, and with no real political strategy to exit, Britain is living in a vacuum.
It was evident to me on a recent visit that the country is engulfed by confusion and uncertainty of unprecedented magnitude, arising from no one really expecting or predicting the British to vote to exit the EU.
Faced with uncertainty and grim economic forecasts for the island-nation economy, the British are getting cold feet and are unsure what to do next. The options appear to be: set in immediate motion a mechanism to leave the EU, try to negotiate terms of departure in the hope of retaining some benefits of a common market, or try to delay the exit for as long as possible. Currently, all three are being tried.
Wanting it all
However, almost four months since the referendum, there is no exit strategy. The Prime Minister, the governing Conservative Party and the political leadership remain clueless. Britain has to invoke Article 50 to start negotiations to leave the EU. This process will take two years.
For instance, Britain wants to restrict free movement of European workers, while wanting to keep intact its tariff-free trade advantages. It is unlikely the Europeans will oblige.
Some want Parliament to vote whether Article 50 should be invoked. But, others argue this will be subverting the will of the people who clearly expressed their desire to "leave" the EU.
Meanwhile, Scotland's First Minister, Nicola Sturgeon, has declared her intention to present a Bill to the Scottish Parliament to hold a referendum to separate from the United Kingdom. Scotland will then apply for EU membership.
A majority of Scottish voted to stay in the EU in the June referendum.
The only bright sign is that, with the pound plummeting almost 20 per cent since the Brexit vote, tourists are flocking to London for Christmas bargain shopping. But, that too is temporary.
While Minister Freeland may have shed a tear or two in vain and Canada is going ahead with signing the Canada-EU Trade Agreement, Britain is far from getting such a result. After all the negotiating is done and deals made, what may be left of a United Kingdom or Great Britain may well be just "Little" England!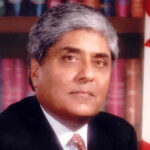 Bhupinder S. Liddar is a retired Canadian diplomat and former publisher-editor of "Diplomat & International Canada" magazine and can be reached at www.liddar.ca. He is also a member of the NCM Collective.