During a recent rally in front of Newmarket's municipal offices, Asian massage workers and their allies, including sex workers and migrant worker organizations, got together to send councillors and residents a clear message: we don't need saving.
That's in response to the town's Bylaw-2020-31, which was purportedly passed to help eliminate the human trafficking and sex-work rings that local politicians and residents claim plague Asian massage parlours.
The bylaw, which went into effect in January, requires massage parlours without registered massage therapists – formerly known as body-rub parlours and currently called "alternative massage businesses" – to obtain a Personal Wellness Establishment (PWE) licence. 
But to Asian workers like Mina Do (not her real name), a long-time organizer with Butterfly: Asian and Migrant Sex Worker Support Network, the bylaw is more of a "political agenda" being used strategically, particularly as a municipal election is coming up. 
The result, she says, has been to either criminalize low-income Asian workers based on their immigration status; or victimize them based on a misplaced conflation of human trafficking and sex work associated with Asian massage parlours.
"You have to choose to either say you're a victim (of human trafficking), otherwise you're going to be deemed a criminal," Do told NCM as she explained what happens during the police raids she says have been routinely targeting Asian massage parlours. 
Do was speaking during the Aug. 28 rally, organized by Butterfly, which included demonstrators covering the building's entrance with red flyers denouncing the bylaw. 
Others held posters with messages like "Sex Work Is Work!", "Rights, Not Rescue!" and "We Are Not Trafficked!"
"It's classic xenophobia – people who just don't understand this population and make a lot of false assumptions," says Do.
In fact, in a statement to NCM, York Region Police say they have "not received any recent reports regarding human trafficking in body-rub establishments."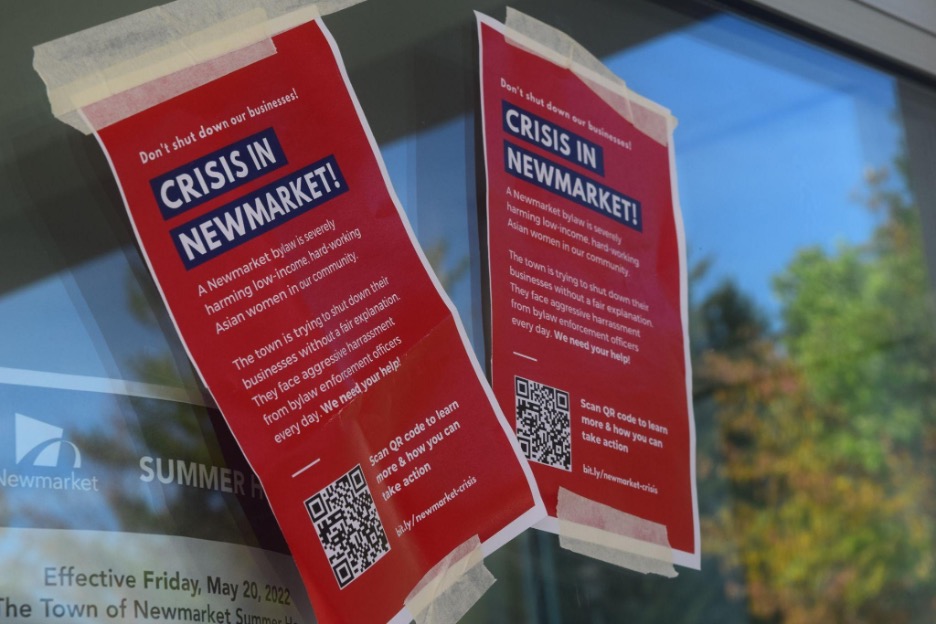 The Canadian Civil Liberties Association and the Women's Legal Education & Action Fund have also come out against the bylaw, calling it "discriminatory."
Though she couldn't be at the rally in person, NDP MPP for Toronto Centre Kristyn Wong-Tam also called for an end to "discriminatory policies" in a written message of solidarity that was read out loud: 
"The PEW bylaw promotes anti-Asian racism…(and) disproportionately harms Asian massage workers. This is leading to Asian-owned massage businesses closing down, financial loss for Asian workers and their families," the former Toronto councillor, originally from Hong Kong, wrote.
"I support the fight for fairness and join you in calling upon the local lawmakers to listen, respect and work with Butterfly and their allies to repeal the PWE bylaw and immediately end discriminatory policies."
The Town of Newmarket did not respond to questions about the allegations or the rally. 
Instead, a spokesperson sent a statement to NCM saying they've enacted the PEW licence bylaw "to do what is in our control as a municipality to license lawful businesses and give us the tools to shut down illegal activity in our community, which has been impacting neighbouring businesses and community members."
Earlier this week the CCLA and LEAF sent a letter to Newmarket's Council saying the bylaw has a "discriminatory impact by forcing primarily low-income Asian massage parlour workers – most of whom are women – out of work, violating their right to equality guaranteed under section 15 of the Charter."
Butterfly is also circulating an open letter demanding, among other things, to "remove the absurd licensing bylaw that is clearly intended to drive us out of business."
Targeting Asian massage parlours
While the bylaw is ostensibly about bringing businesses up-to-code, in practice it has erected many barriers for low-income migrant workers. 
For example, requiring certification from a Canadian institution, which is costly and offered only in English and French, is out of reach for most Asian massage workers, who are often low-income women with little-to-no English skills.
This doesn't mean they are not qualified, says Elene Lam, Butterfly's executive director, as many have years if not decades of on-the-job training both abroad and in Canada, or certification from their home country. 
For instance, in an email statement, Lulu – who preferred to use a pseudonym out of fear of being harassed by authorities – says she opened her massage parlour in Newmarket more than a decade ago. 
"Although it took three hours to drive back and forth from my house to the massage parlour," she writes, she worked hard until she "gradually accumulated a good reputation."
"Because of (the massage parlour), I have established a solid economic foundation that allows me to bring my family over and unite together. This industry allows me to balance between my family and work," she writes. 
Other similar testimonies can be found here.
Under the new licensing regime, Lulu's experience – which until now had been enough to legitimately be allowed to run a massage business – counts for nothing.
Since the bylaw was passed, all seven Asian massage parlours that applied for the licence before the April 2022 deadline have been denied, and at least two have been shut down. Those that have chosen to remain open are being fined $4,000-$5,000 daily, says Lam.
Lam says they know of four non-Asian parlours that were granted the licence, "but the (town of Newmarket) is reluctant to share" the type of training they have or criteria they met.
Vincent Wong is an assistant professor at Windsor University's faculty of law and was one of the speakers at the rally. He says that while it is "commonly known" that some establishments offer erotic massages and sex work – some Asian, some not – "it is definitely clear" that the bylaw is targeting Asian parlours and workers.
"What this essentially comes down to is a very arbitrary kind of legal decision-making that is, in effect, banning all Asian massage businesses," he says.
Something similar is occurring in the prairies, where sex workers and body-rub parlour workers say the religious right and anti-sex work organizations are fighting to criminalize their profession.
The issue, Wong explains, is that there is a general tendency to conflate commercial sex work – which is legal in Canada – with human trafficking, which in turn is stereotypically associated with Asian massage parlours. 
But there's no evidence of that.
Rise in anti-Asian discrimination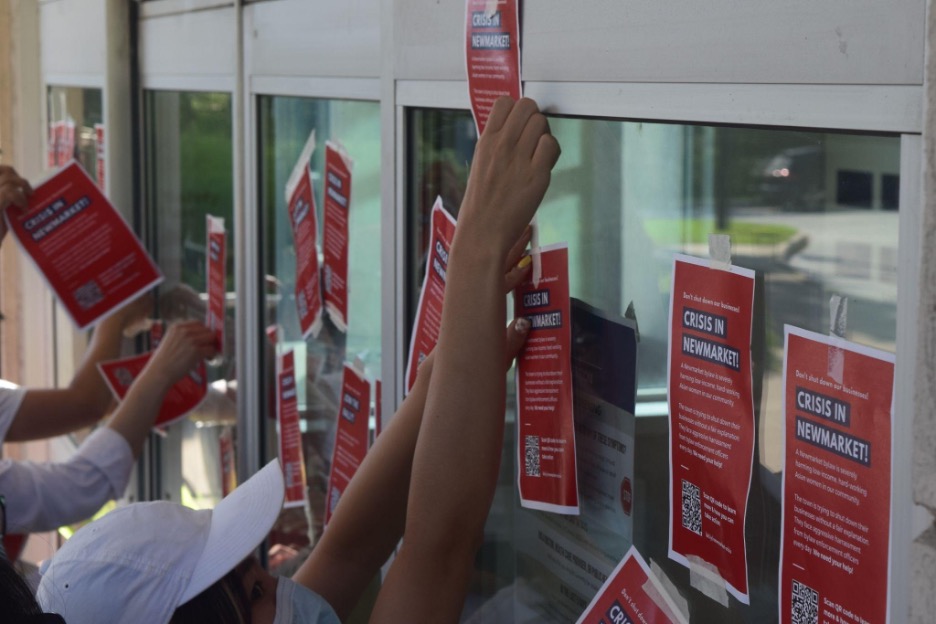 In fact, York Region Police (YRP) say "Most human trafficking in the region happens within hotels, condos and short-term rentals, not body-rub parlours."
A recent report also found that there is general rise in anti-Asian racism and discrimination across Canada, including in the York Region, where Newmarket is located.
The report from the Chinese Canadian National Council Toronto Chapter found a disturbing upsurge of hate-crimes against the Asian community since the beginning of the COVID pandemic.
In the York Region specifically, police found that "the number of hate motivated crimes against East and Southeast Asian communities also grew 53 per cent in 2021," as Global News reported earlier this year.
But the targeting of Asian massage parlours dates back to around 2012, says Wong, when "human trafficking started to become an all-encompassing policy orientation."
While there isn't sufficient data on Newmarket, data from Toronto – which Butterfly collected through Freedom of Information requests – shows a clear bias against "holistic practitioners" of Asian descent. 
That has included "excessive, unnecessary and discriminative inspections and prosecutions" of more than 2,200 practitioners, according to a summary of the data presented to the City of Toronto, "with individual bylaw visits conducted by as many as seven officers together, leading to neighbours and business disruption."
"Since the majority of the holistic practitioners are racialized, particularly from Chinese and other Asian backgrounds, the excessive practices of law enforcement officers towards holistic centres and practitioners amounts to racial profiling and discrimination," the summary states.
Back in Newmarket, Lam says a legal research team has formed in order to challenge the "illegal and unconstitutional policy and decision of the town."
Until then, she adds, residents and councillors can expect more actions of resistance and solidarity.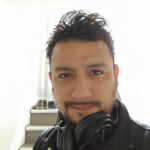 Fernando Arce is a Toronto-based independent journalist originally from Ecuador. He is a co-founder and editor of The Grind, a free local news and arts print publication, as well as an NCM-CAJ member and mentor. He writes in English and Spanish, and has reported from various locations across Canada, Ecuador and Venezuela. While his work in journalism is dedicated to democratizing information and making it accessible across the board, he spends most of his free time hiking with his three huskies: Aquiles, Picasso and Iris. He has a BA in Political Science from York University and an MA in Journalism from Western University.