Trigger warning: This article discusses gender-based violence and sexual assault. 
An anti-violence organization is hosting a vigil to pay tribute to the victims and survivors of gender-based violence in Canada. 
Embrave: Agency to End Violence, based in the Peel region of Greater Toronto, is hosting the virtual event on Dec. 6, to coincide with the National Day of Remembrance and Action on Gender Based Violence.
Rebecca Rogers, Embrave program director and co-chair of the Peel Committee of Women Against Violence Advisory, says gender-based violence is a vast issue. 
"It's been 33 years since the death of the 14 women at École Polytechnique and very little has changed," Rogers said, referring to the mass shooting on Dec. 6, 1989 that targeted women studying in Montreal.
Last year, women and girls made up two-thirds of victims of family violence, according to a Statistics Canada report released in October on police-reported family and intimate partner violence. Four out of five homicide victims of intimate partner violence were women or girls. The number of reports to police of non-consensual sexual activity, or bodily contact from an intimate partner spiked 22 per cent compared to 2020. 
Today's vigil, from 6 to 8 p.m. EST, will also highlight the intersections of racism and colonization, honouring four women from the Peel region who were killed in acts of femicide this year, and the thousands of Missing and Murdered Indigenous Women, Girls and 2 Spirit across the country.  
Rogers says it is an opportunity for the community to reflect on the institutional social norms and beliefs that sanction gender-based violence, including the further marginalization of poverty, racialization and transphobia that layer these experiences.
Sex workers challenge Ontario court to address gender-based violence in anti-trafficking legislation 
Mina Do, one of the speakers at the virtual vigil and spokesperson for Butterfly: Asian and Migrant Sex Workers Support Network says that government and police criminalize sex work as human trafficking, which increases the danger for workers, particularly in racialized and queer communities. This diminishes the access to safer working conditions and legitimacy, Do added. 
"We want to be really careful not to conflate human trafficking with sex work," Rogers said, noting that feminist organizations are shifting to align with sex workers in the fight to end gender-based violence.  
In July, Butterfly condemned the anti-sex worker stance to shut down Asian massage parlours in Newmarket. Do says officials fetishized and then pit massage providers against sex workers by stereotyping all Asian massage workers as sex workers. 
Saying any kind of sex work is trafficking erases survivors' consent and undermines marginalized people's autonomy to know what's best for them, Do said. 
In 2013, the Supreme Court of Canada found that current anti-trafficking legislation did impede sex workers' rights under Section 7 Canadian Charter of Rights and Freedoms, particularly the security of person, in what is commonly referred to as the Bedford case. 
The Conservative government's Bill C-36, or Protection of Communities and Exploited Persons Act, which came into effect in 2014, bans public communication of sex work services or transactions, and prohibits living on an income from or keeping a place to conduct sex work. 
It's this saviour-mentality, Do says, that exploits sex workers as non-autonomous agents.
"Some women are limited on what kind of work they can do above-board or legally," Do said, adding there are many reasons new migrants choose to work in the sex trade? . 
"International students, for instance, couldn't work more than 20 hours until recently," they said. "Or you might be a visa holder, which prohibits you from working in the sex trade.
"How are you supposed to support yourself?" 
At the same time, there is a desire to save sex workers by shamelessly victimizing them and then refusing them access to health-care resources or justice systems, Do said. Making people feel weak does not empower them, and legislation like Bill C-36 makes sex workers more vulnerable to intimate partner violence. 
"They're not criminalizing marriage to save people from intimate partner violence," Do said.
Do said Black Trans and Asian migrant sex workers have a history of mistrust of police which deters these communities from reporting violence. 
This includes the overrepresentation of incarcerated Indigenous women experiencing gender-based violence, the sexual assault of Black sex workers in police custody, and the barriers South Asian immigrant women face reporting domestic violence. 
The Canadian Alliance for Sex Work Law Reform took their case to the Ontario Superior Court in October, and it wrapped up this month. The coalition of 25 sex worker organizations, five individual claimants, and an ex-escort agency owner, await a verdict to strike down unconstitutional offences that hurt sex workers. 
"If you want to end gender-based violence, you have to stand with sex workers," Do said. 
You can register for the virtual event here, and sign Butterfly's solidarity pledge here. 
Embrave's hotline number for survivors is: 905-403-0864 or 1-855-676-8515.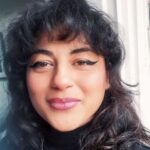 Keitlyn (they/them) is a multi-media journalist residing in Scarborough, Ont. They are interested in long-form journalism that highlights the visibility of BIPOC expression. True to millennial form, they are a small business owner, carpenter and freelance photographer. They were interested in NCM as it understands the "big picture." Journalists are dedicated to truth and democracy. Our communities have not always had access to these privileges. NCM is filling in a large gap that North American media has long neglected.