A series of in-person workshops to train settlement workers to identify signs of domestic violence and support female newcomers in the Peel region is underway throughout the summer.
 Jointly organized by Peel Multicultural Council and Polycultural Immigrant & Community Services, this training on intimate partner violence is a professional development program for frontline staff of various settlement organizations in Peel, including Punjabi Community Health Services (PCHS), Indus Community Services and Newcomer Centre of Peel. 
Launched in March, it will run until August, with 15 sessions targeting 250 participants speaking diverse languages, including Hindi, Urdu, Punjabi, Arabic, Gujarati, Polish, Spanish, Farsi, Chinese, Mandarin, Ukrainian, Russian and many more. 
On average a woman in this nation is killed by her partner every six days, and on any given day in Canada, more than 3,000 women are living in an emergency shelter to escape domestic violence, according to Peel Committee Against Women Abuse. 
Baldev Mutta, the CEO of PCHS and a training consultant shared with New Canadian Media that, hopefully, some women will be motivated to come forward and break their silence as a result of this project. 
Mutta, who has been working in the social service sector for 45 years, is an expert on developing culturally-informed social services for the South Asian diaspora and other racialized communities in Peel.
Last year, NCM reported that South Asian female immigrants fighting domestic violence are less likely to report due to multi-layered issues ranging from cultural biases to a lack of information about local resources and glaring gaps in the Canadian system such as long wait times for housing and lack of cultural adaptation in the shelters.
'I was new and clueless'
 In an interview with New Canadian Media, Linda Wang spoke of her challenges as a new settlement worker at PMC years ago, when she encountered a Chinese-speaking client seeking help to leave an abusive situation. 
"I was new and clueless. Also, we only had a few resources back then and I had to go to my supervisor for advice," she shared. Eventually, Wang who is now PMC's Community Connections Coordinator, was able to find the client a shelter.
With this training, Wang is confident to be more equipped to protect clients in similar situations like the one years ago and "be the touchstone to provide referrals and connect with helpful resources." 
Mutta pointed out that in most cases, a female newcomer is almost always accompanied by her partner, so extracting information from her often becomes challenging. With this training, the participants will also have tips and strategies to use in such situations and discreetly connect with the client suspected of being abused.
"We may need to offer her opportunities for English classes, resume writing workshops and so on so that she can isolate from her partner and talk," Mutta said. "The settlement workers will come up with solutions for creating these opportunities and gain her trust."  
The participants will also learn how to use appropriate conversation starters to gain a woman's attention without arousing the abuser's suspicion once they identify her distress.
Training curriculum
Mutta also noted several factors that informed how the training is designed. 
For example, settlement workers often observe newcomers face enormous stress, catapulting to frustration and anger. There's also evidence that men and women from war-torn countries undergo severe trauma, and men being emotionally alienated deal with it through anger and exercising control.
 Referring to the South Asian diaspora and similar communities from the Middle East, Africa and Latin America, in which families form the essence of a society, Mutta added that it's also sensible to involve the family in dealing with domestic violence from a collectivist point of view.
"The project aims to identify red flags so that the settlement staff can guide a woman to recognize the signs of abuse, share the available resources, and maybe even hope that she can convince her partner to seek counselling," Mutta stated.   
Apart from educating the settlement staff, Mutta believes it is equally essential for women in abusive situations to recognize what abuse is and differentiate it from disagreements that are common among couples. 
"Women need to understand the severity of it, and identify if the abuser can actually lose emotional control and kill her," Mutta said. "We ask women, do you feel threatened? Are you uneasy, and do you change your behaviour when he comes back from work because now you're walking on eggshells and constantly hyper-vigilant? If yes, this is abuse."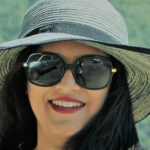 Amrita is an NCM-CAJ Collective Member, journalist and content writer, with nearly a decade of experience in content development and journalism in three countries. She started her career as a journalist with a leading daily, The Statesman, in India. She has also led content and editorial teams for several web content management firms. Amrita served as a Communications and Content specialist for some non-profit organizations like the American Red Cross after her move to the U.S. Based out of Toronto, she continues to follow her passion by reporting on human rights violations, education, crimes, inequality and community engagement. Amrita holds a Post Graduate Diploma in Print Journalism from Chennai, India.