After Emilia Alviar García came to Canada for the first time to pursue her post-graduate studies in January 2023, she felt alone without her family, something countless other immigrants encounter when they first move. 
However, for newcomers, high levels of anxiety and poor moods don't improve the longer an immigrant stays in Canada — they worsen, according to a study by sociology PhD researcher Iqbal Chowdhury from Dalhousie University. 
Chowdhury's research, which was focused on data from Atlantic Canada, supports the so-called "Canadian immigration paradox."
The paradox is this: Although immigrants who arrive in Canada are often healthier than their Canadian counterparts, newcomers' health tends to worsen faster than average Canadians. 
Chowdhury's preliminary findings show that newcomers who moved less than nine years ago have better mental health than those who are long-settled. Furthermore, the decline of newcomers' mental health over time is more dramatic than the average Canadian's. 
"The study claims that when immigrants come to Canada, they remain mentally healthy, and after a certain period of time," said Chowdhury, "after 10 years, mental health conditions start to deteriorate."
Chowdhury's research also shows that intersectionality plays a role in the occurrence of anxiety and mood disorders
Certain demographic groups, such as women, visible minorities, single individuals, those with lower levels of education and individuals with lower incomes face a heightened vulnerability for these disorders.
Alviar is still new to Canada, but she has already faced stressful situations coming here, such as the process of getting her study permit, adapting to the culture and juggling her studies with work. Still, she is concerned it might get worse over time, especially as she feels that resources for immigrants are not accessible. 
"They want people to work here but they don't really like to make many efforts to get you to know the opportunities that they offer here. You always have to do more work and more research," said Alviar. 
Her frustrations about the lack of accessibility to resources and the labour market are in line with one of the possible explanations for this gap in mental health among the newly arrived and long-residing immigrants, according to Chowdhury. Many immigrants face a clash of expectations when coming to Canada and not getting jobs they feel they qualify for, which might cause them anxiety or mood disorders. 
"This is a concern. When immigrants come to Canada, they actually experience different types of post-migration stress, including employment settlement and different other environmental stress," he said. "When it is continuous, mental health conditions start deteriorating."
Chowdhury, originally from Bangladesh, immigrated to Canada in 2013 to pursue his second master's degree at the University of Manitoba. While he had previously engaged with migration-related subjects in his home country, his experience as an immigrant sparked his interest in mental health concerns within this community.
"When I came to Canada and started experiencing all of those feelings, I wanted to go back to my country. I was feeling lonely and it was getting cold," Chowdhury said. 
He recalls that, when stress became overwhelming, it was the support of his professors that encouraged him to open up about the mental health challenges faced by immigrants.
Chowdhury hopes his initial studies will serve as a catalyst for a comprehensive examination of the mental well-being of immigrants across Canada. He emphasizes the need for greater national attention to truly comprehend the implications of this issue and determine if certain provinces face more severe challenges.
"Is this connected to the provincial economic condition or social conditions of the province? The composition of minority people? What actually accounts for the changes, if there are any changes, between provinces?" Chowdhury questioned. 
Atlantic Canada, the main focus of the study, has seen a tripling in the number of immigrants over the past 15 years, making it one of the fastest-growing provinces when it comes to immigration. Chowdhury hopes his study leads to a better understanding of mental health among this demographic, which can then initiate an effective wave of action. 
Alviar acknowledges the challenges of immigration but said the government can help by implementing and advertising more services for them. 
"There's a lot of things surrounding paperwork, from insurance to unemployment, that is difficult and causes anxiety. We should try to make it easier for everyone," Alviar said. 
Chowdhury will be further explaining the results in the upcoming Congress of the Humanities and Social Sciences, held from May 27 to June 2 at York University in Toronto.
___________________________________________________________
 – Giuliana Grillo de Lambarri is a  New Canadian Media correspondent based in Fredericton, New Brunswick. This story and photo are part of a partnership between SaltWire and New Canadian Media.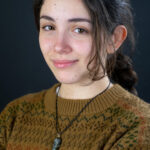 Giuliana Grillo de Lambarri
Giuliana Grillo de Lambarri is a student based in Fredericton, New Brunswick. She is originally from Lima, Peru, and came to Canada to pursue a career in journalism and political science. To Giuliana, journalism is all about forming a sense of community and shedding light on issues that affect everyone, including people who have been historically ignored by the media. When she isn't working, she is usually enjoying a walk along the trails of Fredericton or on the phone with her family. Have a story tip or pitch? Contact her at giuligrillo08@gmail.com.